The Maestro With The Wooden Spoon
For years, Armin Amrein was a TV chef. Now he cooks in a furniture store.
When you hear about a restaurant in a furniture store, it is most likely the image of some kind of dull cafeteria that comes up in your mind. "Glow by Armin Amrein" in Davos, however, could not be further from that. After all, this is not just any furniture store, this is the show room of "Escher Raumdesign", an enterprise with a long-standing tradition in interior design in Grisons. It is a place where taste, aesthetics and design play major roles – in the store and in the kitchen, from the pieces of furniture to the plates and glasses down to the salt and pepper shakers in the restaurant.
Taste is chef and host Armin Amrein's core business. It has earned him 17 points in Gault Millau and fame across Switzerland, not least because his many years as a TV chef. We talk about his kitchen philosophy, why he never sits down on a table with his guests and how "kitchen chefs" have now become "celebrity chefs".
Mister Amrein, how did this top restaurant in a furniture show room come about?
Armin Amrein: When I left the Seehof (editor's note: a prestigious hotel in the heart of Davos) in 2015, a lot of guests asked me to stay in town. I don't want to sound arrogant, but that was one of the main reasons why I stayed. It touched me that they expressed their feelings in such a way and I said to myself, well, then be it. I will start my own business, regardless of my advanced age (laughs). (Editor's note: Amrein was born in 1955.)
But why here? This is a rather unusual setting for a restaurant. 
Armin Amrein: I knew, if I really was to start something of my own it would have to be something different, something completely new. It was my wife who discovered this place, and I immediately liked it. So I contacted Claudio Escher and said, "Claudio, we need to talk." Luckily, both he and his brother Beat were hooked on the idea from the very beginning and so we started to plan the restaurant. Of course we worked very closely with Escher Raumdesign because we wanted the restaurant and the show room to complement each other.
What does "Glow by..." stand for?
Armin Amrein: I like the meaning of glow – something that shines or beams. I think it's a nice fit – we try to shine with our culinary creations, and also I am a happy person, I just love to laugh, so... When we had decided on the name, our advertiser informed us that there is already a product with the name "Glow by...". It's the fragrance "Glow by Jennifer Lopez". And I said, well, I can live with that! (laughs) So we just added "by Armin Amrein" because after all my years as a TV chef that has kind of become a brand that people recognise.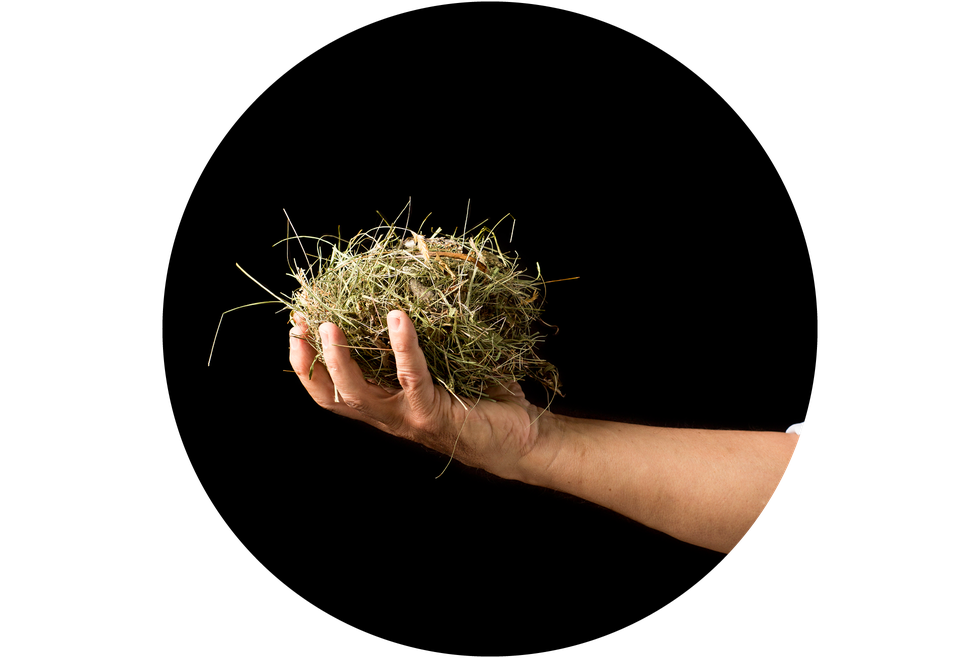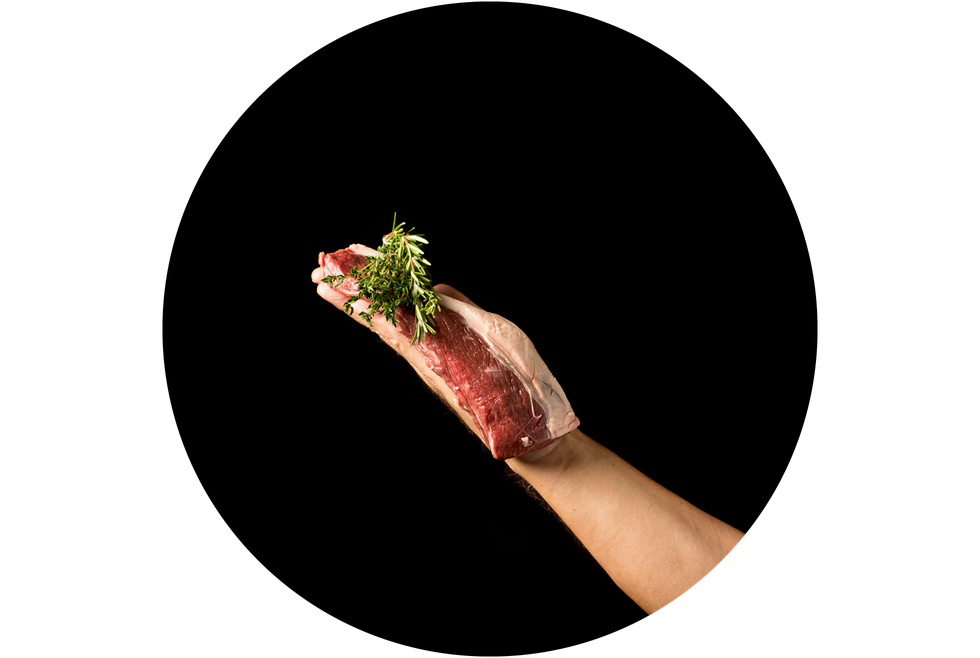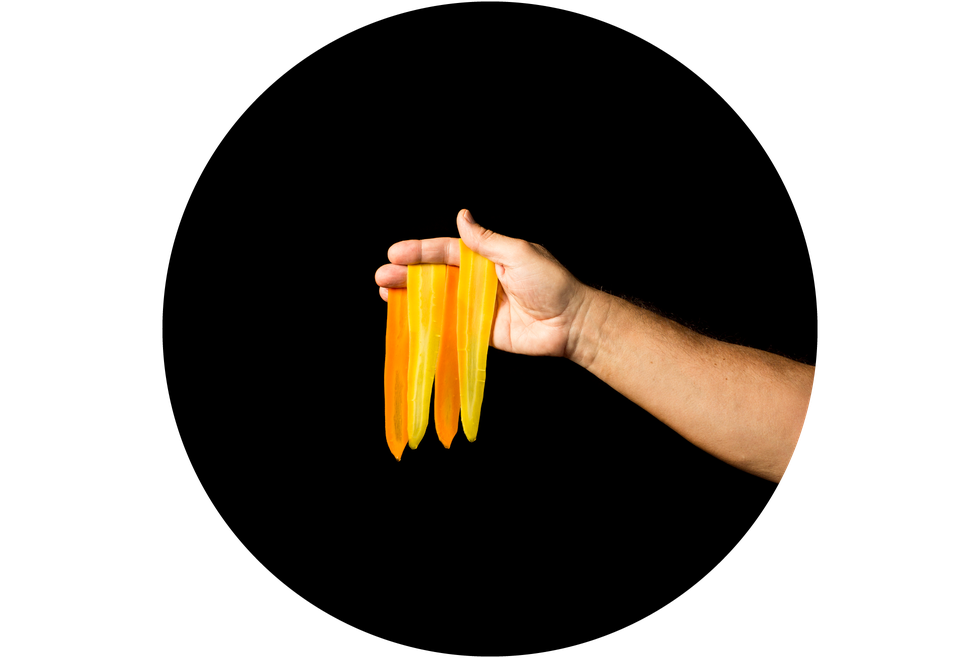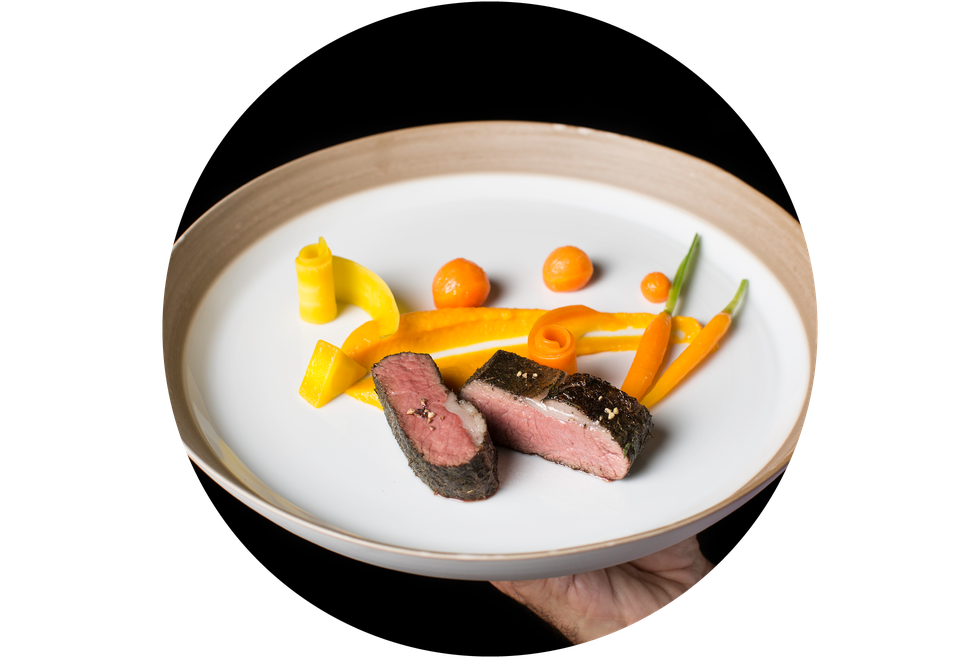 Grison lamb cooked in hay with carrot and cubeb
You were one of the first TV chefs ever!
Armin Amrein: Yes, and many belittled me for it in the beginning, asking if I really was that desperate, because the show was, in fact, mostly an advertorial. But I would do it again in a heartbeat. So many beautiful friendships grew from that job. And many of the critics later envied me for that gig. Today there are cooking shows all over television. I think TV has encouraged quite some change in the food industry and really gave our profession a higher profile. Today, chefs are not only chefs but sometimes also celebrities in their own right.  
At "Glow" guests can also watch you cook. Do you enjoy the limelight?
Armin Amrein: I think some guests would even be disappointed if they didn't see me! After 20 years in television they feel like they know me. That's why I always go to greet every guest in person. I never sit down with anyone though, because you can't sit down with one patron and then not sit down with the others as well. That would make some guests feel uncomfortable. So everyone gets the same treatment, the same amount of attention. 
Still, food is the most important part of a restaurant. What's your kitchen philosophy at "Glow"?
Armin Amrein: We took the conscious decision to offer only a set menu plus three classics. It helps us to calculate efficiently and therefore allows us to cook with the best, freshest ingredients every day. We change the menu every three to four weeks after consulting with our suppliers about what's in season. And then there are "my" classics – say, Beef Stroganoff or fried duck liver – which I just have to keep on the menu because people really like them and keep asking for them. 
Coming up with a new menu every three to four weeks requires a lot of creativity. Where do you look for inspiration?
Armin Amrein: There are many things that inspire me. Sometimes a new thought crosses my mind as I am out on my bike and then I develop it from there. Or, on a very practical level, I listen to what a supplier tells me about what's available – and then I combine these things into a new menu. And of course not all ideas are mine. I have my team behind me and many things evolve from what we do and discuss. That only works because we are on very amicable terms though. 
How do you create such an atmosphere in a team? 
Armin Amrein: I never ask something of my people that I wouldn't do myself. We are a team of seven at "Glow", three of which, including me, are in the kitchen. No one feels above any kind of work, we all wash dishes, clean the floor and all that kind of stuff. Working together, pitching in wherever needed, is extremely important, especially in a small business like this one.
You come from a family of musicians and your father wanted you to become a musician as well. Do you see a connection between making music and cooking?
Armin Amrein: It's true, in the beginning my father wasn't too happy about my choice of profession. But you can't force someone into a passion. My daughters aren't into gastronomy at all and I know, just as my father knew eventually, that you just love what you love. So, yes, creativity is a main factor in a musician's life, and it's the same in cooking, so maybe I didn't fall so far from the tree after all. As a chef you conduct in the kitchen – holding a spoon instead of a conductor's baton.