Let'S Have A Beer In Monstein!
Brewing craft beer at 1600m altitude in a village with 200 inhabitants and two churches: That's life for head brewer Basti Degen.
The Monstein microbrewery has little to do with the hip craft beer scenes in Berlin or London. And its head brewer Basti Degen has little to do with haute couture or subculture. He simply brews great beer.
Thick white foam covers the floor of the Monstein brewery and then slowly drifts onto the street. The scent of beer and chlorine lingers in the air. What seems like a beer-lover's fantasy is actually a regular part of a brewer's job: cleaning. After the beer is bottled, the whole place needs a proper scrubbing, hence the thick suds from the cleaning product. Monstein is an old Walser village in the Swiss mountains, home to no more than 200 people living in traditional wooden houses and 2 churches. "Last beer stop before heaven" is the brewery's claim and its website promises "an experience on the highest level". Basti Degen has been creating and brewing different kinds of beer in his microbrewery since 2007. He and his guests – a growing number of tourists and locals – enjoy drinking every single one of them. they say it's the mountain spring water that gives Degen's beer its exquisite taste.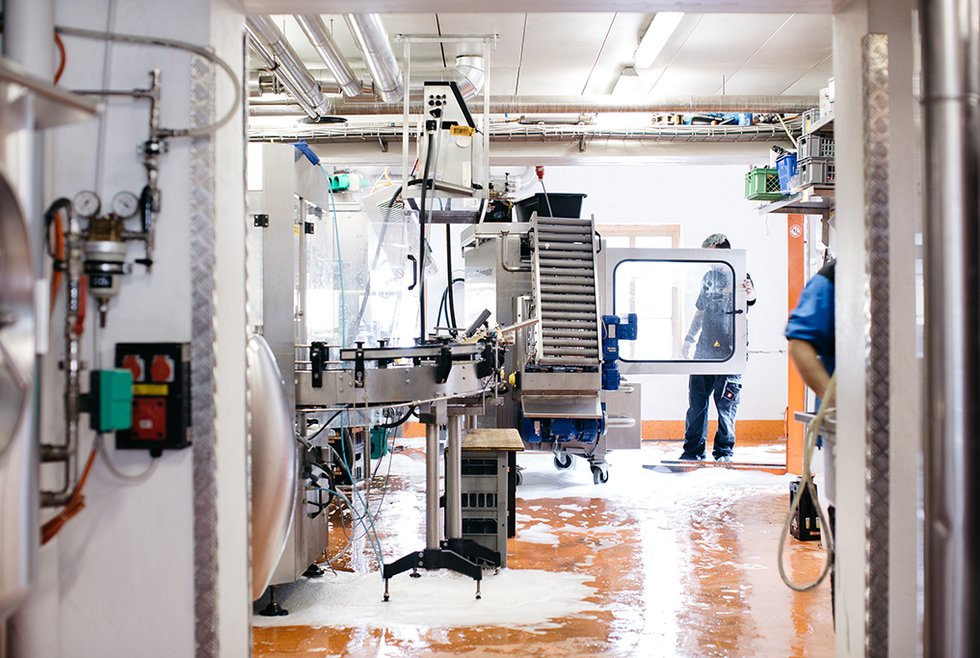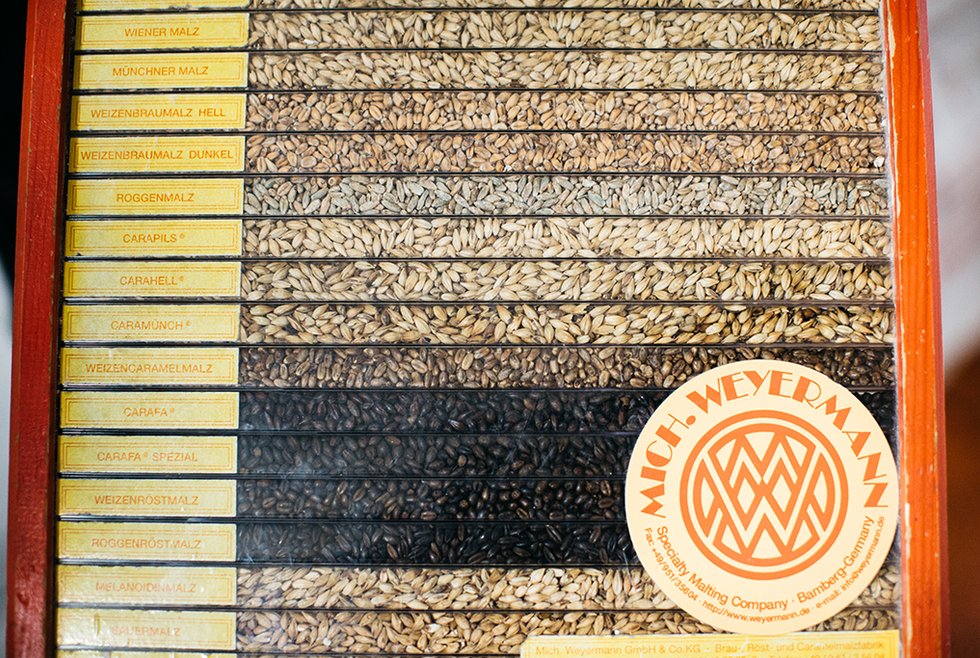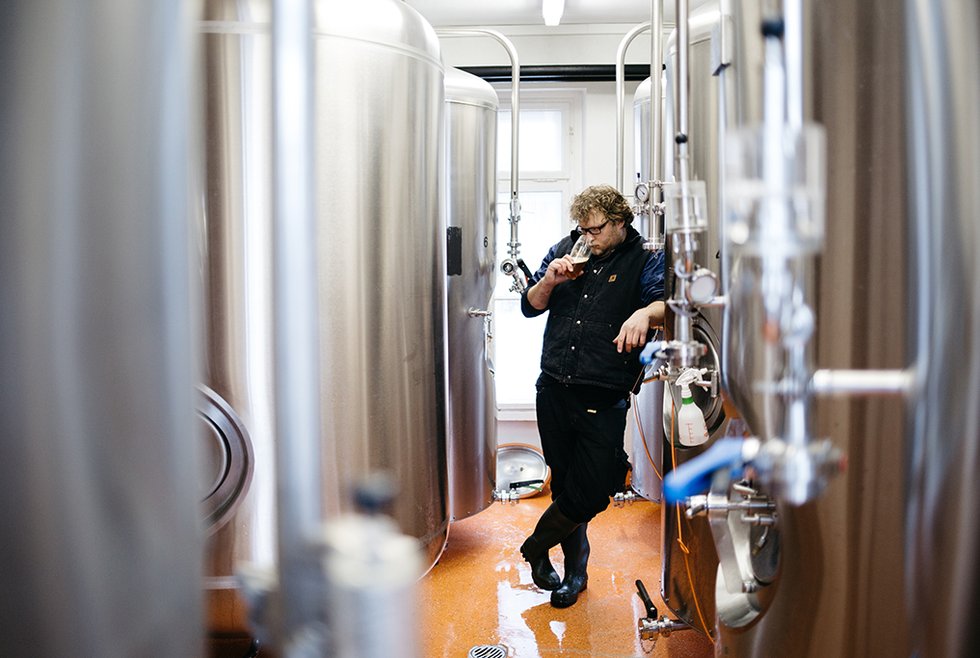 In the cellar
"Beer is what the doctor ordered," says a plate right at the stairs that lead down into the brewing cellar. A large, round high table is the first thing that comes into view next to rows and rows of beer mugs hanging from the wall. Arranged in perfect order, each is marked with a name and number, awaiting its owner for "Sunset in Monstein", a weekly event open to all visitors. Regulars have their personal mugs on the wall. Basti Degen, the head brewer, is a young man who is originally from Franconia and describes himself as someone who "loves his work for the joy and fun of it". He is tall and brawny with strong hands and ginger curls that perfectly complete his appearance. What brings a young German man who could live in any large city to a little mountain village in the Swiss Alps, to the microcosm of Monstein?
The craft beer hype
The microbrewery in Monstein was founded in 2001, long before the term craft beer began trending around the world. The US Brewers Association defines craft beer as a product produced by "small, independently-owned commercial breweries that employ traditional brewing methods." "At the time, all beer tasted the same," Basti Degen explains. Along with wanting to promote tourism in the region, this thought inspired a hotelier, a designer, a lawyer, and a real estate developer to start brewing beer in the mountains. A great idea, as the future would show. There's plenty demand and business is going well. 
Maybe not identifying with the current hype is the exact reason why small breweries like Degen's are so successful. The first beer was a summer beer, which "made a huge splash". Winter beer, spring beer, festival beer and hunter beer all followed suit. Next to the house beer, called Huusbier, there's the Wätterguoge-Bier (a homage to the alpine salamander), the organic Mungga beer (dedicated to the marmot), and the organic Steinbock Bier (named after the alpine ibex) that was awarded with the 2014 Gourmet Knospe. The brewery is situated in the village's former dairy. Across the street is the Hotal Ducan, where Basti Degen likes to enjoy a "small beer" after a good day's work. A bit further down the street there's the school and a small grocer who provides daily essentials. And surrounding it all mountains, meadows, forests. The village has two churches because the bell intended for the first one was too heavy. So they decided to build a second church that could handle the weight. Everything you need is here, everything is close by, the walk home at night is never far, and the landscape is breathtakingly beautiful – why not stay?
Staying cool
Basti Degen isn't a hip dropout who pays more attention to marketing than to the product. He's actually quite the opposite of a craft brewer who sells stout in fancy designer bottles and sees himself as part of a scene. His choice of location was also more coincidence than plan. Basti Degen is a jovial, down-to earth guy. He could be the poster boy for beer bellies – that's how he describes himself. When asked what his life motto is, he answers silly things like: "Keep calm. Breath through your pants." He likes going out in the evening, likes being part of his new home – he's even adopted the Swiss accent. He's the type of guy who stays cool, who enjoys being his own boss and experimenting with flavours and techniques: "Up here you can just go for it. If it's good, great; if it's bad, oh well then, tough luck, but you've learned something." Most of all, he's someone who truly loves beer, wherever, whenever. And who brews good, honest beer that doesn't want to be anything else than what it is: good beer.