Passion And Hard Work
Three young men set out to put their modern touch to one of Klosters' most iconic hotels.
It might not catch your eye at first sight, but it sure is charming – Hotel Wynegg in the heart of Klosters. In the restaurant's garden, we meet Andri, Hitsch and Cédric who are joking away about this and that. The three young men took over and renewed the Wynegg in 2013, and they did a very good job in combining its traditions with a more modern style.
The Wynegg was founded by Paul Guler, a true pioneer in tourism: It was him, they say, who brought British guests to Switzerland, and he was one of the first to install a telephone and central heating in his hotel. Later, his daughter Ruth Guler ran the Wynegg with the same dedication as her father – and quite economically as well. Up until 2013, she managed all bookings without internet, only accepting calls on her analogue telephone with dial plate. This modest approach surely did not go unnoticed by a certain Prince Charles, a Wynegg regular during Mrs Guler's reign. For 15 years, she had been looking for a successor when she heard of a young, passionate chef who was working on a mountain hut at the time and who was born and raised in Klosters: Andri, on of the three guys running Hotel Wynegg today.
Andri, how did you guys end up buying Hotel Wynegg?
Mrs Guler called me and in her third sentence asked me if I was interested in taking over the Wynegg. I was only 24 at the time and, to be honest, quite overwhelmed. But the idea of opening something of my own in Klosters had been on my mind for quite some time already, and I knew that a chance like this would not be presenting itself anytime soon. So I said yes.
Tell us a little bit about Mrs Guler.
She was one of a kind, an icon. To her, all guests were equal, no matter whether it was John next door or Prince Charles. It really didn't make a difference to Mrs Guler.
Still today there is this special atmosphere at the Wynegg. Interestingly, the tables in the restaurant stand really close together.
That was a conscious decision. It encourages conversations across tables, something we find really exciting – to see people in their workwear talk to, say, British guests in fur coats. It can be quite a balancing act sometimes, but we want this kind of family-style atmosphere at our place. Our hotel bar, for example, is open to everyone as well. It's the place to mingle for locals and guests alike.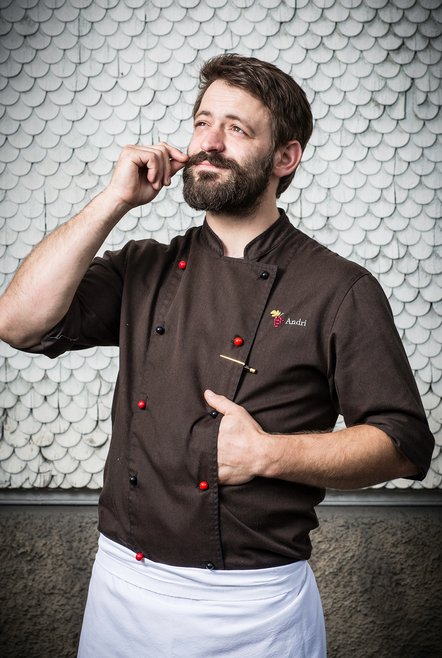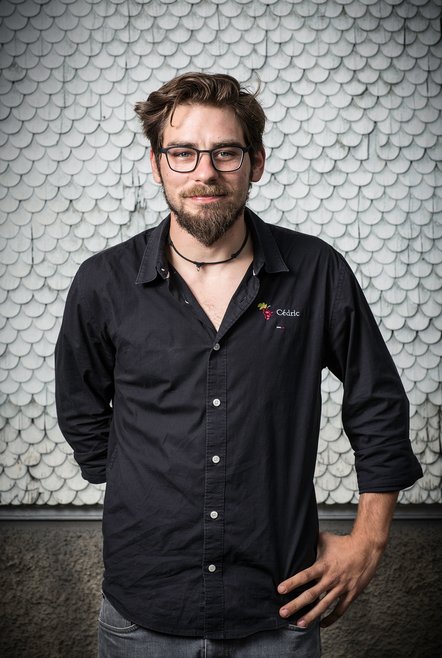 For the renovations and re-design you teamed up with your friends Cédric and Hitsch. What where the biggest challenges in this process?
We borrowed money from our friends and families and, with the help of my father, did all the carpentry ourselves, including the new hotel bar. We worked really hard and hardly ever slept more than three hours in a night. Some people from the village were quite critical of us; we had a reputation of being rowdy from our teenage years and some truly didn't believe we could run a place like this. But over time, they saw how hard we work and how committed we are to this.
What's your vision for the future of the Wynegg?
We want to preserve the beautiful traditions and values of the Wynegg, also in honour of Mrs Guler, who passed away in 2015. For example, we still stick to the German informal "Du" and first name when addressing our guests. Some guests need a little time to get comfortable with that, but by the end of their stay everybody likes it. In the culinary department, I aim at being able to prepare all our dishes from fresh, local ingredients. It is important to me to always offer Swiss classics that have been served here for a hundred years, say calf's liver with hashbrowns or Zurich-style veal ragout. Still, I put my own new school touch to my dishes. My menus are always a succession of four main components with complementing tastes.
Do you think the revitalisation of the Wynegg had a positive effect on Klosters in general?
I think you can feel a fresh breeze in Klosters – but that's not only down to us but to other gastronomic enterprises as well. On a summer night, the town centre now almost feels like an Italian promenade with all the people sitting outside restaurants and cafés. We also try to encourage co-operations with other businesses and to install a sense of community in Klosters. With wonderful results – this year, our joint summer party, the "mile of culinary delights", attracted 3,500 visitors. We set up a 700 metre long table, and food was served from all of Klosters' restaurateurs. We always prepare a suckling pig for this occasion.
So, what did you learn in the whole process of taking over the Wynegg? What advice could you give to others in a similar situation? 
As a young lad, I always said that I would leave Klosters rather sooner than later. Luckily for me, I left for Spain already at age 16 – only to find out that there is only one place for me: Klosters. I feel so blessed for being allowed to run this venerable place in my hometown together with my friends. So, to all those who want to follow such a dream I would like to say: Be aware that you have to work really hard and sacrifice a lot. Do as much by yourself as possible so you can put your personal touch to as many things as possible. And never lose sight of your ultimate goal.