Alpine Cuisine With A Lot Of 'Amore'
Baby goats, luscious meadows, breathtaking mountain views and unbelievably wonderful, authentic, creative cuisine. Welcome to Riccardo and Ludovica Gaspari's paradise.
A few minutes by car from Cortina d'Ampezzo there is a little paradise called El Brite de Larieto. Surrounded by green meadows, a breathtaking scenery of mountains and adorable baby goats, Ludovica and Riccardo Gaspari run their little inn with a view. In the kitchen, the young chef creates traditional dishes with a modern twist that have earned him a reputation as a big new talent among insiders.
We owe it to love – and an injured knee – that Riccardo Gaspari spends his days making hungry people happy. Together with Ludovica, his wife, the young chef de cuisine runs "El Brite de Larieto", a small farm/restaurant on a hill near Cortina d'Ampezzo where cows graze on the meadows and friendly baby goats shout out to us while Riccardo makes fabulous food from their parents' milk. According to Italian culinary website www.dissapore.com he is among the country's most promising young chefs - for his cooking philosophy and, just as importantly, for his acclaimed signature dish, the mouth-watering bacon tartar. Without a knee injury, however, Riccardo, a born and raised 'ampezzano', would probably still be speeding down slopes as a professional ski racer. But things took a different turn, and when Riccardo started to work in the food service industry and met his Ludovica, one thing led to another: a wedding, two daughters, a successful business with goats, cows and pigs, a promising career and a lot of plans.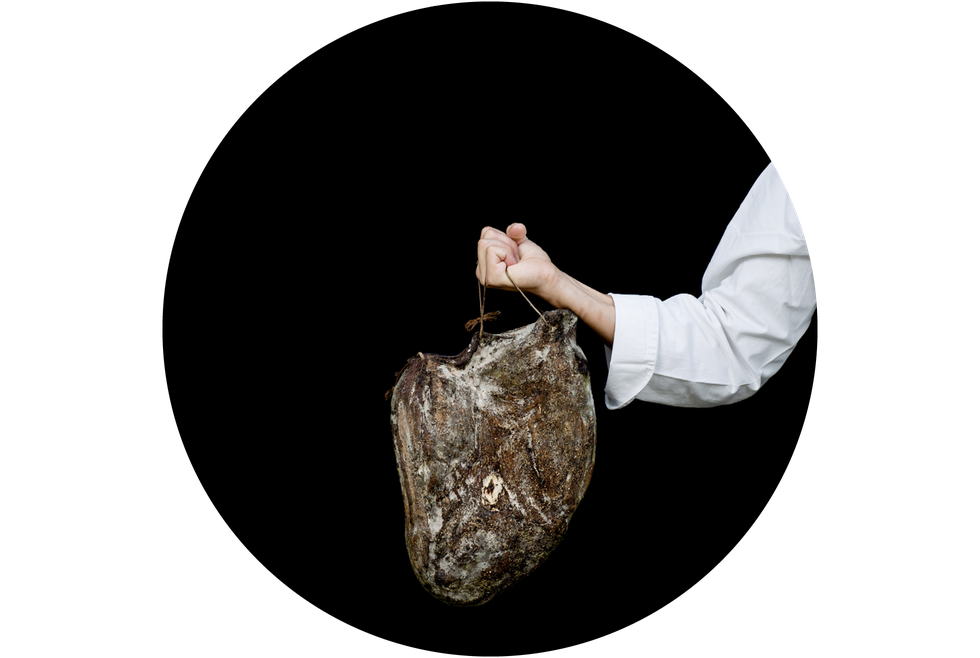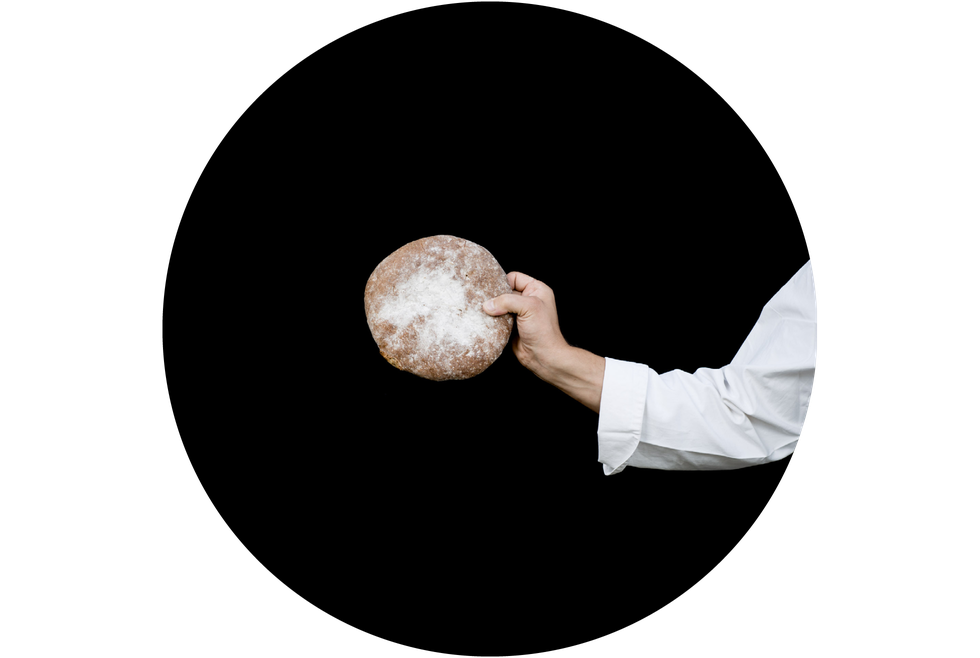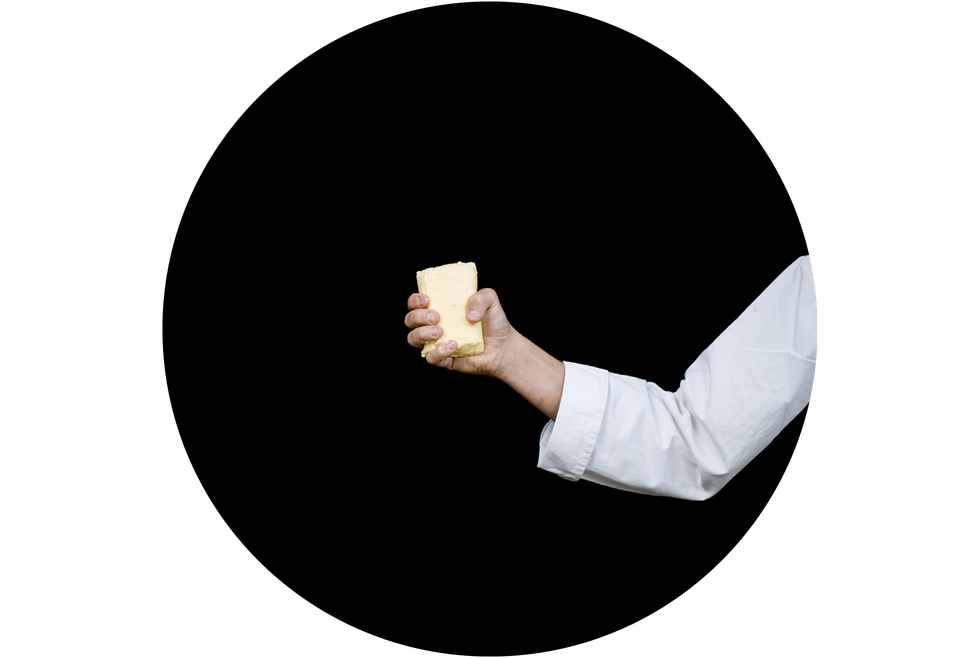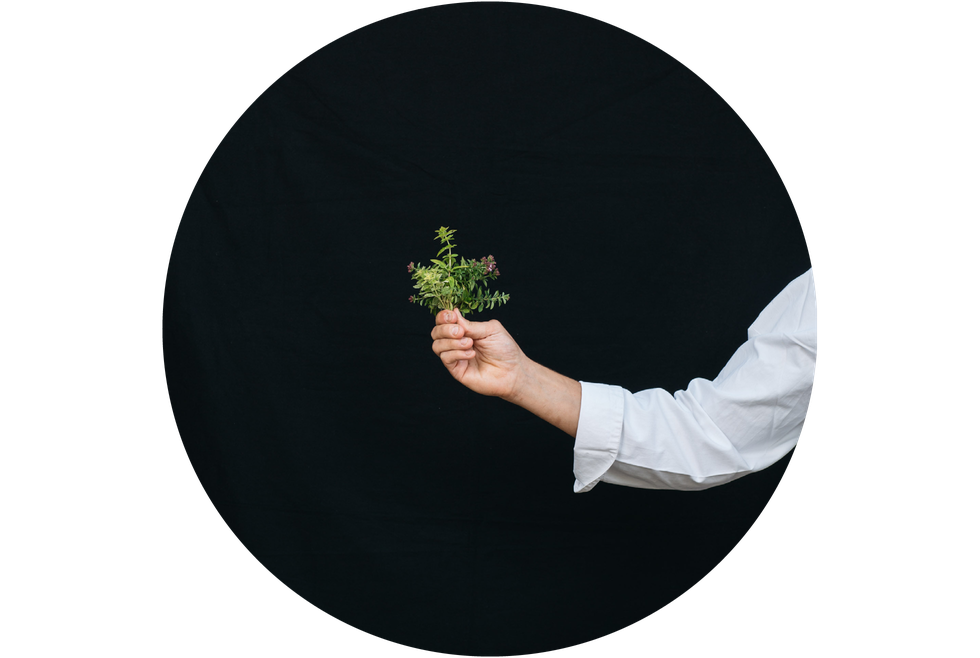 My Speck (Speck's Tartare with cucumber sauce and salty butter ice cream)
Lessons on milk and picnic memories
A breathtaking view of the Dolomites welcomes us on the terrace of the farmhouse, where Riccardo spends most hours of the day in the kitchen. It is quiet except for the sound of a cow bell every now and then; the air is crisp, the meadows so luscious and green. Parents love to come here with their kids who venture out to pet the little bristly goats or bug napping pigs. "When you ask city children where the milk comes from, they say 'From the supermarket.' Here they can meet real cows," says Ludovica on how she came up with the idea of a "milk school". Two years ago she started showing school classes around the stables and pastures and explains how farming works. Another one of her ideas is the brunch project that she started in summer 2015: Guests can buy a picnic basket complete with wonderful food, cutlery, plates and a blanket and have their picnic on the meadow right next to the little shop with local delicacies (another Gaspari enterprise). "I just loved picnics when I was a kid. A picnic evokes so many wonderful memories," says Ludovica, knowing that she is certainly not alone in this. And while she loves to work on new ideas, organise things and talk to guests, Riccardo loves that this leaves him enough time and space to think about cooking. About how to use and present unusual parts of a pig, for example.
"I realised how much work there is in a piece of meat."
Riccardo's cuisine is clearly shaped by his mentor, the fabulous Massimo Bottura, chef de cuisine at Osteria Francescana in Modena, ranked second among the world's 50 best restaurants in 2015. Bottura's style is described as "contemporary Italian", and just like his master, Riccardo, who has learned the basics of cooking from his mother, stays true to Italy. He wants his dishes to reflect tradition, he wants his guest to literally taste his respect for nature and its creatures when they bite into a piece of crusty caraway seed "Puccia" bread with homemade butter or wonderful pieces of six-months aged bacon in the tartar. "When I was 15 I worked on a farm. I fed and washed the animals and spent a lot of time with them. I realised how much work there is in a piece of meat. That is why I want to use as much of an animal as possible," says the chef. He almost exclusively works with local producers and their products, something his guests appreciate a lot. Some of them are so enthusiastic about his philosophy and form of agriculture that they even abandon veganism for a few hours, Ludovica adds. Traditional dishes on a high level, made from rarely used pieces of meat – that's Riccardo's passion, and he always adds a lot of 'amore'. You can feel and taste it – at this piece of heaven called "El Brite de Larieto".