Iron Paths In The Alps
Where others see mountain ridges, guide Andrea Piccoliori sees new routes.
Andrea Piccoliori and the team from Guida Alpina Cortina, the 130-year old alpine club in Cortina d'Ampezzo, are taking people around the many vie ferrate, climbing routes made of metal bars in the form of ladders, to discover exciting new parts of the mountains. Up at the Faloria mountain, the charismatic guide explains why his job is as much about watching people as solving problems.
"I was scared," says guide Andrea Piccoliori about his very first climb in the Dolomites at the age of 11 when a family friend challenged him on a route. "It was too difficult for me but I did not want to admit it." Now the 39-year old professional guide knows that it is only with experience that you come to understand, to gauge your limits and, most importantly, to grow your confidence. These are important guidelines that he teaches his clients on tours across the breathtaking Dolomite mountains or when climbing routes such as the Via Ferrata Variante Tofana di Mezzo, the most recent one that he built himself. It ends at the summit of the Tofana di Mezzo mountain and, facing South-East, rewards you with a breathtaking panorama.
Climbing brings you into situations that require decisions on how to move forward, so as a guide, you have to juggle problem solving and people managing at the same time. "These are like real life challenges for people, you can see their minds are in a stressful situation." Staying calm is therefore an absolute must, and all the more important for the guide who needs to lead by example. Looking at Andrea Piccoliori, one would think that this lies in the nature of the extremely laid back guide. To achieve his mental strength and gentle determination, the slender guide draws from being outside in nature to get in tune with his body and mind. He is also an expert in cross-country and freeride skiing as Cortina provides plenty of pistes from medium to extreme.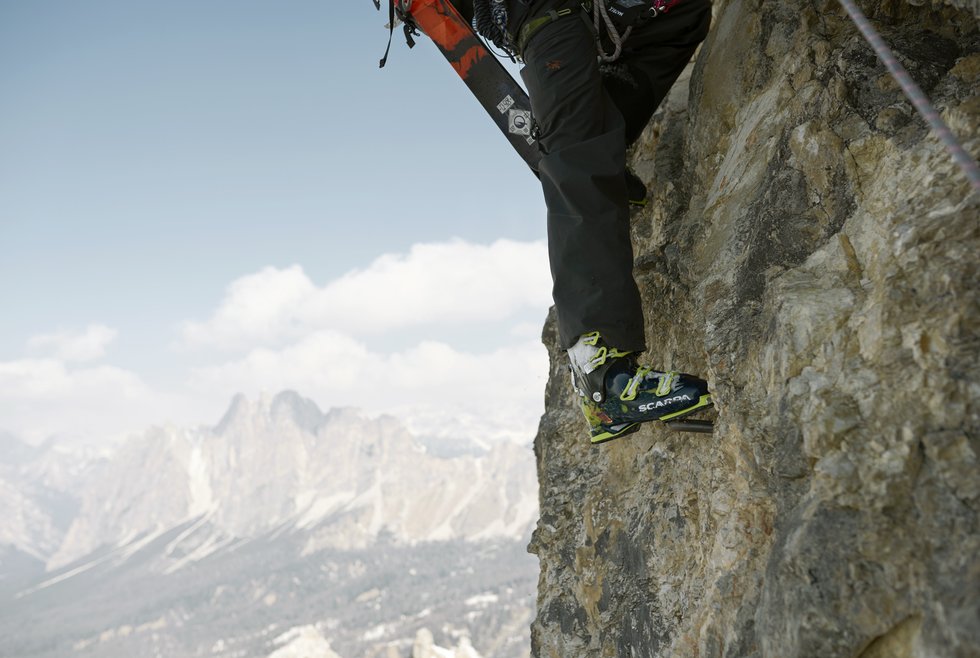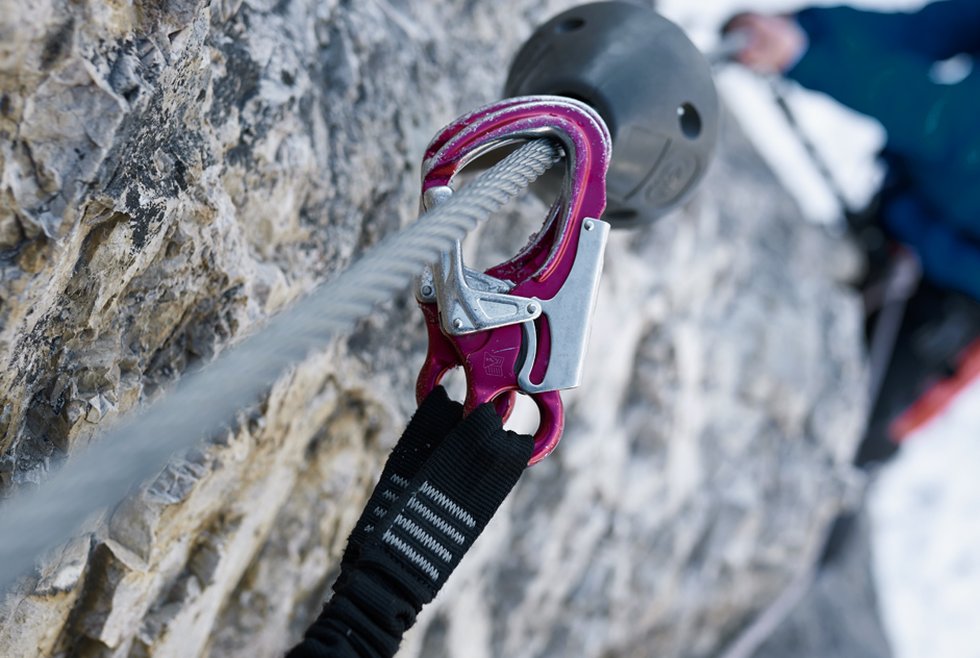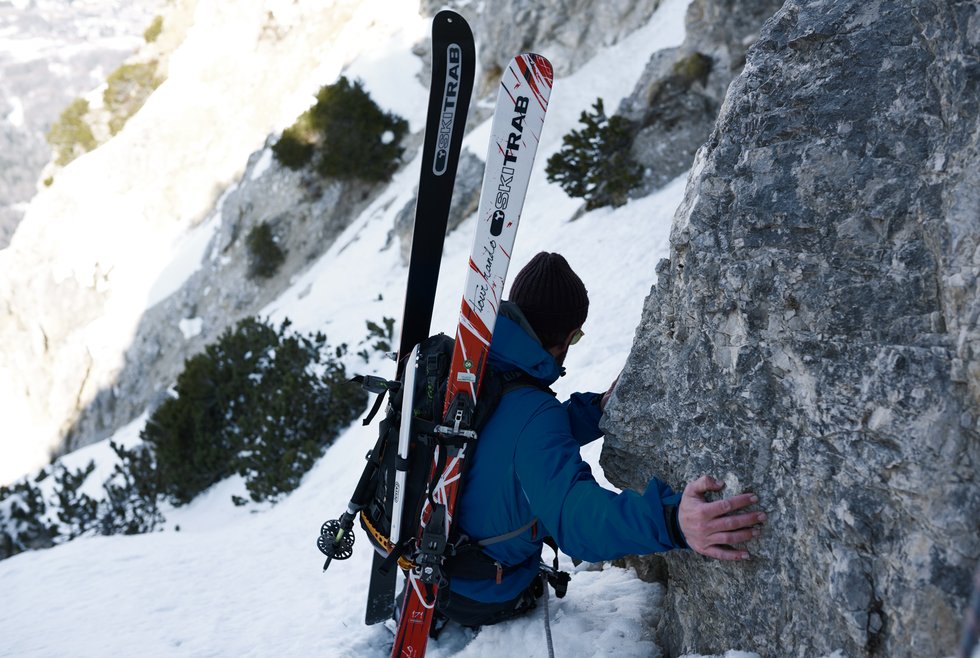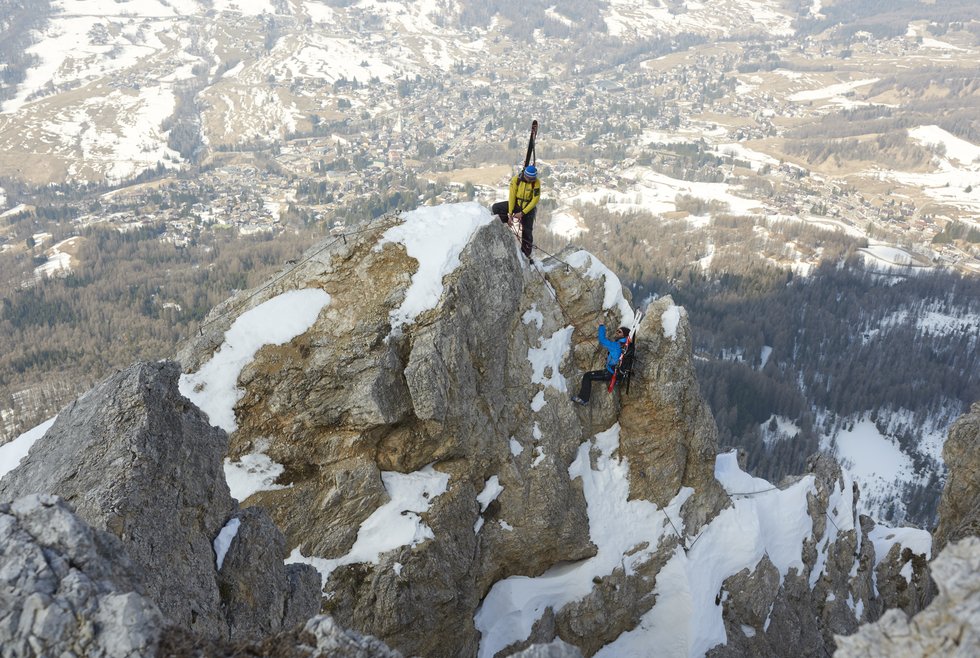 A guide with an architect's eye 
Andrea Piccoliori also has an architect's eye as he sees routes where others just see patterns in the rock formations leading up a mountain. Although building new via ferratas is not as easy anymore as a lot of the easier, logical routes have been built already, there is a lot of maintenance work to be done on the old ones: Some of them were built around the time of the first World War. Thanks to technology things are getting easier: helicopters support the work and drills are getting lighter. However, crampon, axes, stakes, grips and plenty of rope are always part of the luggage as it still proves challenging to build a new via ferrata. "Conditions have to be right," says Andrea Piccoliori, "the rock must be safe and solid, you need to have good pitons and a lot of patience to clear all the official paperwork."
He is also designing a route for children at the Cinque Torri mountain leading past rebuilt barracks from the first World War. "It is an exciting way to explore history - better than poring over volumes of history books. Kids love it," he says, "and they are very curious about nature." The latter being a sentiment that he resonates with to the fullest.