At High Speed Through Mountain Paradise
They know the most beautiful mountains and have gone down the most spectacular slopes. However, even for the world's best women skiers the race in Cortina d'Ampezzo is a true highlight of the season.
Whether or not people are impressed by something is a very subjective matter and strongly linked to their previous experiences. A 30-storey building is probably more impressive for someone who grew up in a rural area than for a New Yorker who works on the 57th floor of a skyscraper. The New Yorker, on the other hand, might be pretty impressed when standing on the top of a mid-size mountain. So it must mean a lot when the world's top skiers express their love for Cortina d'Ampezzo. Like when skiing star Tina Weirather admits: "I love being here. To me this is one of the most beautiful places in the Alps." Or when Austrian downhill skier Mirjam Puchner says: "The mountains here are truly special, the scenery of Cortina really is one of a kind." However, those ladies don't usually come here to enjoy the beautiful surroundings. They come here to get the win.
Since 1992 Cortina d'Ampezzo has been an annual must-go for the World Cup women skiers. But the history of the famous Olimpio delle Tofane trail reaches back much further: It celebrated its premier in the Winter Olympics of 1956, after which it was named. Between 1969 and 1993 the men's and women's Ski Alpine World Cup took place in Cortina at irregular intervals before it finally became an annual event. And this long history is one of the reasons why Swiss skier Lara Gut says: "Cortina is a classic, for sure."
"It feels really great at 130km/h."
The race starts at the foot of the impressive Tofane mountain group at 2320 metres and offers a spectacular view over Cortina d'Ampezzo. Unfortunately, there is not much time to enjoy the scenery on a race day: "If you are standing up there, you are fully focused on the race," Italian skier Daniela Merrighetti tells us. And they should be, because within just 20 seconds the skiers reach the most spectacular and most famous part of the trail: the Tofana Schuss. In this extremely steep section that leads through two massive rocks the skiers reach up to 130 km/h, the average speed limit on European highways. They do it on skis, on a slope with an incline of 65 per cent, and without the protection and crumple zone of a car. Are they scared? "When I saw this section for the first time, I was wondering how I would ever be able to get down there," Austrian skier Ramona Siebenhofer admits. Now she knows: "It's really not that bad, quite the opposite." And her colleagues seem to share her opinion. Tina Weirather says: "It's extremely steep and fast, but it's really cool, too." And Daniela Merrighetti agrees: "Going down there feels really great – every single time."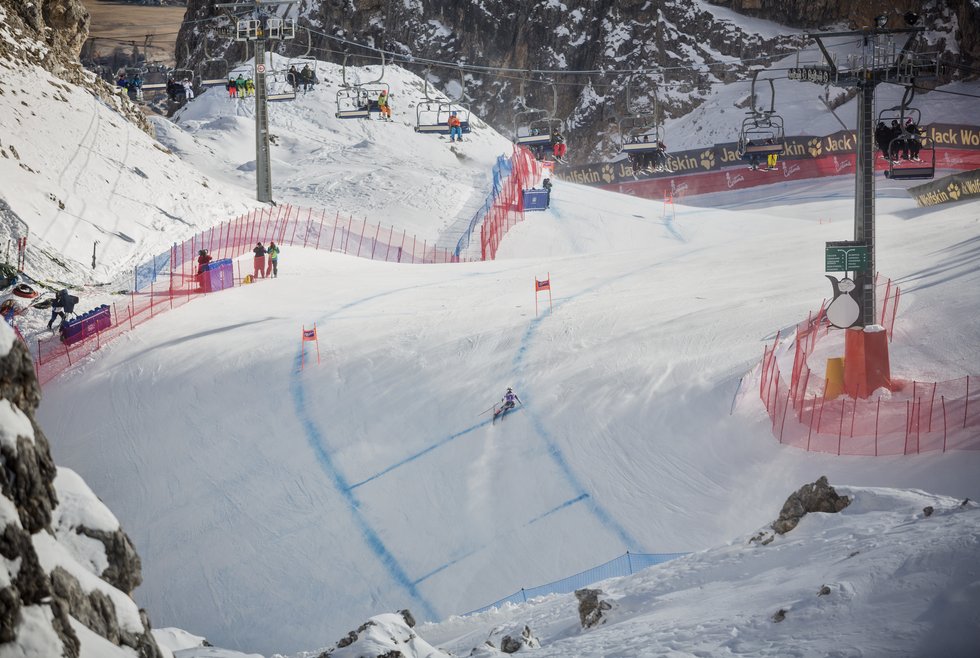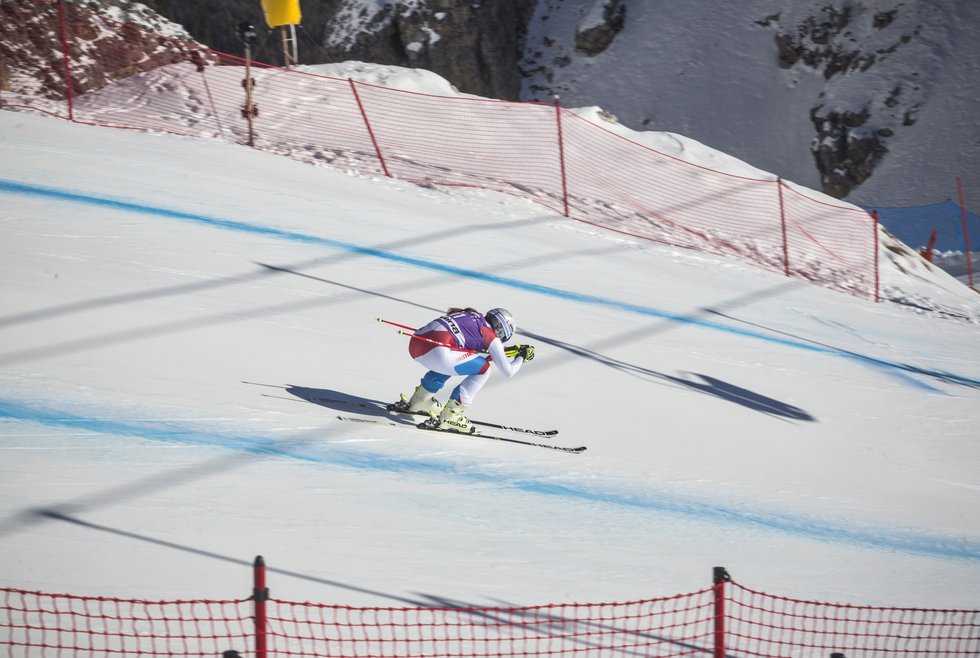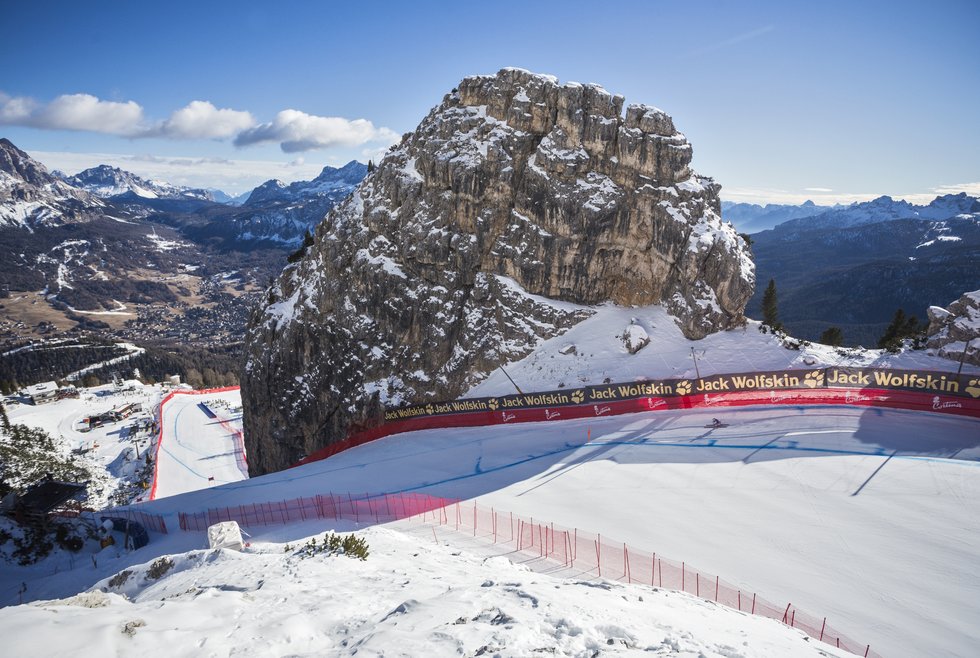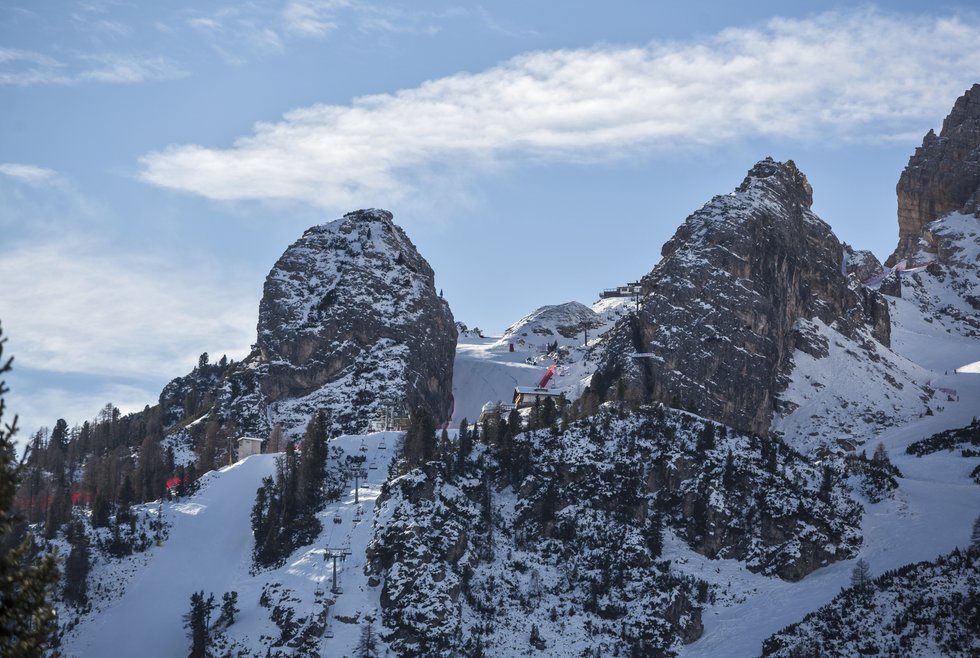 But the skiers are not thrilled by the Tofana Schuss only, also the technically difficult part in the middle of the trail as well as the physically demanding section in the end make this race one of the highlights of the season. Or, as Lindsay Vonn, the woman with the highest number of wins in Cortina, puts it: "This downhill race simply has it all: high-speed sections, turns and jumps. I really like it here."
No wonder Cortina d'Ampezzo draws thousands of spectators to this high-speed event every year. The mix of spectacular winter sports and breath-taking sceneries impresses not only skiing fans, as Francesco from Tolmezzo knows: "I am not that much into winter sports, I just came here because my girl friend wanted me to. However, I need to admit that it really is fantastic."