Traces
"Welcome to my office," skiing guide Markus Dagn likes to say to his clients when they reach the top of a snow-covered mountain.
"Welcome to my office!" That's what skiing guide Markus "Max" Dagn likes to say to his clients when they reach the top of a snow-covered mountain, right before they all go down the untouched slope through perfect powder. Markus Dagn lives and breathes the mountains – especially in his native Kitzbühel, in the Austrian province of Tyrol, but also in Turkey, Chile, California, or wherever his trips and his clients may take him. And he leaves traces wherever he goes – not only in the snow.
In the 1970s, psychologist Arthur Aron conducted an experiment with 34 males, 2 attractive females, a sturdy wooden bridge and a suspension bridge. 18 males had to cross the suspension bridge, the other 16 were told to walk down the sturdy wooden bridge. On each bridge one of the attractive females stopped them for a short interview, handed them a card with their phone number and offered them to call her if they had any further questions. As it turned out, those crossing the suspension bridge seemed to have more questions, because half of them called the female later on. From the group of males who walked over the sturdy bridge only two males contacted the female after that first encounter. The researcher's interpretation of these results was that our bodies respond to fear with similar physiological symptoms as to sexual arousal: an increased heart rate, nervousness, and an upset stomach, all caused by the release of adrenaline, cortisol and other hormones. Apparently, people tend to mix up their responses related to fear with those caused by romantic arousal. And that might also be the reason why so many women (and men) fall in love with their skiing instructors. 
On freedom, addiction and being a child at heart
If that has happened to skiing guide Markus Dagn a lot – we don't know. But according to him, his clients don't necessarily seek the adrenaline kick. What they really want is to enjoy nature and that feeling of freedom you get when you go down those untouched slopes. "When you are skiing powder, it almost feels like you're flying, or swimming and finding your own rhythm. I think it's addictive, and my clients feel the same way, that's why they keep booking me," says Markus Dagn, and the way he throws in English words like "powder" and "feeling" into his Tyrolean-German accent shows that he is used to an international crowd. But a lot of his English is also a relic from his time in Australia and Sun Valley, Idaho, where he used to live.  
Today, 80 per cent of Dagn's clients are regulars. His job is to give them a good time, whatever it is they are looking for – action, nature, the perfect turn, fun times at some nice ski huts, or simply a chance to slow down and relax (like the two women doctors Dagn had been skiing with that day), or maybe even all at once. What he loves about his job is that it allows him to stay a child at heart, to fool around and be silly sometimes. Like this one time when he took his client up the Ararat, the highest mountain in Turkey, with an elevation of 5,137 metres: "It was freezing cold and the wind was crazy. We shared a tent and I had only two movies on my mobile – Mission Impossible and Catwoman. After dinner, we told everyone we'd go to bed and watch a movie. The others were laughing at us, but we really went back to our tent, got into our matching sleeping bags and started watching movies, like little boys." Experiences like that really make him connect with people.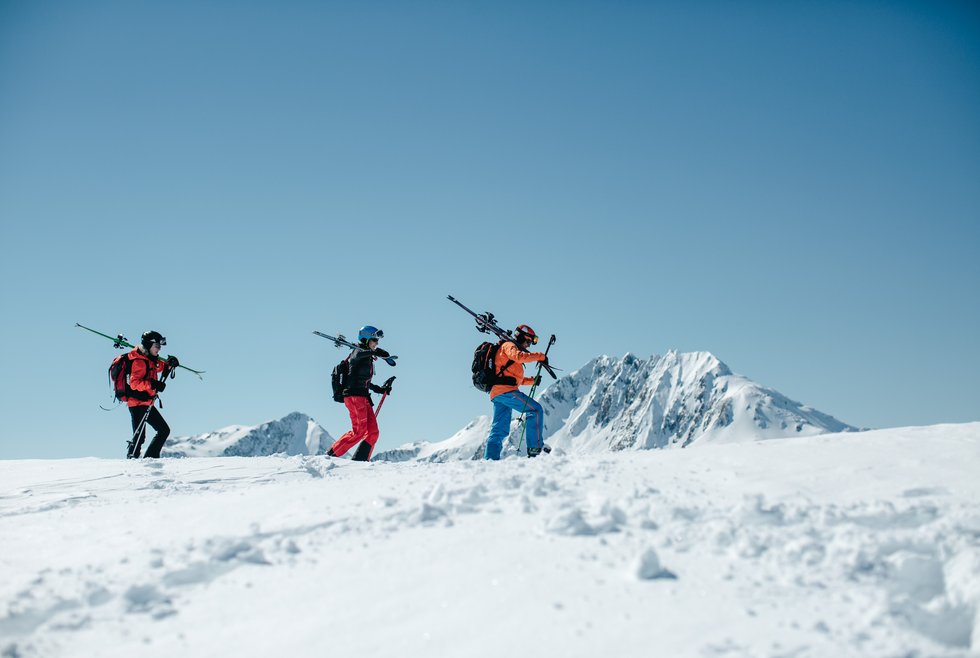 We are all equal. Even more so in the mountains.
But there are also more serious situations, where, again, some adrenaline comes into play. For example, during his expedition to Ojos del Salado – the highest volcano in the world in the Andes of Chile, with an elevation of 6,893 metres. "In my first night at an altitude of 4,000 metres, I wasn't able to sleep for a minute. I felt horrible. First I had a pulse at rest of 140, then, when it finally went down, I felt like I was going to die – it was something like a depression, a clear sign of mountain sickness. Everyone else went up that mountain, but I couldn't go." Markus' client went up a little further, but didn't make it to the top either. Sometimes, nature is just stronger than man – experiences like that are part of the job. Telling us this story, Markus Dagn is reliving every second of it. Probably just like his clients do when they get back to their offices and find Markus' email in their inbox, including all the pictures and highlights from their trip. Among his clients are business people in charge of 5,000 employees, public figures, people with a lot of responsibility and people who make a lot of money. They call Markus their "Champagne God" and treat him to drinks after a successful day, to celebrate their best runs. "I have met a lot of interesting people who told me their life stories but never talked about how much money they make. Our experiences make us connect. One of my clients even asked me to be his third child's godfather," Markus Dagn tells us. In the mountains, there is no hierarchy, everyone is equal. Maybe that is part of the magic that happens when you experience things together that will stick in your memory for a very long time.
The best place on earth is: Home.
Markus Dagn has been away a lot. Maybe that's why he decided to move back to his native Kitzbühel instead of accepting a new job offer in the United States: "Daheim ist daheim" ("home is home"), he says, using this popular German phrase, which means that the best place on earth will always be your own home. "Here, I have everything I need, why would I want to leave? I can do what I love most, my friends live here, my mum, my father and my sister..." Together with his friend Joe Astner he has participated in the European Championship for Powder Skiing and the Synchro Ski World Cup several times. In 2009, they won the World Cup. But Dagn is also busy during the summer season: "I do a lot of water sports such as canyoning and rafting, and I love mountain biking and hiking". 

The fact that someone who has already flown so high needs something that keeps his feet on the ground, is not surprising. The fact that someone who has experienced so many ups in life also had to learn how to deal with downs doesn't come as a surprise either: "Everyone has their hard times in life, everyone falls down. If you don't get back up and keep going – then what? You have to keep going, because what happened – happened, and there is no way you can change that. Life is short, you have to live it to the fullest and try to be happy, try to make the most of the time you have," Markus Dagn explains his philosophy. He is a real doer, a man who always tries to push the boundaries. But who also knows his limits.
Arthur Aron conducted his experiment in the 1970s. And that's also when Markus Dagn was born – at a place where he lives today, where he leaves traces in the snow as well as in his clients' memories. Here, he offers his tours, trips and expeditions and is building bridges to all these very different people who turn out to have so much in common. Meeting these people in the mountains might even feel better than falling in love. The relationships you build can last for a lifetime.