A Shoemaker Driven By Passion
First there were the skiers. Then came the alpinists - and clients who wanted to wear shoes that were both elegant and comfortable. The Haderer family has been making exquisite bespoke shoes for three generations. In their small workshop in Kitzbühel, skilful hands produce one-of-a-kind custom shoes – and happy feet.
"So good to have you!" say the red letters on a sheet of white paper pinned to the wall in the shoemaker's workshop. The master is upstairs, taking measures in his little shop in the heart of Kitzbühel. The love letter to Herbert Haderer's bespoke shoes was written by a Bavarian couple. "Most of my clients are 50 plus," says Herbert Haderer, creator, manufacturer and seller of custom-made shoes in Kitzbühel and Salzburg. His current bestsellers are "simple, classic shoes." But from time to time, clients ask him to realise unconventional ideas – resulting in miraculous pieces that can only be made to measure.
"You have to be flexible if you want to have enough work"
The 1960s were the Golden Era of ski boots: "Until 1963, people wore lace-up leather ski boots, then, after 1965, we also made ski boots with buckles. We exported thousands of pairs to the United States in those days. The production of plastic ski boots that started at the end of the 60s/beginning of the 70s, however, posed a real threat to traditional shoemakers like us," recalls Herbert Haderer. "At first we tried to keep up with competitors by coating leather with plastic." But to no avail – the full plastic shoes prevailed. But so did the Haderer family. After the skiers there came mountaineers who were looking for sturdy leather shoes for their tours in the Alps. Then there were customers who wanted shoes to wear with their traditional clothing, the Haferlschuhe, Herbert Haderer's signature product. Others came for tennis shoes, loden boots, orthopaedic shoes – and the beautiful classic leather shoes that are still being made in the workshop. "If you want to have enough work, you have to be flexible. You can't say, no, I won't do that," Herbert Haderer says.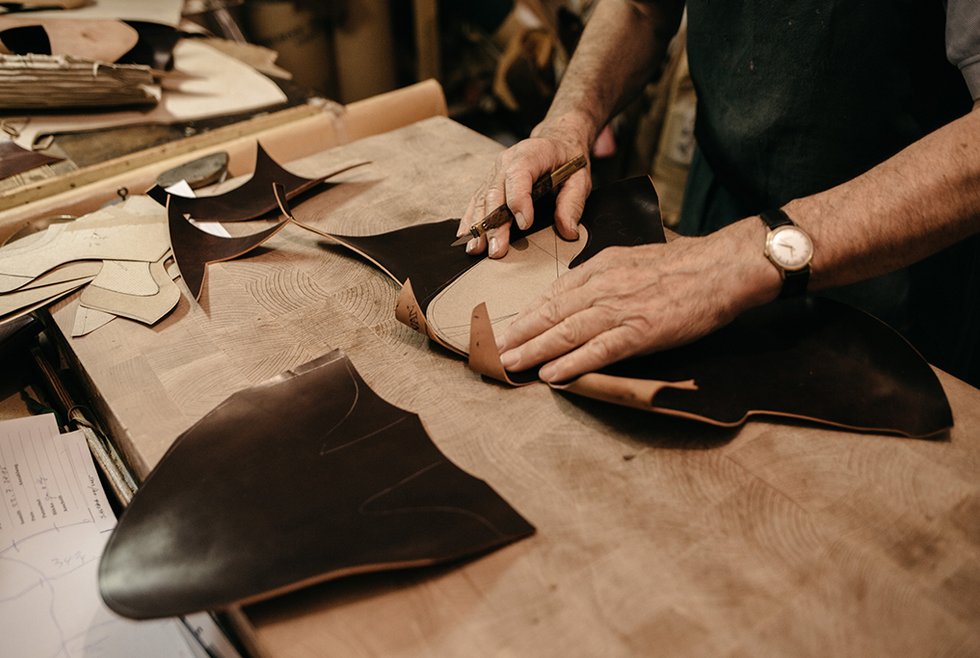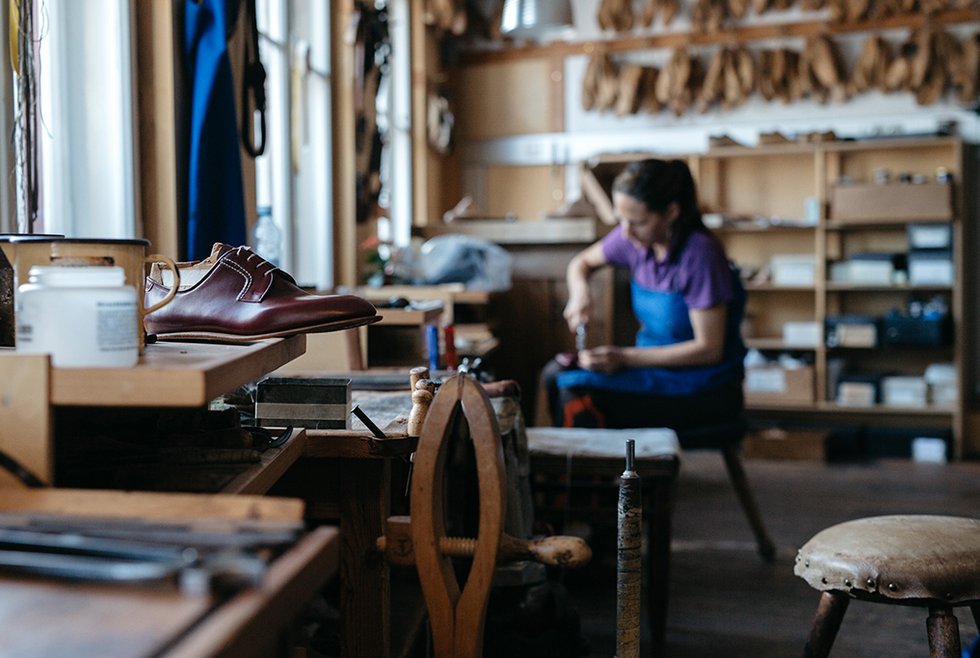 "Slow not always equals good"
Downstairs, in the old workshop that looks exactly like you would imagine, Astrid, one of Haderer's employees, demonstrates a young intern how shoes are sewn. Scattered across small wooden tables are sketches and various tools: hammer, nipper, rasp. Only a smartphone here and there gives away what time we are in. On the walls there are pairs of lasts – the wooden forms in the shape of human feet used for forming a shoe in the making. There's this scent of leather – and many years of handcraft. Through the windows in the background you can see the impressive mountain scenery. Astrid has been working for Herbert Haderer since 1998. A "talented young woman," he says, adding that not everyone has what it takes to make shoes that last for ten or twenty years. Haderer shoes are made of vegetable-tanned leather – a process that takes much more time, patience and sensitivity: "Yet I don't think that slow equals good automatically. Especially when sewing a shoe there's no time to dawdle. When you pull the wire through the leather too slowly, it 'freezes'," Herbert Haderer explains.
A good shoemaker therefore needs the right instincts and the right touch: "Contrary to tailoring, you can't make adjustments in shoemaking," he says, "from the very beginning, every millimetre counts." That explains why it takes four to six months from ordering a shoe to its finalisation – and that prices start at €1,300. Yet what you get is a pair of shoes that last for up to twenty years. "The more forever, the better," say the letters on a black postcard next to the white sheet of paper written by the Bavarian couple, most likely written by other happy customers. Happy customers, however, probably are not only the result of the work of skilled people who live and breathe their craft, people who respond to changing times with flexibility yet never compromise on quality. When a business lives and flourishes over three generations, there has to be more behind it. Herbert Haderer puts it this way: "When I finish a pair of shoes and the customer just loves them, it takes a real load off my mind."