Mègeve In The Saddle
As the only equestrian event of its kind in the French Alps, Jumping International de Mègeve makes for an absolute summer highlight.
Mègeve in the magnificent Savoy Alps is the place to be in summer when it comes to following one's passion for equestrian adventure and, of course, some socializing in a refreshing mountain breeze. Best of the Alps visits the Jumping International de Mègeve – Edmond de Rothschild, a prestigious event that attracts amateur and professional show jumpers from all over the world and gets a glimpse behind the scenes with president Frédéric Muffat.
There is an exciting buzz around the Jumping International de Mègeve. We arrived late the previous night, but feel our anticipation immediately raising as we spot some dapper looking men dressed in jodhpurs and crisp white shirts passing through the hotel lobby. Out on the street, some local youngsters turned volunteers, clad in blue and white T-shirts - the dynamic signature colors of the event - are whizzing past on their bikes and electric scooters. Soon after breakfast we make our way to the horse jumping ground that is temporarily constructed in front of the Palais des Sports, to watch the first competition of the day.
Initiated by Frédéric Muffat, an entrepreneur and Pascaline Freiher-Scharapan, a former professional skier, who are both Mègeve natives with a shared passion for horses and a dream of establishing a high-class event like this in their home-town, they have managed to anchor the week-long show jumping competition as a reputable international sports event.
Set against the backdrop of the stunning mountains, it evokes a truly unique atmosphere that is both elegant and easy-going. And, above all, it makes for fabulous opportunity for a social gathering.
As we arrive on location, just a stone throw from the historic center of Mègeve, the grooms, the majority of which are slender and beautiful young women and men, warm up the horses on the training course. The evening before, a thunderstorm cooled the air down to pleasant temperatures. Some big white clouds behind the mountains add to the impressive scenery and to the jovial atmosphere of the spectacle including 350 show jumpers from over 20 nationalities. The best part is that the show is free for everyone and anyone to attend.
Giving your best 
"Thanks to Mègeve and its people who were very supportive about our endeavor, it was possible to make it to a great success in only a few years," says Mr. Muffat. But, as he states, it has been a relatively easy feat because of having the name Mègeve as a backing, which stands for quality as well as the the support of families like the Rothschilds, that have played a central role in the history and development of Mègeve."
Mr. Muffat attributes his interest in horses and events of this kind to his teenage daughter, who he has been accompanying to equestrian competitions for more than a decade. Although, he says with a charming smile, he prefers to ride his bike! Prior to setting up Jumping International de Mègeve  Mr. Muffat was known for organizing events such as the cycling competition over the Mont Blanc.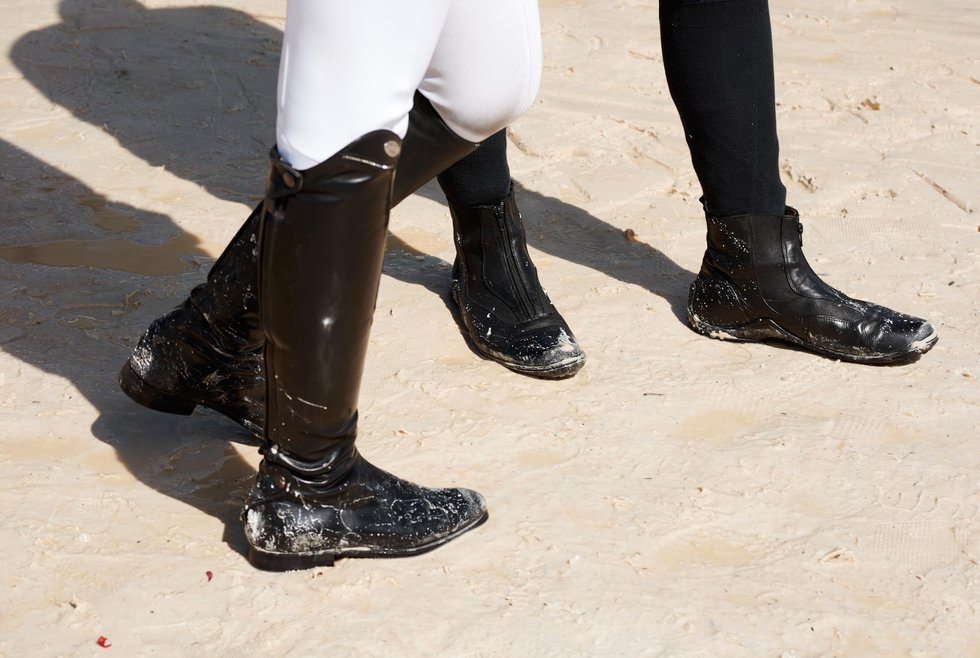 It is the beauty and proximity to nature that bonded Mr. Muffat bond with Mègeve. "We have an exceptional quality of life and I do consider myself lucky to be living here."
With the Jumping International de Mègeve he wants to promote equestrian sports as well as Mègeve, which is nestled between the breathtaking mountains and provides a perfect ambience for the event. 
It draws established international names from France, such as Michel Robert; reigning Olympic Champion Nick Skelton; or American show jumper Laura Kraut. Some of the cheering spectators in the past years included the famous French actor Guillaume Canet and French rockstar Johnny Hallyday. 
"I have been taking part since its inception. It's a very nice competition, with a relaxed and big crowd, which I like as it drives your motivation to give your best," says Pierre Brunschwig, an amateur show jumper from Geneva. "Also the mountains around here are just spectacular."
Celebrating achievements 
An encited crowd builds one's anticipation to witness the rider's quest for excellence. It starts with tournaments for the youngsters and leads up to the grande finale, the Edmond de Rothschild Grand Prix endowed with Euro 40,000 prize money. 
The trophy is designed and handed over to the winner by renowned local artist Pierre Margara. "Pierre is an integral personality in Mègeve for what he has contributed to the place with all his heart. We have been friends for a long time," says Mr. Muffat. "So it was a logical decision to include him."
Watching the noble show jumpers as they take one fence after another (the event is combining close to thirty trials for amateurs and professionals alike) you get a good sense of their focus, mental strength and determination that influences the steering of each move. 
All of them qualities, which can be translated into daily life situations according to Lalie Saclier, an 18-year amateur jumper and competing team member at the last European Junior Championships. "You learn how to handle stress situations better, you also learn, that one day you win, the other day you lose," Ms. Saclier explains.
After a long day of fantastic performances, the many exquisite local restaurants set up in white tents alongside the jumping ground get busy with riders and spectators who mingle over a drink while the sun is setting over the Mont Blanc.