Tee Off Vs. Down Hill
A wonderful view of the surrounding mountains, perfectly groomed slopes and fantastic weather: ideal conditions for a round of golf in Megève.
"Polo is also played on snow, so why not organize a winter golf tournament?" That's what Philippe Guilhem once asked his golf teacher Jean-Luc Biset. And what sounded like a joke at first became a very serious idea. Since Biset couldn't think of any reasons against it, the two of them finally launched their first winter golf tournament in 2000, on the snowy Golf du Mont d'Arbois à Megève, the world's oldest mountain golf course. Since that year the French ski resort has been considered the birthplace of winter golf – with Guilhem as its inventor? "I really doubt it," he says, laughing. "I guess a lot of people have tried playing golf on snow before me."
In fact, the title of "snow golf inventor" has been held by a well-known writer, Rudyard Kipling, author of the "The Jungle Book" and the youngest winner of the Nobel Prize in Literature so far. Even though his famous book does not tell us much about his love for winter sports. During his time in snowy New England, Kipling coloured some golf balls with red ink and started playing golf with strategically placed tin cans. After playing a few "holes", he continued working on his stories about the man cub Mowgli who was abandoned in the jungle.
However, since Guilhem's winter golf tournament really was the first of its kind, it is certainly not wrong to call Megève the birthplace of winter golf. "We knew from the very beginning that this shouldn't be just a fun thing, but a serious golf event." And it is, as the BMW Snow Golf Cup proves every year. And every year, their tournament offers the unusual sight of golfers' footprints just 100 metres away from long tracks of carved snow on the slopes. Curious skiers get a chance to watch concentrated golfers making their shots. They play nine holes with a shotgun start, meaning that nine groups of players tee off simultaneously from different holes. The longest hole length is about 400 metres. "We don't play pitch and putt here, this is real golf," Guilham says. "But first and foremost it's supposed to be fun, of course."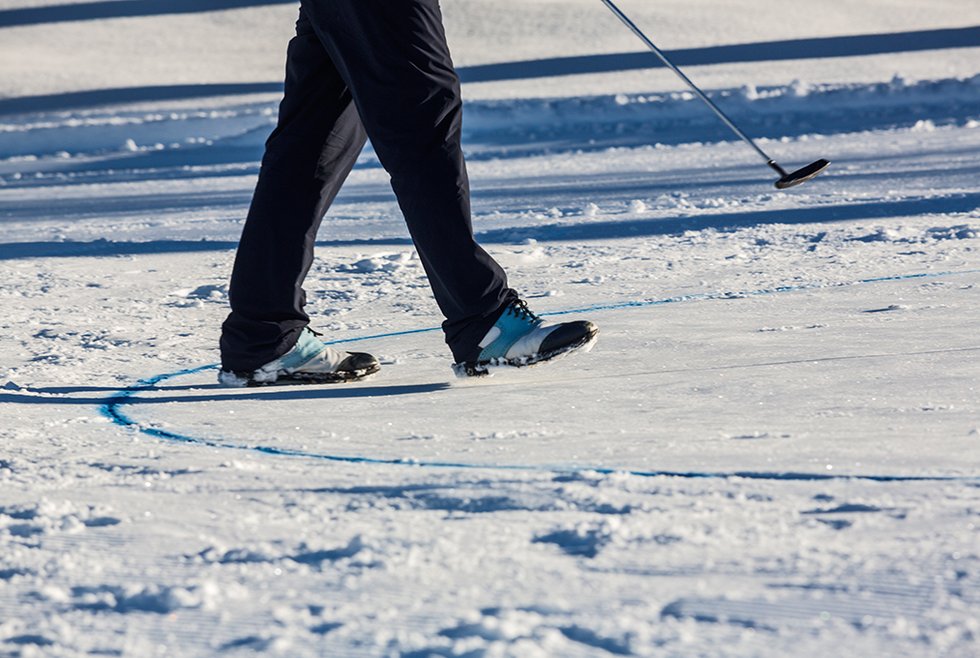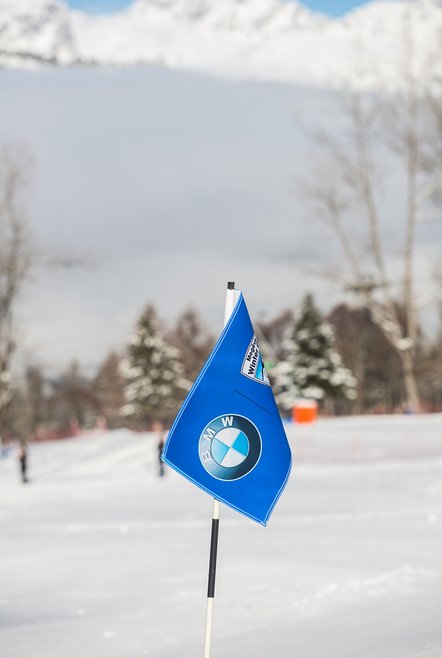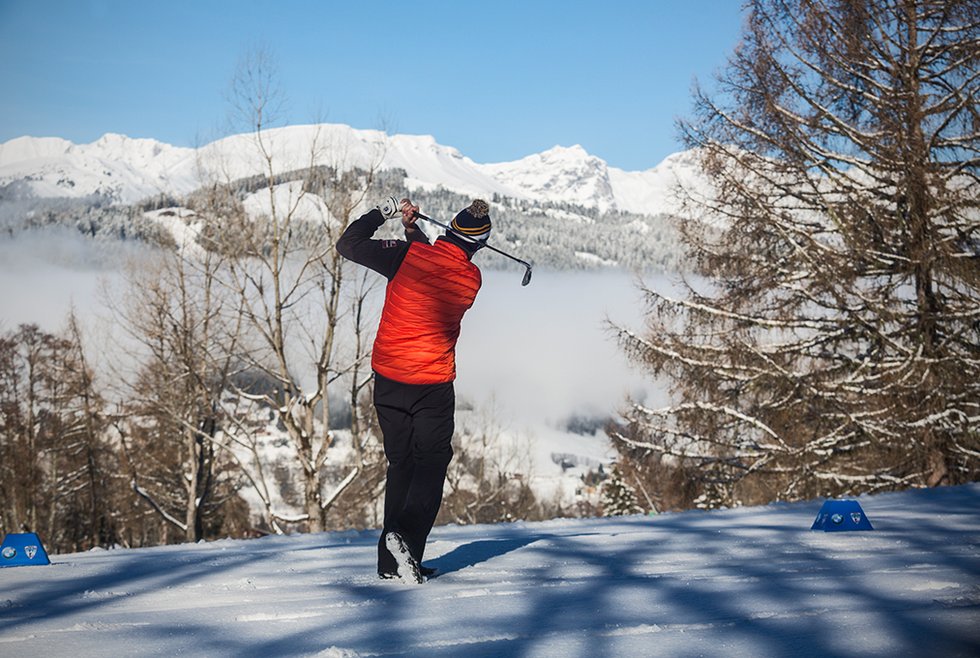 "A bit crazy, but so much fun"
Those who have tried this unusual terrain, whether golf pros or recreational players, love the feeling of playing on snow. "It is basically the same thing as in summer, but what is always crucial in golf is to have a good feel for the surface you play on," golf teacher Biset explains. The way the ball rolls is different on wet and dry grass, and of course, also on soft and hard snow. The biggest challenge, however, is the tee off: "You need to have a secure stand, which is so much harder on snow," Biset tells us. It might be harder, but it sure is at least as exciting, something which Arnauld Rota, a regular at the BMW Snow Golf Cup, can certainly agree with: "Playing golf in winter surrounded by mountains is a bit crazy, but so much fun."
Since the winter season of 2015/16, golfers can also play in Megève outside the annual tournament. On 25th January 2015, the Golf du Mont Arbois à Megève was launched as the world's first official winter golf course. The course is now open for two months every winter. The only difference is that players do not pay a "green fee", but a "white fee". "Getting the chance to play a round of golf before you go skiing – that really is unique," Guilham says and already thinks much further: "Everyone should get a chance to try this wonderful sport. And who knows – maybe people will play golf in Megève as part of the Winter Olympics one day." And if his vision comes true, Megève will definitely enter the history books as the birthplace of winter golf.