Don'T Ever Become A Chef!
"There's nothing more flexible than a chef," says chef Christoph Zangerl.
In December 2013, the famous Tannenhof in St. Anton welcomed top chef Christoph Zangerl as a gastronomic adviser. He, quite humbly, saw himself as the "buffer between kitchen and front-of-house service", suggesting improvements in all areas and helping out where needed. Zangerl, who has been awarded three toques by Gault Millau, likes it here, also because it is so close to home, to his wife, his family. The birth of their twins may have been one of the reasons for his decision to cut back working hours a while ago. After taking a year off he is now back at the Tannenhof, full-time, and motivated as ever.
Returning to Tannenhof full-time is a great challenge, says Zangerl, but despite his many tasks on a busy day like this, he takes time to tell us about his beginnings in the business.
His father Sepp Zangerl, then chef de cuisine at Arlberg Hospiz in St. Christoph, a few kilometres up the road, was not so smitten with his son's idea to follow in his footsteps. "Don't ever become a chef!" he warned him, and Christoph, good son that he was, dabbled in metalworking and carpentry. But to no avail - fortunately, many might say. "I spent time peeling potatoes in my father's kitchen and really liked that atmosphere of camaraderie," recounts Zangerl.
He still sees a successful restaurant as the result of the work of many; every top chef needs his staff, to challenge them and be challenged in return. "Every day it's a new fight. You need to push yourself and your people to deliver the best results possible." That is what they strive for, after all: best results and happy patrons. "Life in the food service industry is no walk in the park," says Zangerl. "It's easy to get up on a horse and storm ahead. But riding in perfect gallop over a long distance, that's the tough part."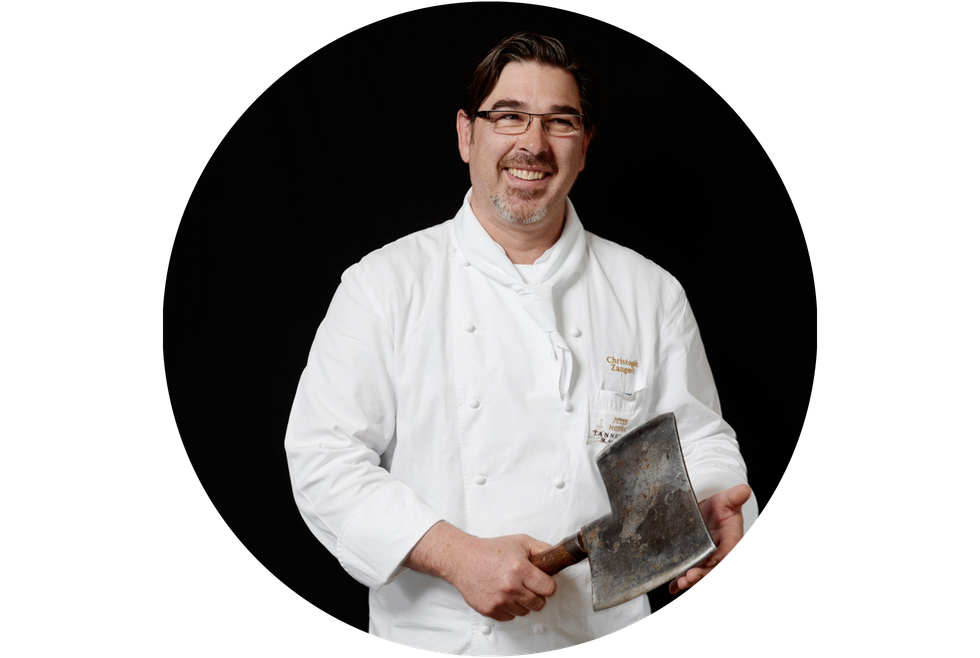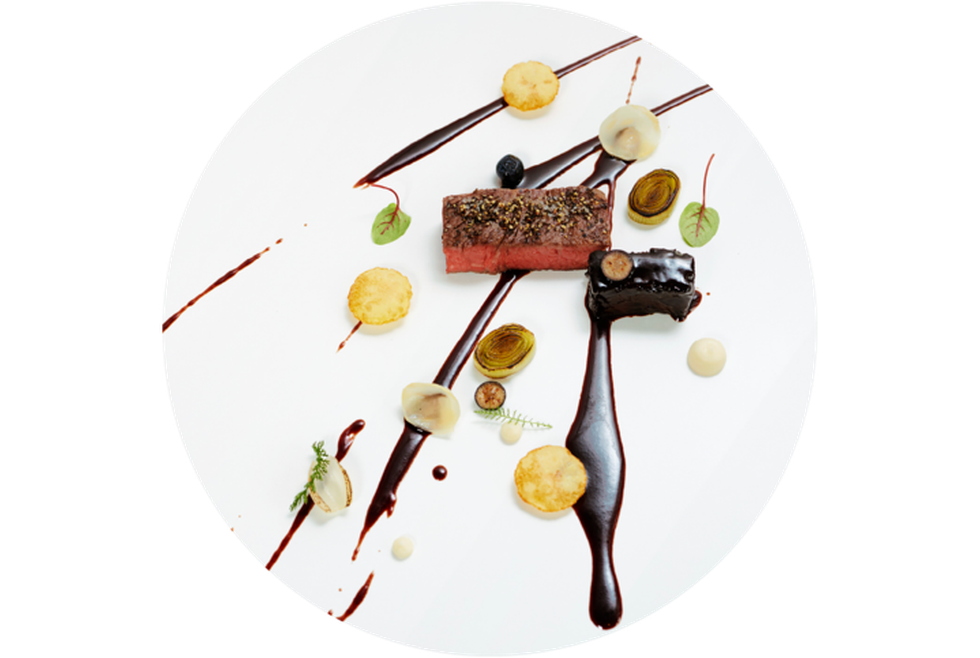 Saddle of beef | rib | leek | potatoes
Zangerl earned his stripes as a chef in Austria's best kitchens as well as in exquisite places in Australia, France and the Bermudas. Still, he happily returned to his native Austria; as a passionate snowboarder, he had missed the mountains and the change of the seasons. What he likes most about the Arlberg region? A born Tyrolean himself, he answers, "Tyroleans might be stubborn in the beginning, but you can really rely on their trustworthiness. A handshake really seals a deal around here."
This is something he greatly appreciates also in his partners and suppliers, who are from the region whenever possible. Local produce forms the basis of Christoph Zangerl's creations. He loves being innovative, presenting classic dishes from the region with a new, surprising twist. After all, guests are paying good money and are entitled to expect something extraordinary, he says.
There is always a motto behind his menus, some inspiration. "There is nothing more flexible than a chef," he says, for chefs have to be ready to "make the best of every situation" and – to stick with riding metaphors – "to spur themselves and their team every single day." 
And still, a good restaurant, he adds, is more than that, it is about having a good time, about enjoying the moment. A moment like when Zangerl, the professional gourmet, thinks of a piece of kohlrabi, warmed by sunshine in his own garden, served with nothing but a dash of salt and olive oil. Daydreams. Christoph Zangerl takes pleasure in the original, simple, natural. What's essential for cooking? "Salt," he says and adds, smilingly, "and my life partner. How boring it would be without a woman!"