Metropolitan Dining In The Alps: Welcome To The Chef'S Table At 1500m
When dining becomes a culinary event: In Zug's old Schualhus guests can indulge in gourmet meals prepared live by top chef Manuel Grabner.
 
In Zug, a part of Lech, there is a house that is both old and new. Old because it was built in 1780 and has weathered storms, wars, trends, and demolition. New because it was recently renovated – you can still smell the fresh young wood when you pull open the door and enter the new "Stube". Here, guests seated at sturdy wooden tables enjoy hearty traditional dishes like sausages, goulash and the infamous Austrian sweet treat "Kaiserschmarrn". The new old house is called Schualhus, school house, in reference to the old days when children in grades one to eight learned the three Rs – reading, 'riting, 'rithmetic – right here, all together in one classroom. Today, the building it is part of Rote Wand in Zug, a resort situated at 1500 metres altitude, which encompasses five additional houses. All of the buildings are connected in a system of underground passageways, painted in the resort's signature deep red and decorated with old photographs of the region. A closer look at the tunnels reveals a door here and there, one of which leads to the Schualhus' kitchen storage, which seems more like a secret laboratory. But we'll get back to it in a bit.
Like any proper house, the Schualhus has a ground floor, where the "Jausenstube" offers the aforementioned simple fare, and a first floor, where high-class menus await curious gourmets. If the ground floor is day, the first floor is night; while the former feels like an alpine village, the latter exudes the vibes of a sleek city. A short, dark staircase leads guests to a large room solely dedicated to culinary delights. The brightly lit kitchen studio is set in the middle of the room, framed by big copper pots hanging from the ceiling. A raised u-shaped table with tall chairs encircles the kitchen. This is where up to sixteen guests can relish an exclusive, fourteen to sixteen course menu. At the centre of it all: top chef Manuel Grabner and his team. Welcome to Chef's Table, founded by Joschi Walch, owner of Rote Wand resort. "I wanted to create something with an urban feel. Gourmet dining, but with regional products. I wanted to show that regional does not have to mean simple or banal", he explains. 
Guests can watch how ducks are spiced, chars are filleted, or pork jowls are arranged. "The best thing about Chef's Table is that you can see your guests up close. You can see the reactions on their faces; how they pick at the food on their plate and taste it; how they eat it with pleasure …or not. You can tell whether you've made them happy", says Manual Grabner. The idea isn't new – there are Chef's Tables in New York, London, Paris, Chicago, Copenhagen, and Hamburg. The new thing is that we are not in one of these large cities, but in a little village in the middle of the mountains. Where the 120 inhabitants can literally hear the stags roar during mating season. 
Top priority: regional products
For Joschi Walch, regionality is paramount in his values and decisions. He has been living and following this philosophy for many years and has passed it on to Manuel: "My boss steadily lead me to sustainability and locally produced goods. He introduced me to farmers and food producers in the region, showing me the faces behind the products. We've been able to create a huge network of suppliers. Some even produce exclusively for us, like our ducks and quail from Vorarlberg". Grabner originally hails from Upper Austria and has been with Rote Wand for seven years. He was 24 years old when Walch brought him on board. Before that, the top chef worked at Döllerer in Golling, Salzburg; at Restaurant Lichtblick in Seefeld; at Esszimmer in Salzburg – and in his father's kitchen, who is none other than Gault Millau-acclaimed chef Rudi Grabner, whose cooking genes he's obviously inherited. "Every time I misbehaved my Dad made me help in the kitchen. It never felt like punishment, more like a gift; I loved it", Manuel laughs.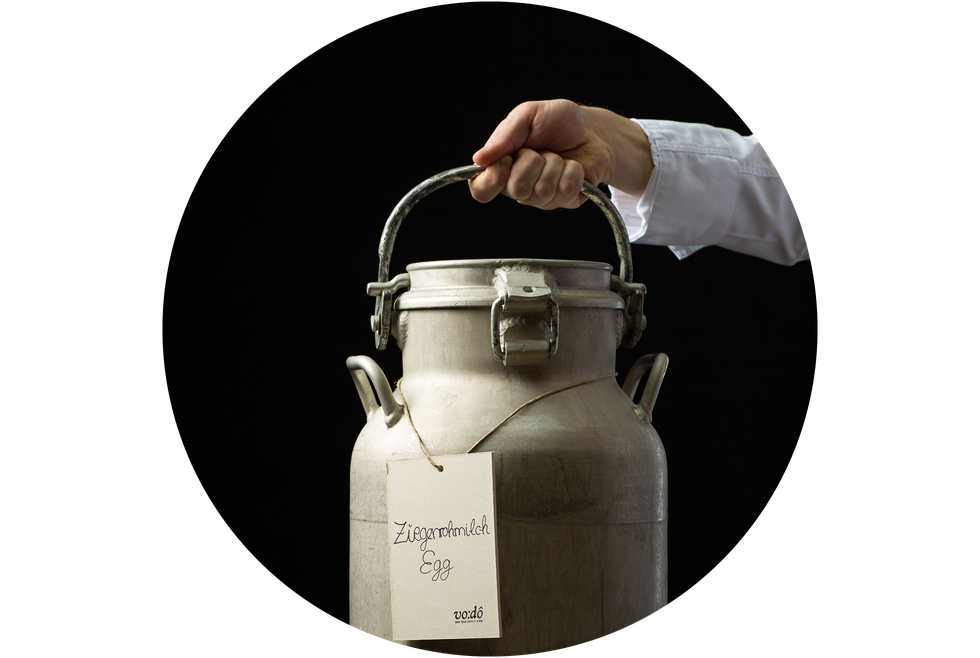 Clay-and-hay-baked Jerusalem artichoke with Gala apple and goat's milk ricotta
The young top chef seems to revolve around cooking all day. When he's not cooking, he thinks of new dishes to create. He has been taking the topic of regionality a step further. "About two years ago I began to connect with the region on a deeper level. I started to go hiking and noticed the energy and strength and silence of the mountains. My cuisine re-traces these feelings. We've used spruce and mountain pine; we've experimented with earth and moss", he shares. When he is outdoors – something that happens more often since his son was born – and finds an interesting herb or plant, he'll simply stick it in his mouth to see what it tastes like (of course only if he's sure it's not poisonous). The ideas swarm about his head until he translates them into a new dish. "It's a process that takes time," he's realized. One example: "Molten chocolate cakes have always been a hit with guests. My vision was to transfer the idea of the soft chocolate core into a different flavour, using local products like milk, caramel, or even cheese. The result was 'Vorarlberg Cream Cheese with Meadow Greens': A bit crunchy on the outside, it opens to this smooth creamy centre. Combined with grass tasting of wood sorrel and meadow sorrel, the guests really loved it", Manuel Grabner proudly tells us. To remember his ideas, he jots them down on a flip chart in the kitchen storage room down in the red passageway. This curious little room seems to be many things at once: There's a corner where he sprouts cress under a buzzing light, a flip chart with sketches and new ideas, and large vats of various fermenting vegetables. "In the end, cooking is all about biochemistry", Manuel explains.
Cooking is also poetry, he could have said. Looking at the precision, dedication, and passion that marks how he handles food makes this quite clear. The top chef describes his cuisine as the "sustainable, reduced refinement of products: I strive to preserve each product's individual flavour ". In his experience, the best time to work on new ideas is autumn. "The fogs start coming in. It begins to rain. The herbs begin to fade. The entire climate changes. It is the time I can best expand my culinary ideas. I feel less pressure and more headspace opens up".
In the past seven years, Manuel Grabner has grown used to Zug and developed a deep fondness for the small village – and vice versa. And yet, he is a young cook who is drawn to other, new places in the near future. "Working with young talents means letting them move on. I knew that from the start", Joschi Walch says. No reason to worry about the Chef's Table at Rote Wand, however: Manuel's successor has already been found. He too will follow the house's fruitful philosophy of re-interpreting regional products.

Currently Max Natmessnig and his team are cooking for the Red Wall Chef's Table in the Schualhaus.