The Thorsten Probost Effect, Or: Radically Sustainable
Top chef Thorsten Probost from the Burg Vital Resort 5* hotel in Lech Zürs believes in the healing properties of food.
Sometimes you have to be radical to forge a new path. Thorsten Probost is a great example for this, even though the philosophy behind his medicinal cuisine, Architected by Nature, appears quite soft-spoken at first. The charming top chef of the Burg Vital Resort 5* hotel feels nature is the best teacher and relying on our own senses is key. To train the latter, he has even cooked in the dark.
The first impressive thing about Thorsten Probost is his firm handshake. It quickly becomes clear that the chef, originally from the Swabian Alps, lives and breathes his profession. The fitness tracker on his wrist, meticulously monitoring his energy balance, proves that he lives what he preaches. "I should still run for an hour and two minutes because I've only burned 1766 calories today," he says after briefly glancing at the tracker's display.
With its progressive character, Thorsten's approach – named vitalKochen and following the principle that food is to be prepared and enjoyed in harmony with nature – fits perfectly into the concept from the hotel Burg Vital Resort 5* and its restaurant Griggeler Stuba. In fact, it even captures the mentality of Lech Zürs: The more you invest into nature, the more you will get back in return.
The top chef developed his deep understanding for holistic cooking and its healing effects from an instinctive approach to food, as he himself describes it. He uses what nature has to offer, like herbs from his own garden or from the rich alpine meadows of the Oberlecher Alps at 1700 metres.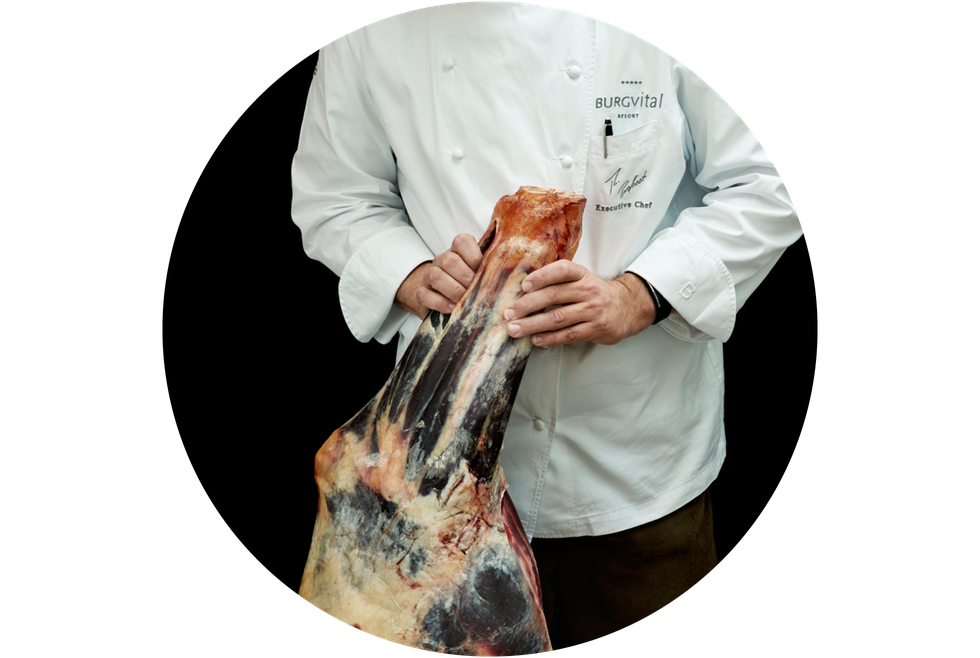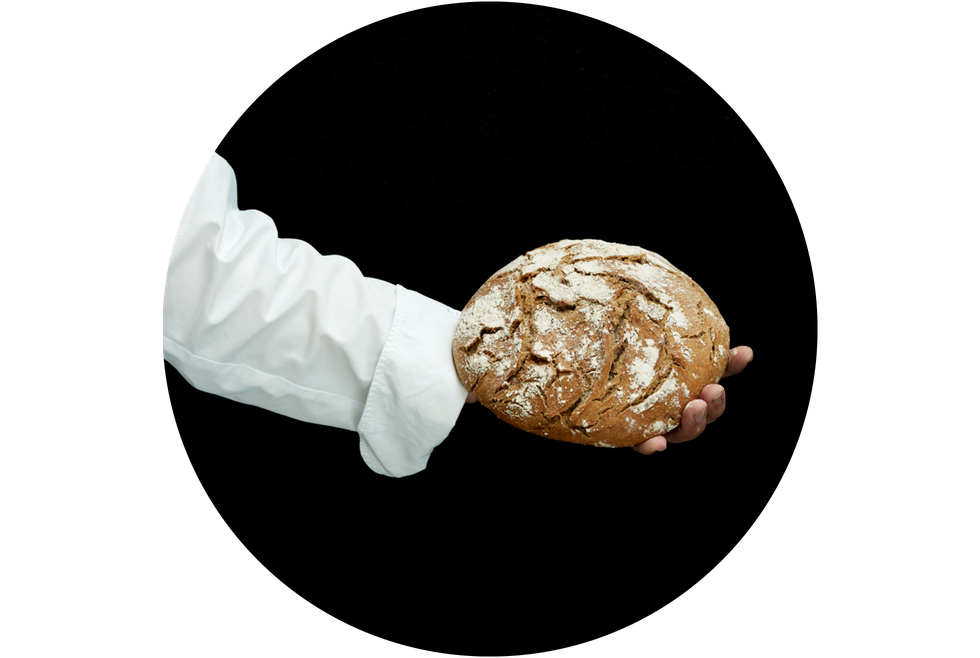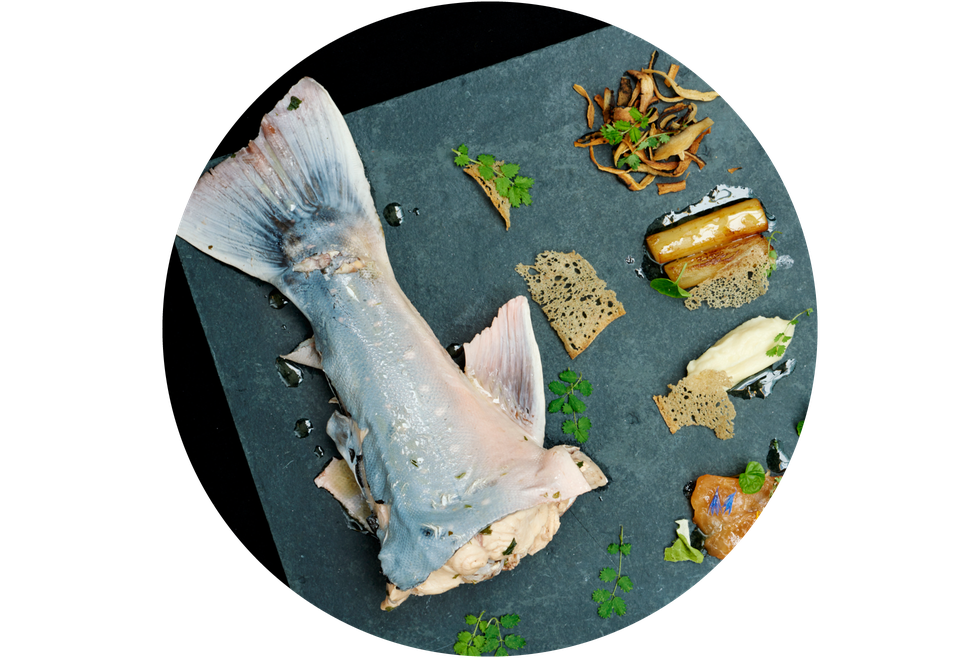 Char from the Zuger pond with salsify from Simon Vetter`s farm
Back to nature
Thorsten's approach is fully reflected in the cuisine offered at the Burg Vital. It all starts with highly biodiverse and thus nutrient-rich soil, which is absolutely essential for high-quality produce. "We rediscovered an old potato variety called Anuschka and we use about 1,7 tonnes a year of it for potato salad and mashed potatoes." The potatoes are soaked in water for one and a half days to draw out excess starch. The grains used in Probost's kitchen come from a Demeter certified farm, which means that the grain is grown organically and bio-dynamically. "It's so much fun to bake bread with ancient grains. We bake our own nut bread; it has to be moist and really taste like nuts." The old saying "You are what you eat" really comes to life in Thorsten Probost's kitchen. 
Organic chicken, eggs and other meats are all always ordered from the same, trusted producers. He prefers beef from local breeds such as Tyrolean Grey or Pinzgauer. The chef even supervises how the cattle are fed and how they are transported to the slaughterhouse. Stressed animals won't produce high-quality meat.
"Everything has its time – that's when it's time to use it"
In the back of the restaurant's kitchen there's a huge cooling unit – a true treasure chest of regional specialties. This is where Probost hangs huge chunks of beef to ripen. He's the one who decides when a piece of meat is ready – using his nose. Smell is the most important sense when it comes to cooking. And having lots of time is also essential.  "Everything has its time – that's when it's time to use it," he likes to say, meaning that for every product there is a perfect time to cook and eat it. "Of course all of this takes an enormous effort, but it's important to stay true to your own principles and to try to inspire others to come along," the top chef describes his philosophy. At times it has been lots of work to convince others of letting him stick to his own path.
An effort that has surely been worth it. What inspires him are the daily conversations with producers about how exactly things grow in the earth and what effect food has in the human body. For Thorsten, cooking includes profound knowledge about biodynamic processes in our bodies. It quickly becomes clear how fundamental the interplay between humans and nature truly is.
Thorsten finds the time to contemplate and process his ideas by spending lots of time outside. De-stressing is what he calls it. The perfect starting point for a holistic approach to food and for finding out "what's good for me."
In the Burg Vital Academy this philosophy is taught to a new generation of chefs. Put into practice, the young chefs learn everything from sourdough to cheese. In all aspects, the Thorsten Probost Effect is spreading: Even his ambitious sous-chef has started wearing a fitness tracker.
Food as preventive medicine
Thorsten Probost can look back on a long and fascinating career. He has cooked in fine restaurants such as Burgrestaurant Staufeneck in Salach, Baden-Württemberg or the Gästehaus Erfort in Saarbrücken, which has three Michelin stars. At the same time as Thorsten was seeking a new challenge, the Burg Vital Resort's founder and owner Fridolin Lucian decided it was time to try something new. Starting with the radical idea to recommend specific dishes to guests instead of offering à la carte dining, Thorsten Probost and the Lucian family have been working together for more than thirteen years.
Before that, Probost spent some time working in a friend's butcher shop, where he gained lots of knowledge that he can now apply to his work. He knows a lot about humane slaughtering methods and the relevance of cows' horns. They're like an exhaust for the gases that develop in the cow's first intestine. "That's why the milk of those without horns is different. The methane gas remains in the body and is deposited in the milk. As a result, humans cannot properly digest the milk," Probost elaborates. That's why looking at the entire process of a product is so important to him. In is opinion, 'organic' is just a first step.
His knowledge of domestic herbs comes from the Resort's senior director, who invited him to come along on her numerous hikes and initiated him into the healing qualities of local herbs. Thorsten Probost knows enough to fill books, like his first one, Vital kochen mit Kräutern (vital cooking with herbs).
The growing interest in these subjects has also led to collaborations with renown medical experts who helped revise the hotel's complete menu: more vegetables, proteins, and natural sugars and no more bleached flour and white rice. Probost and Dr. Kurst Mosetter even wrote a book on the dangers of refined sugars, Zucker – Der heimliche Killer (sugar, the secret killer).
For quite some time, Thorsten has been learning about geriatric herbs. The Asian approach believes that certain plants can trigger certain processes in the human body and, for example, can alleviate the side effects caused by chemotherapy.
"You have to let others show you what's going on"
Thorsten Probost and the town of Lech Zürs share the same attitude: "People's radical opinions on sustainability have made this place what it is. They have treated their environment with such sincerity from the beginning; they know what's okay and what isn't", he explains in his charming accent. 
What drives someone like Thorsten Probost? "Getting up and being able to enjoy nature, skiing to work on the Der Weiße Ring-tour (a 22km skiing route connecting Lech, Zürs, Zug and Oberlech) – that gives me heaps of joy. And knowing that I'm lucky enough to work with world-class products." He takes care to stress the 'lucky'.
His favourite culinary memory is an evening spent at a chalet, cooking 'unplugged'. "The place didn't even have electricity; there was nothing and we had to fully rely on our noses to decide whether a meal was ready or not," he enthusiastically remembers, "Nature will always show us what's up."