The Unbelievably Delicious Lightness Of Martin Dalsass
Chef Martin Dalsass loves olive oil. So much they even call him the "Olive Oil Pope". And he uses his favourite ingredient for almost everything, including his signature chocolate mousse.
In his famous Talvo restaurant with an interior made completely out of wood, Martin Dalsass cooks almost without any animal fats. More specifically, the guru of olive oil, or "Olive Oil Pope", as they call him, cooks almost all of his culinary creations with premium Italian olive oil – from salad vinaigrette to cavatelli to chocolate mousse. The result: a delicious lightness that really is one of a kind.
"That's a so-called 'soul hole', Martin Dalsass, owner and Chef de Cuisine of the famous Talvo restaurant, tells us about a small wooden opening above one of the tables in the restaurant's "Stübli", a characteristically rustic dining room. The restaurant in Champfèr near St. Moritz is located in what used to be a barn back in the 17th century. "That's where the dead were laid – their souls could be set free through this little hole," he explains. Nowadays, that's where his guests sit and enjoy their espresso, schnapps or a nice cigar. Just like Martin Dalsass does from time to time – he was named Davidoff Cigar Man of the Year in 2013. Born and raised in South Tyrol, Dalsass moved to Champfèr to take over the famous Talvo in 2011. Together with his wife Lorena, his son Andrea and his kitchen and service staff, he has been serving his divine dishes under silver bells to food-loving guests ever since.
An Ode to Olive Oil
Martin Dalsass was given the name of "Olive Oil Pope" in 2005. He was also awarded "Newcomer of the Year" in 1996, "Swiss Chef of the Year" in 2001 and he is currently holding 18 Gault Millau points and 1 star in the Michelin Guide. Over the past three decades, Dalsass has become a real expert on olive oil and knows all about this thick and yet so light green essence. "During my time in Ticino I catered many Christmas dinners, and people used to come up to me and say how glad they were that I was the one cooking for them, because since my dishes were so light, it was easier for them to get up and work the next day," he recalls. His love affair with olive oil started 30 years ago, when he was "enlightened", as he calls it, after a journalist had taken him to a degustation. "I learned that every oil has its distinct flavour. The great thing about it is that even if you eat a lot, it will always feel light." Dalsass knows that every dish requires the right oil to emphasize its natural flavours. For example, lettuce requires a very light oil, whereas arugula needs a stronger oil.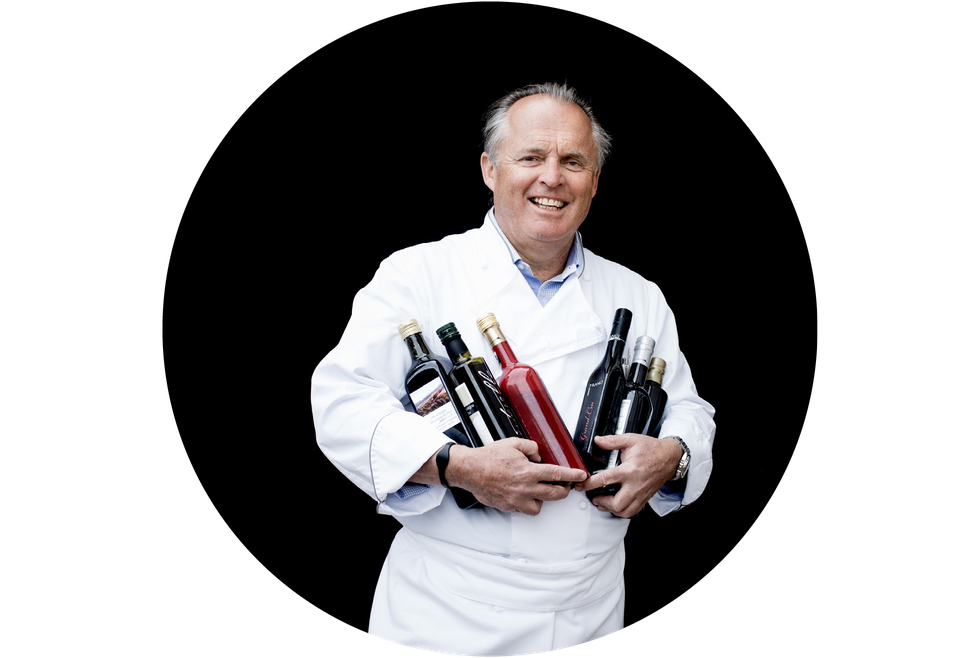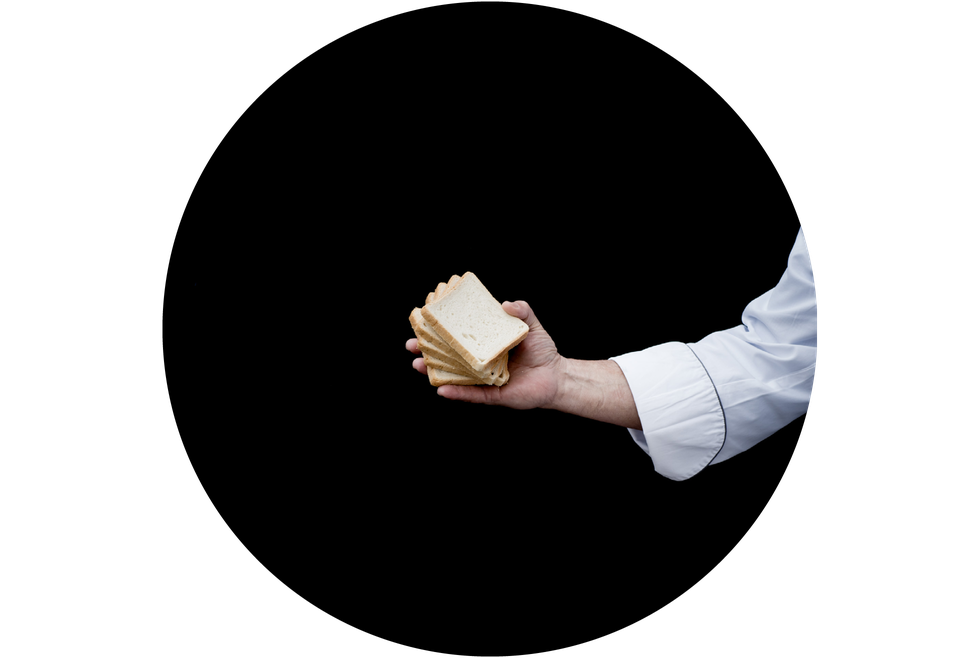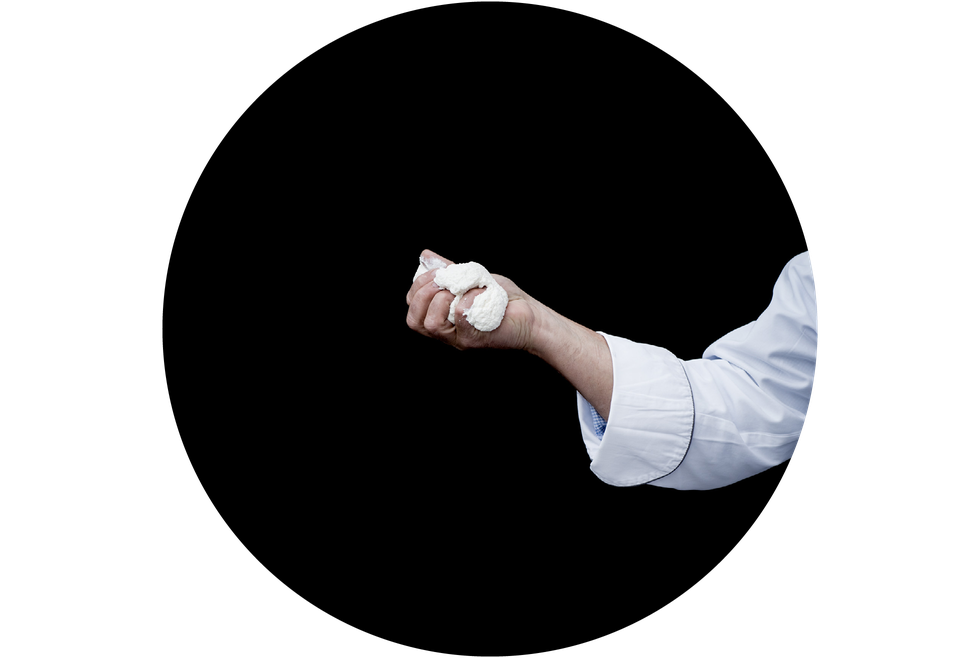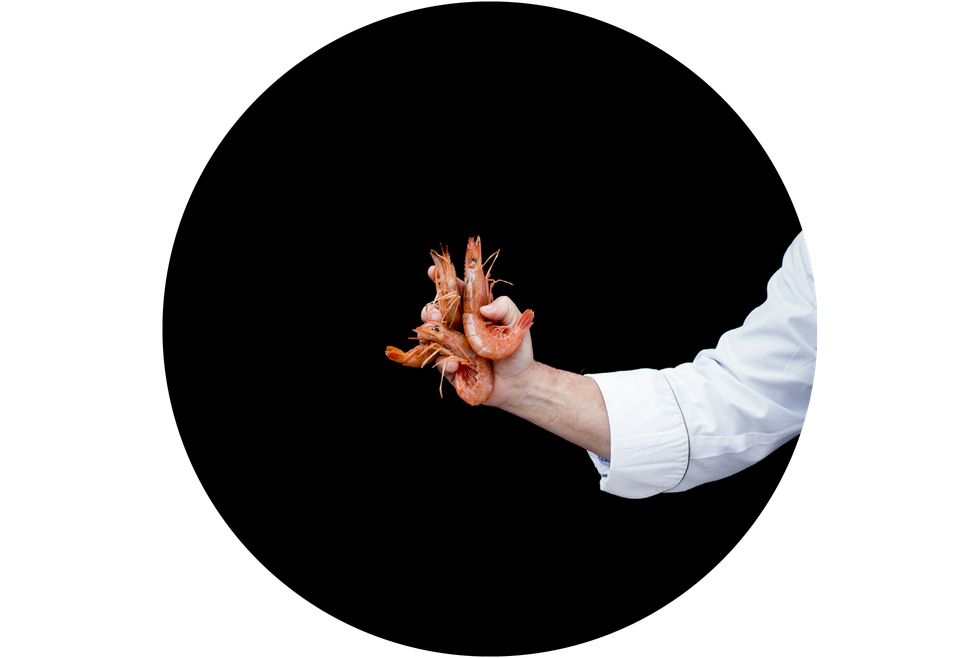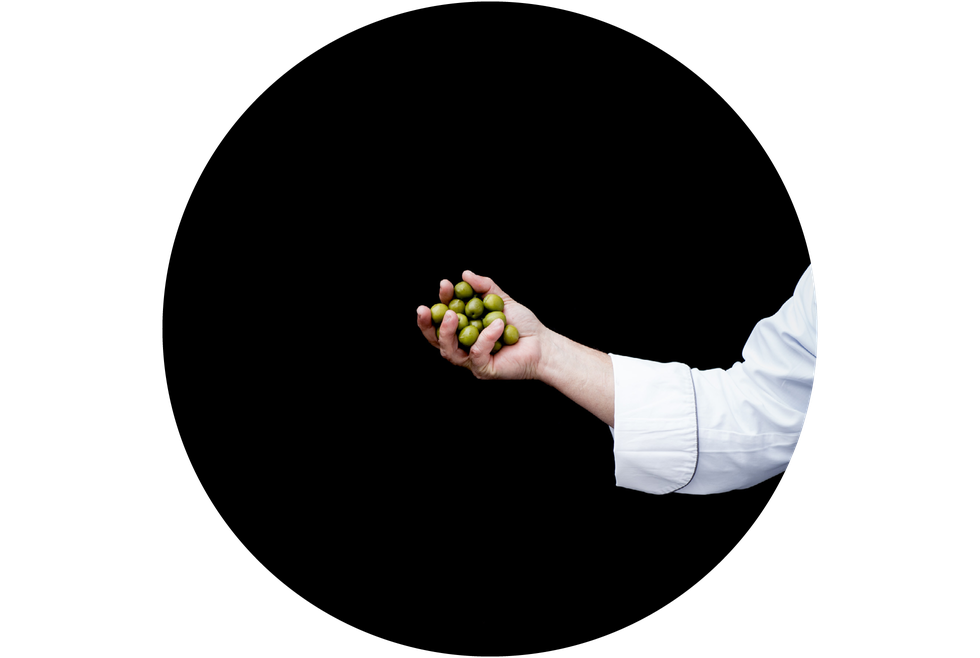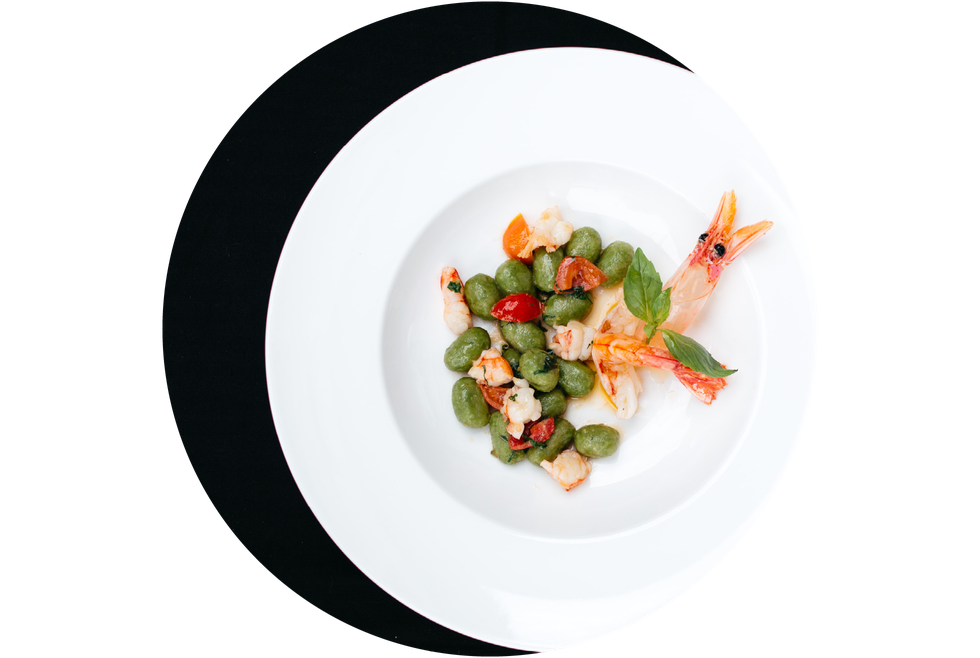 Light, fresh, regional
"Back to Nature" is Martin Dalsass' motto. "The quality of the products we work with is the most important thing. No chef in the world can make a product better than it is," he says, and his fridge proves just how important quality and freshness are to him – it's almost always empty. Dalsass likes to create his dishes based on the availability of regional and seasonal products, like porcini, trout, asparagus or venison, which, by the way, is his favourite meat, because, as he explains: "Deer doesn't know it's going to be shot, whereas a pig is already releasing adrenaline on the way to the slaughter house. As a reaction to the adrenaline, the body produces lactic acid and you can taste that in the meat."
"I hate doing the same thing all the time."
But adrenaline can also be a good thing, of course. Like the adrenaline you feel when you are hiking to find the remotest little mountain torrent with the most delicious fish in the region. Or when you cater for a wedding reception, where guests expect something great and you know that the party will only be a success if the food was amazing. The same is true for New Year's or Christmas dinners, by the way, as well as other big events where the food just has to be perfect. Dalsass probably also experienced a bit of an adrenaline kick when he decided to pack his bags as well as all his pans, pots and aprons and leave the past 20 years behind to move to a new place and start a new business. "It was a big challenge for me to move from Ticino to St. Moritz. But I like challenges. Too much routine is bad, because you become negligent and can't see your own mistakes anymore. I hate doing the same thing all the time," says Dalsass. He recalls that even as a child he loved to try different types food, for example when he joined his is father, a truck driver, on his tours. Maybe these childhood memories are part of the reason why he still thinks a good meal should be able to fill you up. What he also considers important is that "you need to take at least three bites of a dish to decide whether it's good or bad." What he doesn't like are too heterogeneous dishes: "You end up with 10 or 15 different flavours in your mouth and eventually, all you can taste is sweetness," Dalsass concludes.
"The mountains give me so much energy"
Now that he lives in St. Moritz, Dalsass is still going for walks and hikes to find the best fish in the region. What he likes about this place is the fresh air, the beautiful nature and fascinating landscape: "The mountains give me so much energy. Every day I go out at 6 am to take a one-hour walk and every day I see deer and squirrels – that's wonderful." Apart from that, the mountains also inspire him, because according to Dalsass, a cook is also an artist. That's why he always asks his young talent if they are good at drawing. And he makes sure they have good taste: "A good cook needs to know if something has too little or too much salt. I think this is something you can't learn. But of course, the most important ingredient for a career as a chef is the love for what you do," explains Martin Dalsass and the way he says it, you cannot help but believe every single word.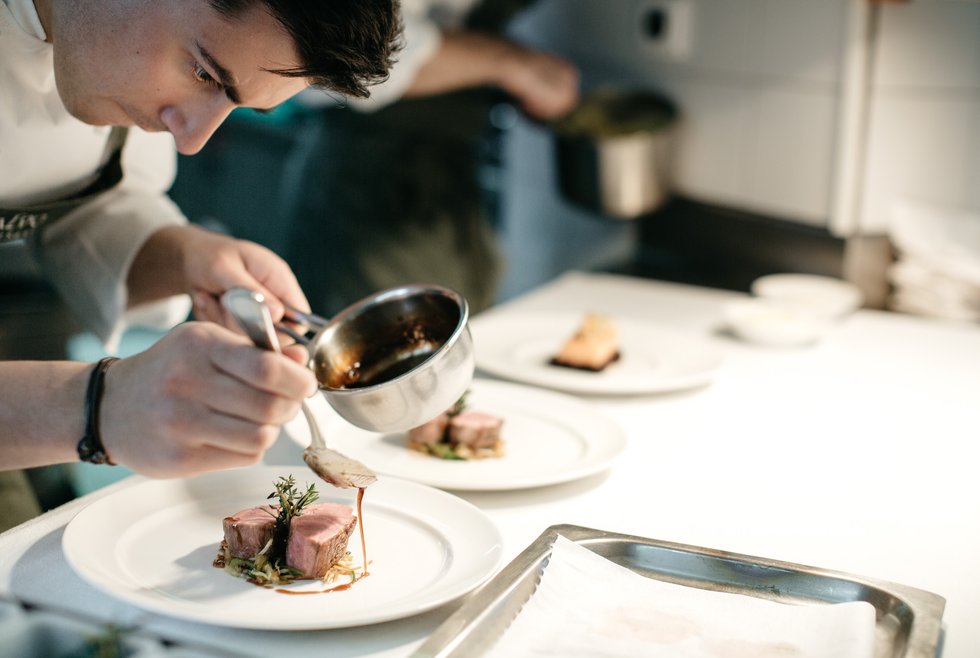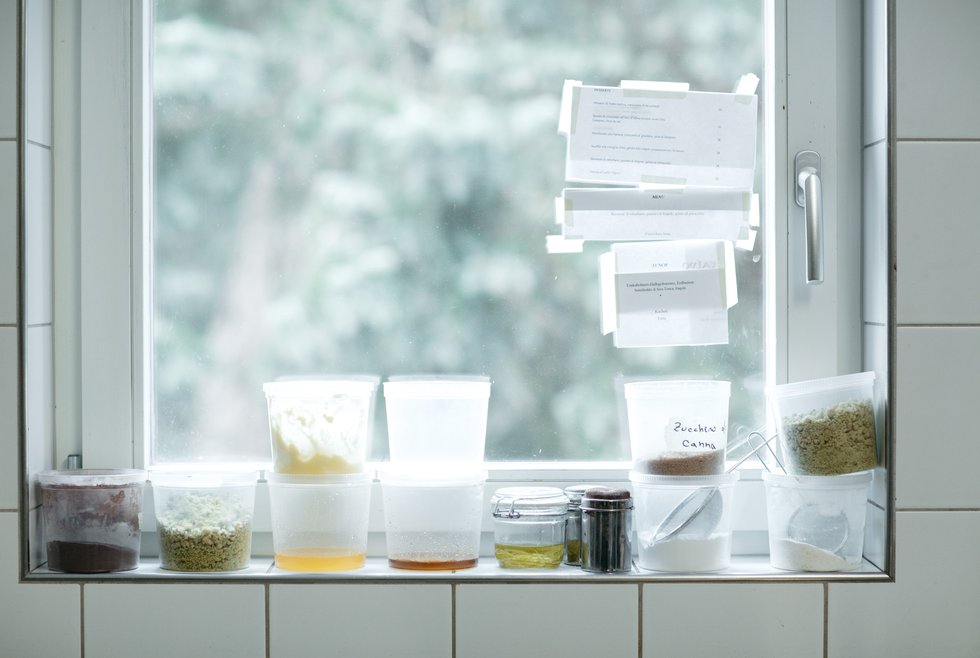 Embracing imperfection
Every word you hear from chef Dalsass shows his passion for what he does. When he speaks about fresh tomatoes, the tender meat of a suckling lamb from the Pyrenees or this special olive oil that makes his signature chocolate mousse so incredibly light, the mere words will make your mouth water. His cuisine is pure life. And maybe that's why he doesn't consider himself perfect, but rather embraces his imperfections: "Perfection is boring. While you should, of course, always aim at perfection, you also need to accept your little flaws – you always need to leave room for improvement."
On one of the walls in the Stübli is a window-like opening with a written sentence that says: "The most precious thing in Talvo:" If you open the window, you see your own reflection in a mirror. Those who come to Talvo will be treated like kings and queens. And they will taste and feel Martin Dalsass' soul that speaks through his creations, such as the cavatelli, the seabass, or the vanilla soufflé – with this incredibly delicious lightness.