Sailing In "Reverse Wind"
Lake St. Moritz stands for perfect sailing conditions even in the height of summer. That's mostly thanks to the legendary Maloja wind.
Anyone who has ever been to St. Moritz in summer has met him. He is a regular in the warm season, bringing a wonderfully mild climate to the town. And he is a particular favourite at the St. Moritz Sailing Club – the legendary "reverse" Maloja wind.
There are perfect sailing conditions at almost any time.
In alpine valleys, you will generally find wind blowing up the valley during the day and down the valley at night (see fact box). In Engadin, however, this system is reversed. The explanation for this extraordinary phenomenon can be found on the other side of the Maloja Pass, in the Bergell valley. The slopes there are extremely steep, producing very strong up-valley winds which move on to Engadin and down that valley during the day. Jürg H. Leuzinger knows everything about the Maloja wind. For more than 40 years he has been a member of the local sailing club, serving as its president for ten years. He has spent countless hours out on Lake St. Moritz and knows that "there are perfect sailing conditions at almost any time."
"It's not just sailing from A to B"
After so many sailing years, Leuzinger really knows why "his" sport is so fascinating. Still he struggles to describe it. "I think it's the challenge of working both with and against nature. When you're on a motor boat you simply drive from A to B. You can't do that on a sailing boat. Sailing takes a little more." Only those who can read the wind properly will set the sails right. Only those who recognize an upcoming gust early on will react accordingly and use the force of nature for themselves.
As we speak, the 1. Esse750 Regatta is under way on the lake. Seeing the sailors lean over the edges of their boats to balance the powerful heeling moment is a particularly beautiful sight. Seven boats are making their rounds on the lake, the wind conditions are – expectedly – good. Up to five regattas are taking place every year on Lake St. Moritz and nearby Lake Silvaplana. Watching races is particularly nice on the former, says Leuzinger, "Lake St. Moritz is rather small and spectators can see the boats during the whole race. On a large lake the boats are often far away out on the lake and you can only see them through binoculars, if at all."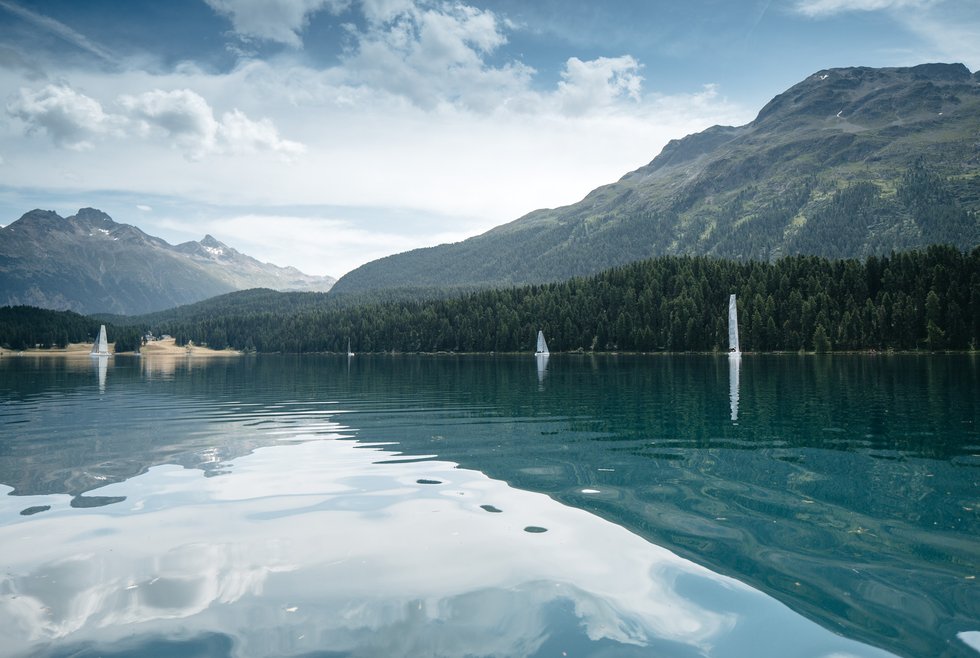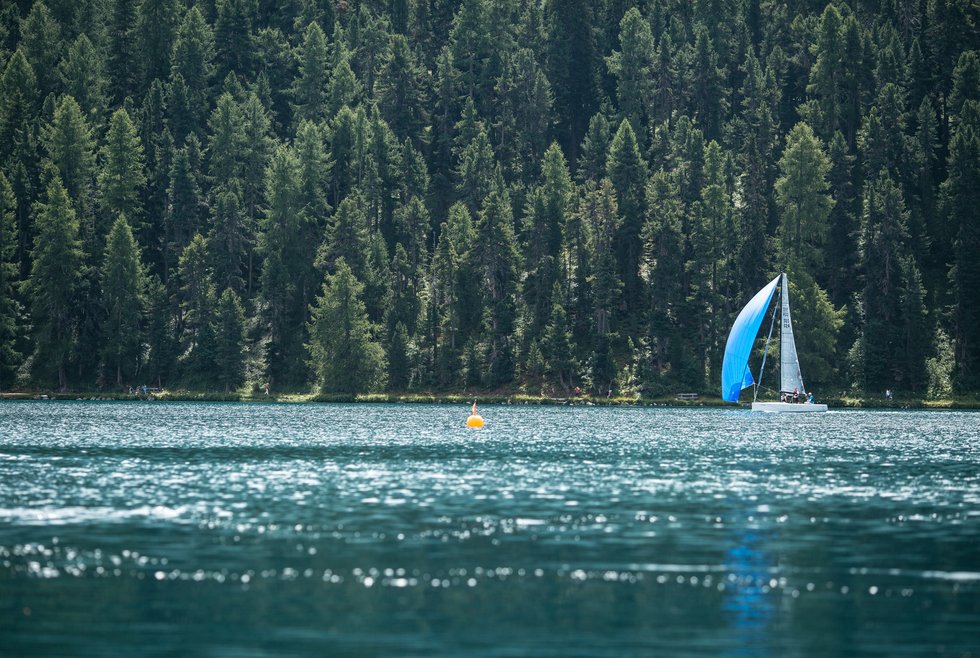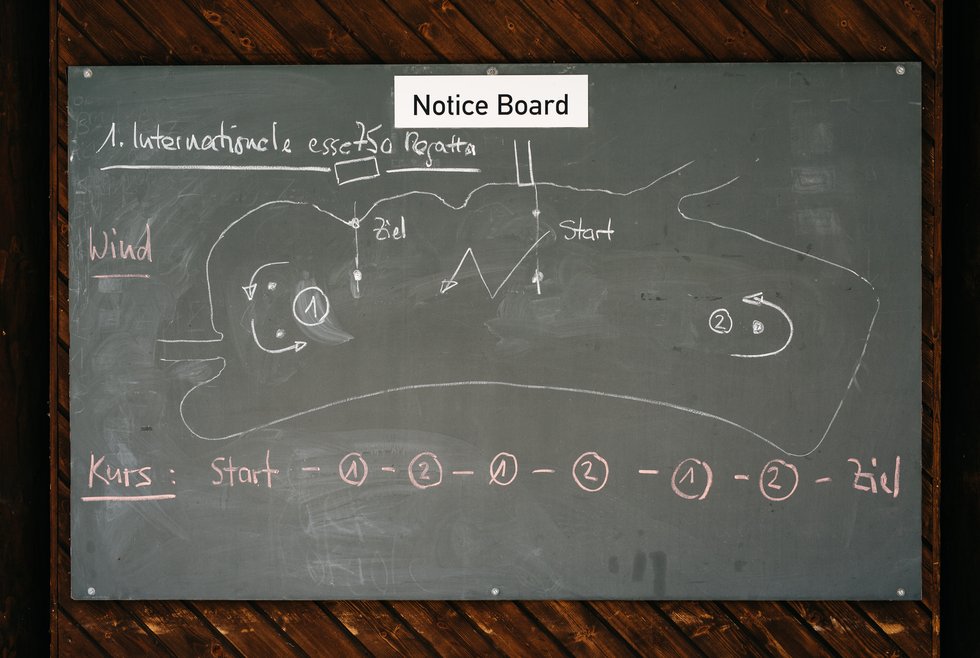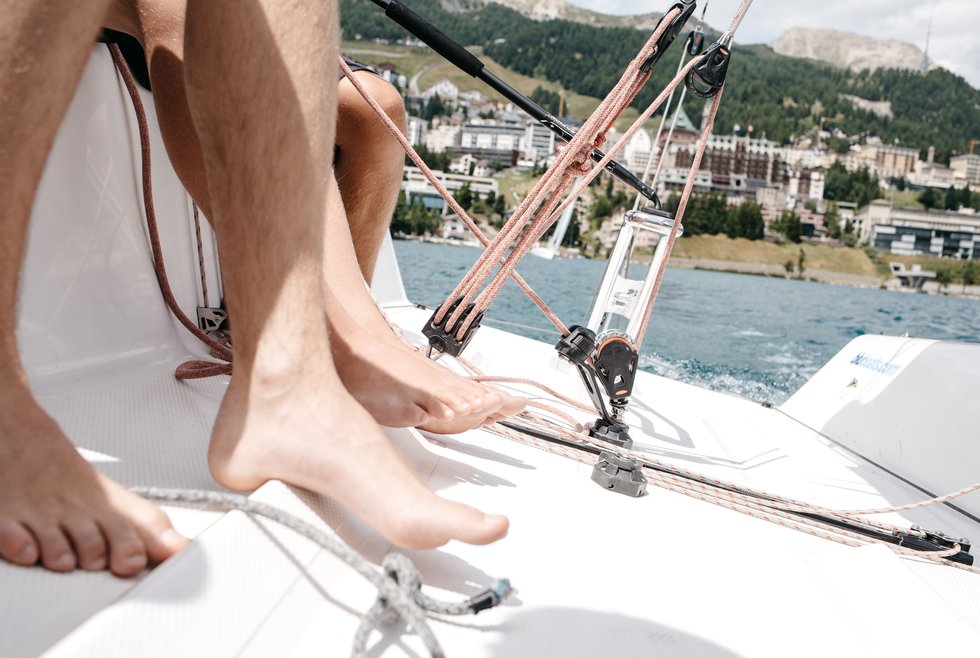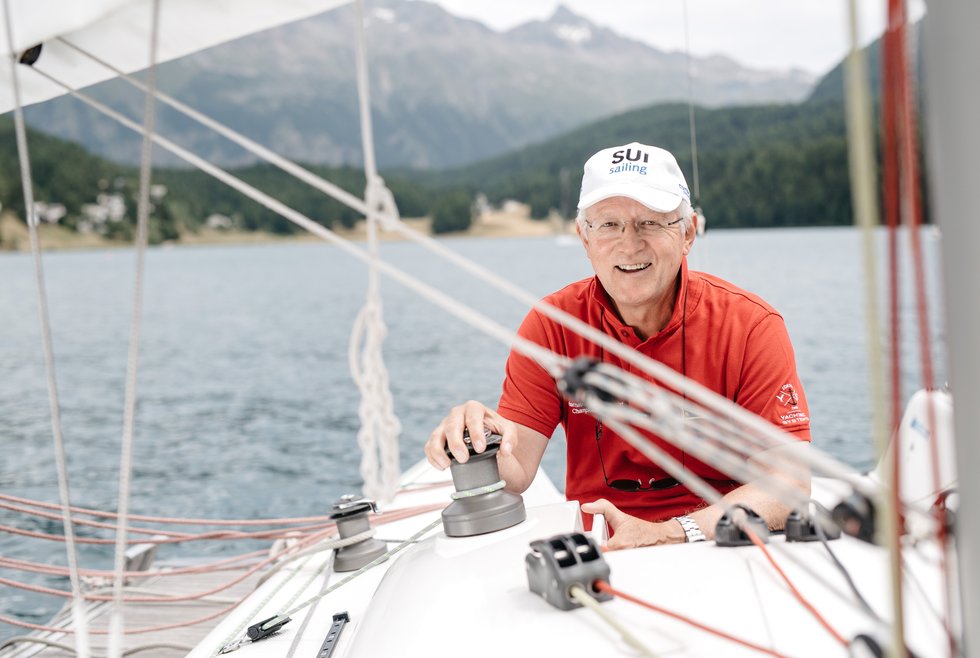 Sailing as a new trend sport
Not only experienced sailors and racers come to St. Moritz, it is also very popular among beginners, especially children and teenagers, eager to learn the ropes of sailing. "We have three sailing teachers and 20 students in each class. Our classes are almost always fully booked." He himself started early, too, being able to sail a boat all on his own before he turned 18. "My father never gave me his car but I could always borrow the boat," he remembers with a grin. As an examiner he always watches whether "the youngsters" are in control of their boats – and often finds himself surprised. "There are 14-year-old boys who handle the boat so well you could always let them out on the lake without being worried." And that applies to both locals and guests - if you are a quick learner and a little talented, you might finish a one-week holiday in St. Moritz with a sailing certificate in your hand.
Leuzinger, however, is not surprised by the popularity of sailing. "Everything else becomes more hectic and fast-paced. Sailing allows you to slow down and unwind." There's also more to sailing that also applies to life as such: "Perseverance, patience and precision will take you a long way."
Factbox:
Wind in alpine valleys

The sun warms up the air over the mountain slopes, making it rise while being replaced by new air at the bottom, so that the wind blows up the valley during the day. This system is reversed by night when the air cools down, sinks and blows down the valley.