"A Tomato Has To Taste Like A Tomato"
When Vilson Krasnic, chef de cuisine at Dal Mulin, stood in a restaurant kitchen for the very first time he was scared. Fortunately, that feeling was not meant to last.
Today, as chef de cuisine of Dal Mulin, there's nothing he loves more than a professional kitchen – except for his brother Danijel of course, who runs their place, St. Moritz's new top restaurant, together with his wife Kathrin.
Arched-back shoulders, hands on the hips, head tilted slightly upwards? Not Vilson Krasnic's favourite pose. And rightly so - the young chef de cuisine of Dal Mulin is far from being pretentious. Authentic, that is what he wants to be, what he is, more a craftsman than an artist, rather in the background than front-of-house "with the guests". So he just lets his arms dangle casually over his simple dark-blue apron and holds his head straight. "Much better," he says with a hint of an accent, revealing the Albanian DNA he shares with his brother Danijel.
For the things that are not so much in Vilson's nature there is Danijel. The 35-year-old and his wife Kathrin took over the cosy top restaurant in the heart of St. Moritz in 2013, his adopted hometown for the last 14 years. Danijel is also the restaurant's sommelier – and someone who loves to interact with people, who actually needs the hustle and bustle that comes with running a restaurant. Danijel appreciates honest feedback and always tries to figure out his guests' wishes before they even realise them themselves. "Danijel captures the spirit among our guests out there and then comes back here and tells me about it. I then translate it into food," Vilson explains. When you know each other all your life and share the same set of parents there are not a lot of misunderstandings: "We think very much alike and have a very similar taste."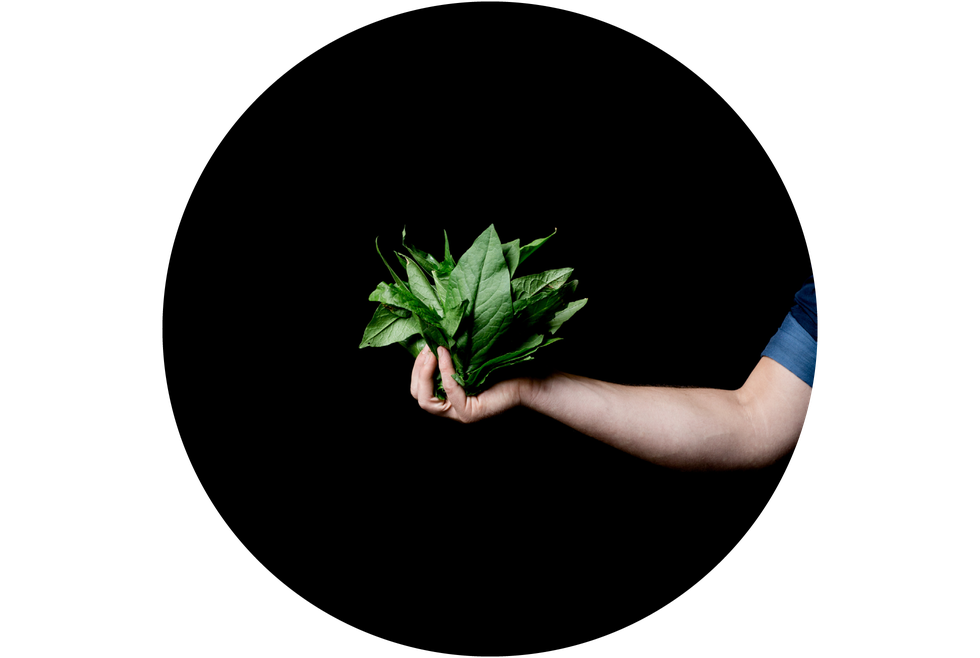 Beef Tartar / Sorrel / Radish
The preparation: artisanal and authentic.
A very good taste it seems – you don't get 13 Gault Millau points for nothing. And there were good teachers along the way, too. Danijel, for example, perfected this sommelier skills with Martin Dalsass at Talvo. The Krasnic brothers' approach to cooking is very similar to Dalsass', too: "Focussed, reduced to the essential, honest, accurate, pure – that's how I would describe our cuisine," explains Danijel. And just like at Talvo it is the raw product that plays the lead role at Dal Mulin: "A tomato has to taste like a tomato," says Danijel and holds his right hand as if slightly squeezing a perfectly ripe fruit. Authentic, like an artisan, as if to say: It is never our goal to change the essence of this product. But they are also very realistic about their guests' expectations: "When you come to a restaurant and read the menu, you start imagining what you will get. When guests are disappointed anywhere in a restaurant, it is often not because the food was bad but because they got something different then what they expected," says Danijel. Consequently, the menus on the wooden tables at Dal Mulin are very clear, structured and straightforward. No chi-chi, as Vilson puts it.
The selection: alpine.
"When you come to the mountains in winter, there are certain expectations about what you will eat. So that's what guests get at our place." That is: traditional dishes made from local ingredients. The veal comes from a local butcher, the eggs from Champfèr, cheeses from La Rösa in Val Puschiavo and the nettles are handpicked by the Krasnic brothers or their staff on the nearby Suvretta hill. Serving only the fillet parts of an animal is considered boring at Dal Mulin. The Krasnic brothers prefer to challenge their guests' palates with veal tongue, lamb belly or other unusual cuts – without demanding too much of anyone, of course. The brothers clearly know what they are doing. Still, it was not an easy start for Vilson: "I was 16, it was my first job ever, and when I came into the kitchen, I was nothing but scared. The chef was screaming, the pans were loud, I hated it. But you can get used to everything. And then I found joy in all this, and the joy grew and grew."
Loving what you do is essential for anyone working in a job that leaves little time off, and successfully running a restaurant in St. Moritz requires such love. Danijel, Vilson and Kathrin are leading by good example - and with an exquisite menu and impressive wines.