Queen Of Her Castle
Claudia Rähmi, owner of the Fuorcla Surlej chalet, describes herself as a tough woman. She is the queen of her castle – and that is a good thing.
When we get on the Corvatsch cable car early in the morning, a young woman with a backpack joins us. We do not know her, but assume that she works at one of the chalets. Just like us, she gets off at the Murtél mid-station, but soon outpaces us on the trail. A bit later, she greets us with a smile as we arrive at the Fuorcla Surlej chalet. Her boss, Claudia Rähmi, is a bit surprised to see us so early, but welcomes us with an equally friendly smile. She hurries into the kitchen to prepare one of her delicious homemade dishes for us. We will definitely come back to her offer, but decline for now. After all, we haven't really earned a snack yet, since the hike from the cable car to the chalet was quite short. First we want to hike a bit further, to the Coaz chalet. "There is lots to see up there!", Claudia says and makes us promise to return for the treat later on.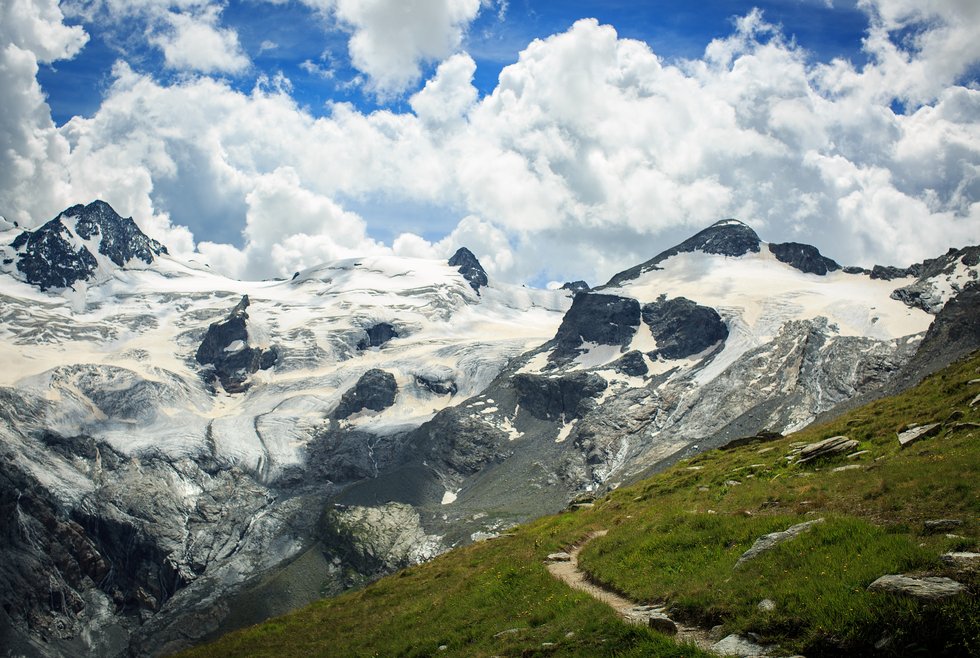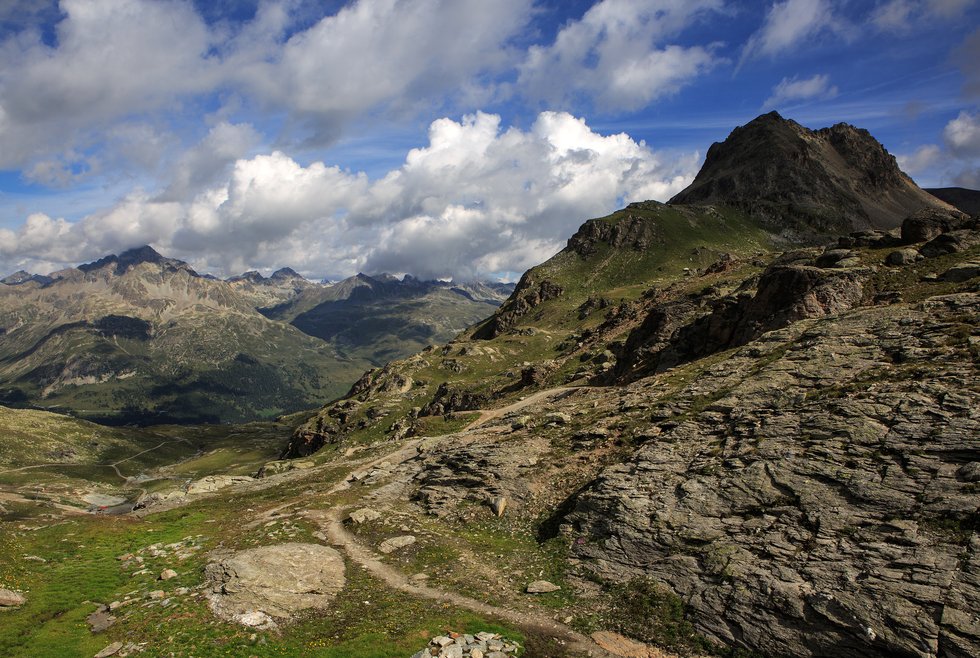 When the gorgeous Piz Bernina at 4049 metres and its famous snow-covered ridge Biancograt come into view, we see what Claudia Rähmi was talking about. The entire alpine landscape of the Engadin presents itself in all its glory on our two-hour hike. We cross a mountain creek and come closer to the Coaz chalet, which is beautifully located directly under Piz Roseg. Even when we take short breaks our eyes continue to take in the breathtaking beauty of the Bernina range. By now our stomachs are more than ready to try Claudia's legendary barley soup, so we head back to Fuorcla Surlej. Back at the chalet our charming host is busy peeling potatoes, while her dog Janis Joplin keeps her company. "So, did I promise too much?", Claudia smiles.
Definitely not! And her barley soup, which she serves us on the sunny terrace, is heavenly too. Why Claudia Rähmi is so closely tied to her chalet soon becomes clear as we have a chat about her life.
We immediately felt your deep connection to this place. Did you grow up here?
Yes, I was even born up here, in the chalet! Of course I did not stay here the whole time. I studied and became a lawyer. When I turned 30 I took over the business from my father.
Are you the same "type" as your father? 
My father was one of a kind, a typical chalet host who loved entertaining guests on the terrace. He always said to my mother: "We're innkeepers: I sleep in, you keep things running!" I, personally, prefer staying in the kitchen and am happy when the guests outside enjoy their food.
What does this place, this chalet mean to you?
There's no second place like it anywhere in the world. I do everything I can to take good care of it. I do my best to stay fit, to keep things running smoothly, and to make sure my staff are content. And I take good care of my regulars, in both summer and winter. In winter a ski slope runs right by the chalet. Lots of skiers like to take a break and stay for a snack
What are the three main reasons your guests return time and again?
Barley soup, spaghetti bolognaise, and potato salad!
We've finished our meal and Claudia gives us a tour of her "castle". She shows us Fuorcla Surlej's quiet guest rooms, the old-fashioned kitchen, where everything is homemade with love, and the cosy Stube, where guests can spend many cheerful hours in both summer and winter. We spot hunting trophies in one corner. 
Are you a hunter?
I like to call it armed walks.
What other passions do you have?
Down in the valley I have a horse, who is my one and only. I also enjoy yoga and reading. 
You seem to be a person who is in close touch with nature.
The Engadin teaches you that you don't need much more than a cosy home and nature to lead a happy life. There is so much to discover out there. I've been here for 60 years now and still discover new things every day. The best thing about the Engadin is that it reveals different aspects of its beauty in every type of weather. Whether you are a cross-country skier, an alpine skier, a hiker, or a horseback rider, everyone can find joy here.
What role does Fuorcla Surlej play?
It is an authentic mountain chalet with a tough host. I always say I'm not married and I haven't got any kids, so I can do things my way. People like me, or they do not. My regulars know and appreciate that I have a mind of my own.
And Claudia Rähmi is not only tough, she is incredibly nice, too!