The Mecca Of Nordic Combined
Training conditions in Seefeld make even the world's best Nordic Combined athletes catch their breath in awe – and you know why the Tyrolean town is considered the mecca of Nordic competitive sports.
Seefeld has been a site of pilgrimage ever since the 15th century – and still today, people flock to the small community of 3,400 people in Tyrol. They, however, no longer carry prayer books but jumping or cross-country skis. They are headed for the Seekirchl, the village's landmark church sitting on top of a little hill above the "Mecca of the Nordic community", the Seefeld Casino Arena, the site of the two ski jumps and access point to seemingly endless cross-country ski trails.  A true paradise for professional athletes.
"Without a doubt, Seefeld is Europe's top destination for Nordic athletes," says Bernhard Gruber, Austria's figurehead in the sport, enthusiastically. He calls the village his "second home"; already in his teens he trained here almost every day. Seefeld also hosts the Nordic Combined World Cup's annual highlight, the Nordic Triple. Three days, three competitions, one winner. "In years without Olympic Games or world championship, the Nordic Triple surely is the main event for us athletes." says Bernhard Gruber.
When he talks about all the possibilities this region has to offer, you can see in his beaming face how much he loves this place: "279km of cross-country trails, imagine that, it's just crazy! You won't find anything like that anywhere else in Europe. There are so many places you can head to: Leutasch, Mösern, Wildmoos... You enter the forest and all you can think is 'Wow!!' You can train on your skis for three hours yet never pass the same spot twice. That's unrivalled. Plus, the new ski jump is a real state-of-the-art high-tech facility."
Getting better every year
Seefeld has a long tradition of hosting sports events on the highest level: The cross-country skiing and Nordic Combined competitions of both the 1964 and 1976 Olympics and the first Nordic Combined world championship were held in the Tyrolean village, as well as World Cup competitions in Nordic Combined, ski jumping and cross-country skiing. In 2012, a very special event took place in Seefeld: the very first Youth Olympic Games. Winning the bid to host this event has motivated Seefeld to improve conditions for Nordic athletes even more. "The people in Seefeld have done an incredible job and are still working on improving constantly. It just keeps getting better, year after year!" says Gruber.
An athlete's paradise
The perfect training infrastructure in Seefeld could easily make athletes' hearts skip a beat. Seemingly endless cross-country ski trails, supported by two snowmakers, two brand new ski jumps, a biathlon facility and a roller ski track for summer training await them at an altitude of 1,200m above sea level. "The Japanese Nordic Combined team have been training here for three weeks. The Finns love to come here too, and even the Norwegians came to train in Seefeld although they would have had enough snow back home in Trondheim", says Bernhard Gruber.
Nordic Combined – a fascinating sport
For athletes competing in Nordic Combined, training conditions are particularly important. "In this sport, two weeks without training are the absolute maximum you can afford in the course of a year," explains former Nordic Combined star and two-times Olympic champion Mario Stecher. Clearly, perfect training conditions are essential to keeping an athlete's motivation up and eventually leading him to success.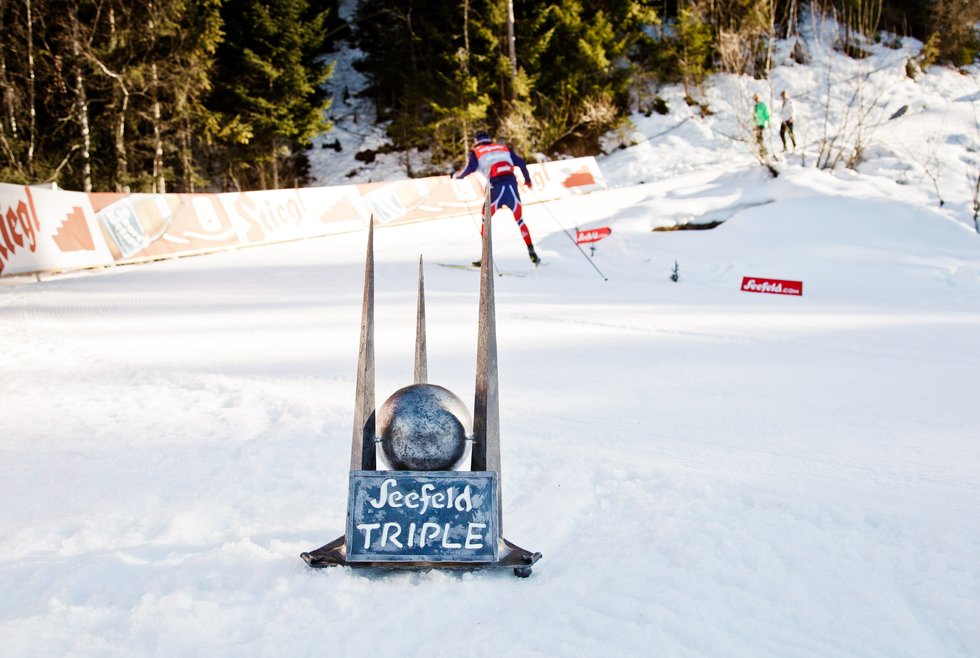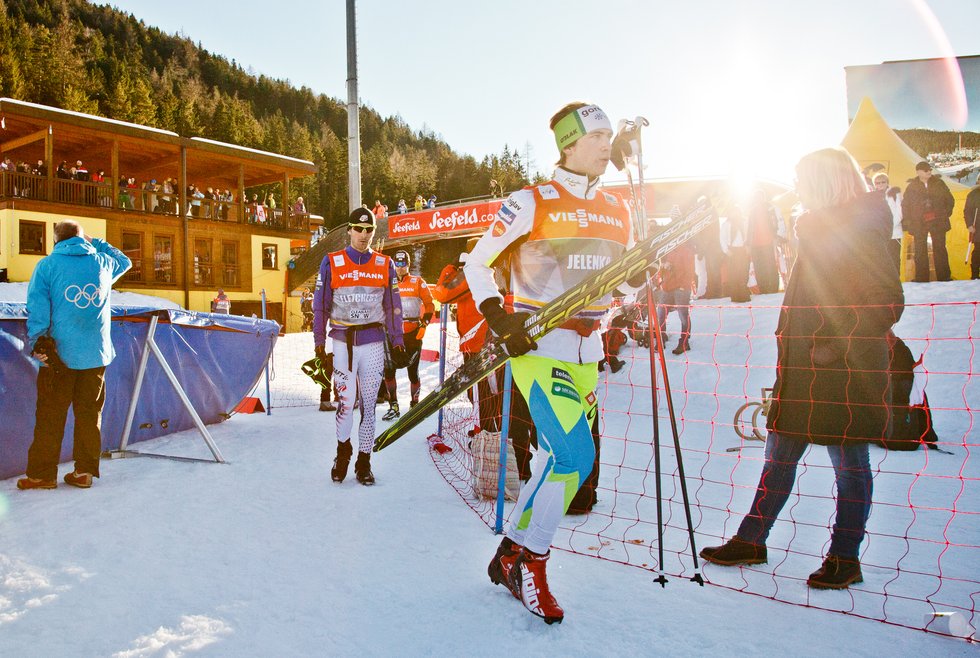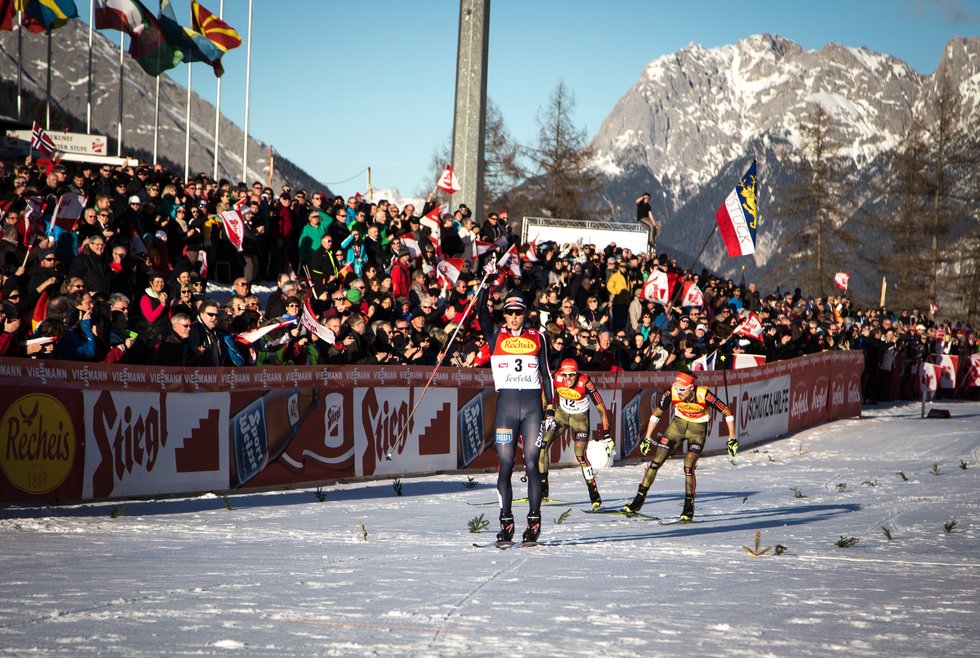 It seems paradox to want to combine the two seemingly opposing strengths of springiness and endurance needed in ski jumping and cross-country skiing, respectively. "Well, that's what makes it so fascinating!" says Bernhard Gruber, beamingly. Meeting these conflicting demands seems impossible, and Bernhard agrees: "There is always some disparity in a Nordic Combined athlete. When you work on your ski jumping skills, your performance in cross-country skiing will suffer, and vice versa." So in the end, it all comes down to the athlete's ability to find his very own formula for success: "You and only you are the one to tip the scales, to balance out any imbalances. But it takes time to get in perfect shape for both fields – and an incredible amount of patience and discipline," says Bernhard Gruber about the fascinating complexity of his sport.
"This World Cup is going to be bombastic"
Gruber is one of the big players in the sport: He has won a team gold medal at the Olympic Games, two Olympic bronze medals and four World Cup medals. And he plans to add more medals to this collection: "People have asked me how long I intend to continue in this sport. My long-term objective is to compete in the 2019 World Cup here in Seefeld. Everyone here gives it their all – and oven more – to make it a perfect event. I am sure this World Cup is going to be bombastic." Sure enough Seefeld will see thousands of pilgrims also in 2019...