Just Keep Calm. There Is Always Light At The End Of A Tunnel. Even If It'S A Train.
Chef Mario Döring started off big and has always kept growing. He likes traditional Austrian cuisine, but his favourite food is Asian.
Sometimes, Mario Döring seeks the thrill. In the five-star superior Interalpen Hotel in Seefeld, Tyrol, he cooks for 600 guests and is known for his distinct style, combining a classic Alpine cuisine with innovative elements. His personal recipe for success: If you want to survive, just stay calm.
Arriving at the beautiful five-star superior Interalpen Hotel in Seefeld, the first thing you see is a fancy garage that is also the hotel's reception. And if it hadn't been for the beautiful scenery of the Seefeld Plateau on the way to the hotel, you might think you just arrived at a huge luxury hotel in Las Vegas, that's how big and impressive it is. However, a friendly and very Austrian "Grüß Gott!" ("Good day!") instantly takes your mind back to the Tyrolian Alps.
The hotel's kitchen is spread over several floors, but Chef Mario Döring knows his way around big kitchens. At only 31, he has already had an impressive career: Born and raised in Saxony, Germany, Döring used to cook for the German armed forces, before he came to Seefeld at age 21 to take over the renowned Interalpen- Hotel kitchen (including the famous handmade knife) from predecessor Christoph Zangerl.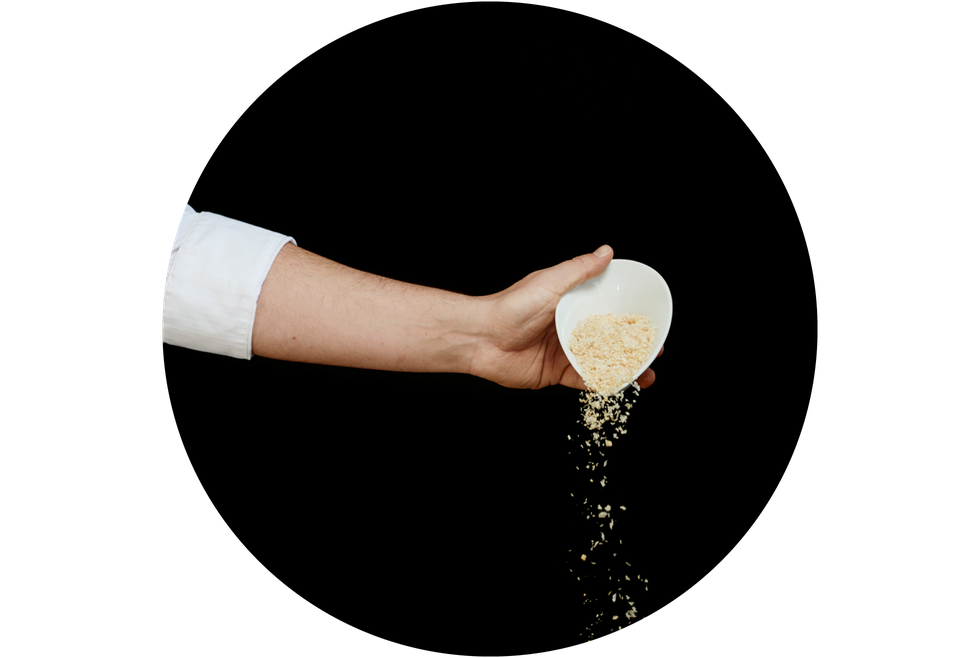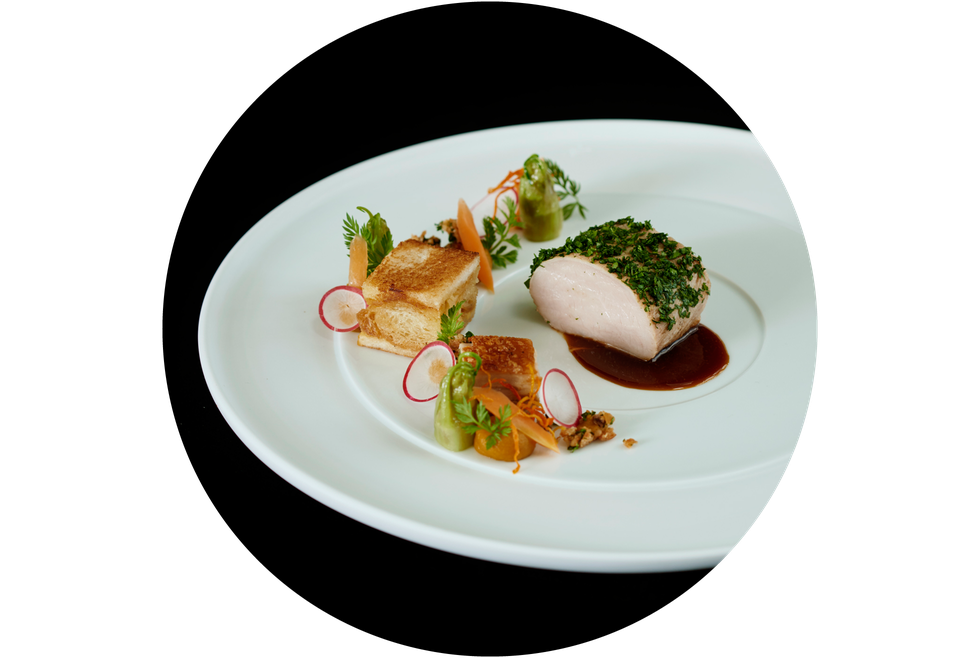 Suckling pig - Creme of roasted vegetables - Apple pyre
You can feel that cooking is regarded a team sport in this kitchen. The atmosphere is relaxed and friendly. Mario Döring's sous-chef is Peter Wiedner, a motivated and highly talented cook himself. "I love to cook for large numbers of guests," says Mario Döring, taking a seat next to us at the table. "And I want my team to have fun at work." Talking with him, it becomes very clear that he is a bit of a thrill seeker – but one who always manages to stay calm, keep focused and conquer any challenge. When he needs to charge his batteries, he goes mountain biking.
Mario Döring, do you consider cooking a team sport?
I do. Especially in a big hotel like ours you need to be able to trust your team and make sure everything's perfect at any moment.

In order to make that happen, a chef needs to have many different qualities – he needs to be creative as well as economical, so that at the end of the month, the products have been used but not all of the budget…?
Of course, at the end of the day, you need to make sure the numbers add up, but we are not under huge financial pressure – our first priority is the quality of our food. However, we don't buy expensive products like lobster all the time – we cook with regional products, such as trout or char, and we buy a lot of our meat from the Gut Leutasch butchery in Seefeld, which delivers outstanding quality. 
Speaking of quality: Now that you have been awarded two toques by Gault Millau, what's next?
I still want to get better. And I hope I can stay here for many more years, because Seefeld with its surrounding mountains is a wonderful place to live.
How would you describe your cuisine?
It's Austrian cuisine with international influences. I don't follow a bi-weekly cycle but always write new menus and adjust them to the seasonal availability of products.
What's your definition of "Austrian cuisine"?
I would say it has become very modern and creative. It is not so much about traditional, heavy food anymore, even though I do like some of the Austrian classics.

What's your favourite food?
I like any food... A crispy Spanferkel (editor's note: roasted suckling pig), pizza, I even eat at McDonald's sometimes! But Asian food is my favourite.

What's your cooking philosophy? Who are you as a private person and as a chef?
I am relaxed. I am not a choleric in the kitchen.

It's important to stay calm, because as a Chef de Cuisine you need to be a multitasker and always deliver everything spot-on. If you mess it up, there will be no second chance...
That's true. That's why to me the best moment is when we are finished with the preparations. Then, if everything goes according to plan, dinner service should be completed within two hours.

So there is a thrill after all?
Of course. We are all human.

And how do you manage to stay focused?
By keeping calm.
What does a chef need to be successful?
You definitely need to be tough and have a thick skin, because it will take a while until you have your first success. It is important to always watch and be open to learn. And you have to sacrifice a lot of your time. But one of the rewards is that you meet so many different people, so many interesting characters that you would never get in touch with in a normal job.

It sounds like this job requires a lot of endurance – how can you get that?
You just need to keep going. There is always a light at the end of the tunnel - even if it's a train.