Karl-Josef And The Gift Of God
If you tell Karl-Josef Röck to carve a racing car, he carves a racing car. But you'll never see a witch or devil leave his workshop.
More than thirty years ago, Karl-Josef Röck first picked up a whittle. Sitting in the woodshed with his grandfather, the boy began carving little wooden figurines. His hand was still a bit unsteady, but already then, Karl-Josef's talent for fine details was obvious. Now he sits in his shop in Seefeld's town centre, surrounded by a great number of saints. All of the wooden figurines are handcrafted. The woodcarver exudes a sense of calmness that is special, even in the laid-back atmosphere of Seefeld.
As soon as you set foot in Karl-Josef Röck's small shop in Innsbruckerstraße, you feel this calm surround you. Perhaps it's all the Swiss pine – carved into statues of Christ, nativity figures, and crosses. Or perhaps it is the aura of the little man sitting by the shop window as he diligently presses his carving knife into the soft wood. He seems so deeply enveloped in his work, as if he can't even see the passers-by watching him from the outside.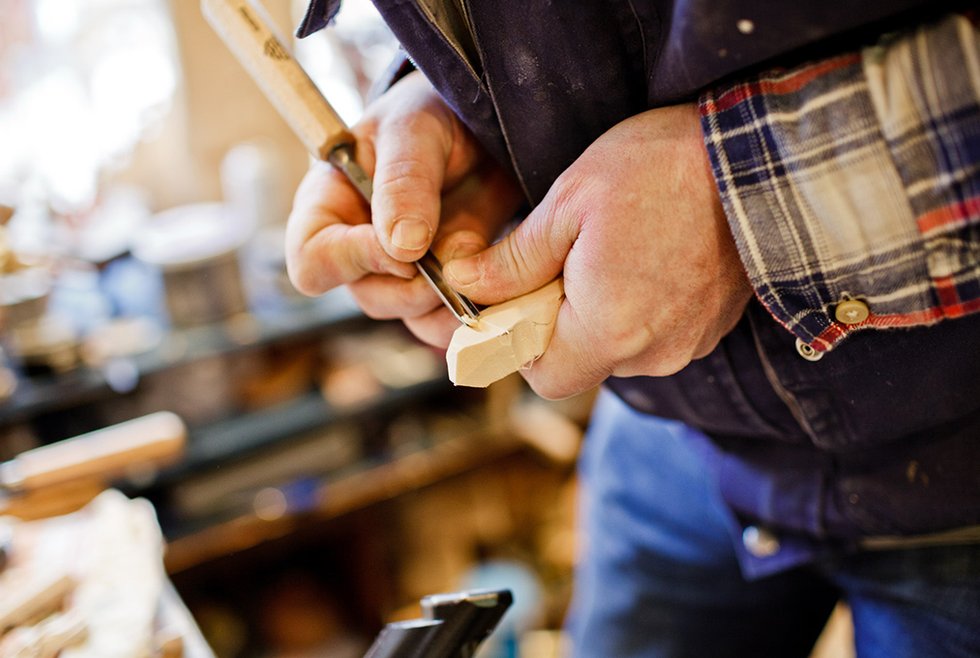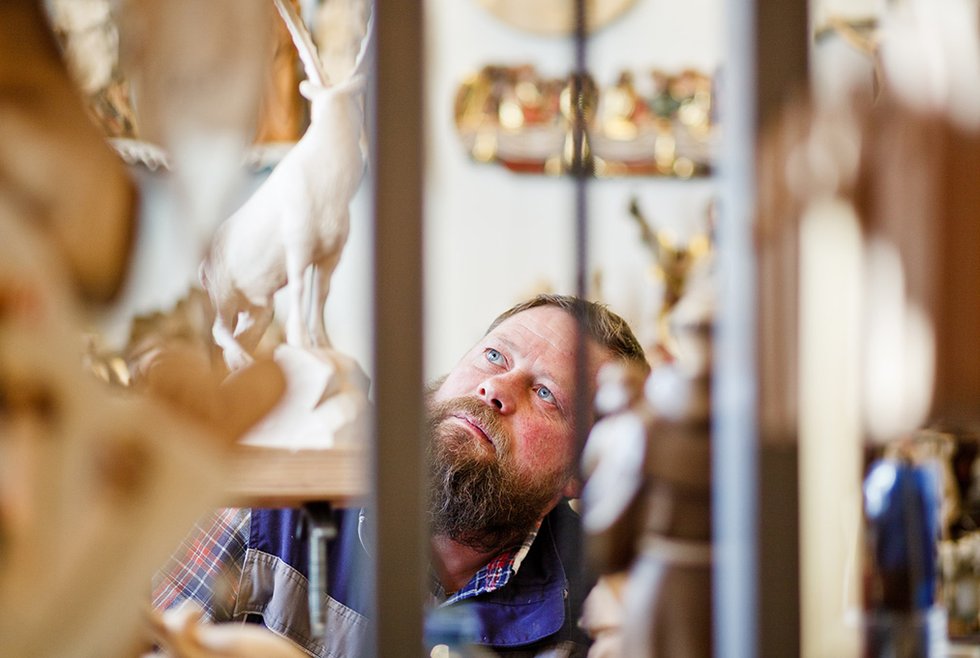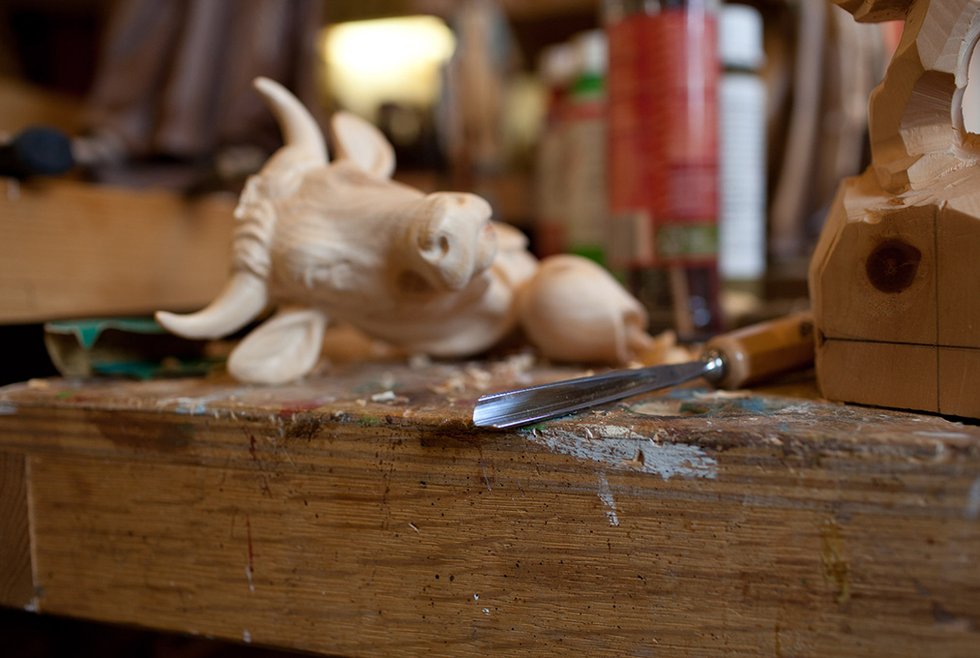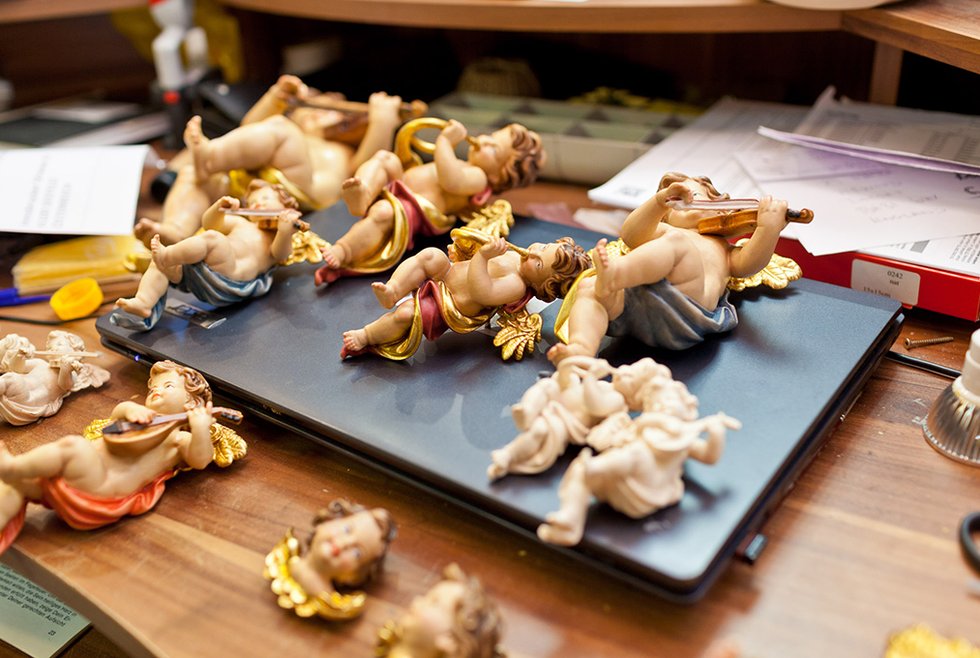 Enjoying the flow
"The great thing about my work is that I can just get lost in it and simply enjoy the flow, " Karl-Josef tells us. Six days a week, eight hours a day of enjoying the flow. Sunday is the only day he does not come to his shop. "That doesn't mean I don't work. I always have my sculptures and God in mind." Most of his pieces are saints. Almost all of them are very detailed and realistic. "It isn't art if you have to guess what it is supposed to be. People today are fooled way too often," the woodcarver believes. For him the point is to create works that people can understand and enjoy. And they have to resemble something positive. "I don't like devils or witches. What's the point in making things like that?" he asks. He would much rather carve a stag that brings joy to a hunter, or a racing car if someone asked for it. "A racing car is a racing car. It's mundane, and mundane isn't bad." Karl-Josef makes a lot of commissioned pieces. Many people come to him because this type of woodwork can no longer be found anywhere else. The native Tyrolean spends three to four days working on a 12cm figurine. His preferred material is Swiss pine: It is one of the most precious woods, it takes a long time to grow, and its scent has a calming effect. Basically every kind of wood can be used for carving, but the softer the wood, the gentler it is on the tools. "You also reach your goal more quickly, because it's so pliable."
From folk art to rarity Karl-Josef Röck learned his craft from his grandfather, later he went to the sculptors' school in Elbigenalp. "In the alpine region, woodcarving has a long-standing tradition, it has been a folk art for a long time," he tells us. Farmers had to make additional income during winters and thus carved and sold wooden figurines. Today, only few sculptors practice this craft. "Other materials, which weren't available then, are more popular now," Karl-Josef elaborates. He, however, will stick to wood: He cuts his own wood and then dries it for six years before using it. "The best thing for me is to sit here, a piece of wood in my hand in full harmony with myself and God," says Karl-Josef as he diligently carves a face into a figure of Jesus.