Bad Boys At School Do Well In The Kitchen
"I put all my energy into my job, to the point where it is difficult to have a life outside," says chef Christophe Schuffenecker about his passion.
Everyone needs a good challenge: Whether it's for a chef to earn the coveted Michelin stars - or for the Best of the Alps team to get a chef known for his reticence to talk. In the case of Christophe Schuffenecker from the Alpaga restaurant in Megève, the latter one was luckily not as difficult as we assumed.
When you meet Christophe Schuffenecker, his demeanour radiates a relaxed attitude. You can sense a truthfulness and pureness about his personality. But under his calm façade he is a driven man – one who lives for his profession. And this shows in the success of the restaurant in the luxurious five star Hotel Alpaga: Set up by Mr. Schuffenecker three years ago, he has won one Michelin star for his cooking style of "simplicity and pureness", as he describes it. At first glance one does not notice the precision with which he works in the kitchen because he is so economical with words. What emerges through the course of our conversation however is the importance he places on the relation of food and its surroundings: that smell of fresh mushrooms picked on an afternoon hike and the appreciation of it from his guests even after they are served in a dish.
Mr. Schuffenecker has cultivated his famous style for almost two decades. "I started out when I was 14," he says. An early age considering that most kids have not even finished high school at that age. "Well", he says, smilingly, about this raison d'être of becoming a chef, "I was not a particularly good student so I was looking for something else to do." He then went on to working in prestigious restaurants like Faucher in Paris and followed a call to the U.S. to broaden his culinary horizon, assisting renowned Cairo-born chef Michael Mina in one of his namesake restaurants in San Francisco. It is to him and his mentor Christopher L'Hommedieu that Mr. Schuffenecker is grateful for having learned what it takes to get to the top. "Particularly Christopher has put me on the next level, showing me a lot about management and sharpening my skills. My being here today is because of him," he says with great respect for his mentors, and we notice by the raising excitement in his voice that he is starting to enjoy our conversation.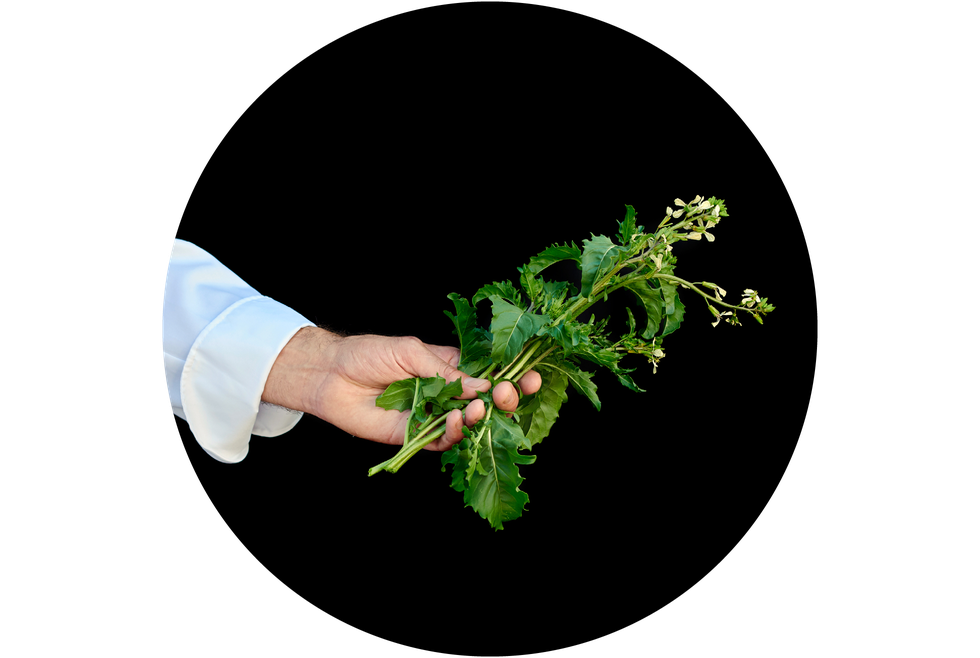 After eight years on the West Coast the young chef started to feel his European roots demanding home turf again. When he left for France, settling back into his old life in Paris seemed a natural thing to do but somehow he sensed pretty quickly that this was not working for him anymore. So, once more he followed the call of his heart, this time to the mountains, to Megève. "This place has a gastronomic reputation that was influenced by amazing chefs like Verrat or Renaut. And there is a steady stream of young talent like Julien Gatillon," Mr. Schuffenecker says. "People not only come for skiing but because Megève is known to be a culinary hot spot. And, it is a village in the truest sense, that's why I like it here." The chance to pop out for a few hours to go snowboarding in his breaks during winter season also sweetens the deal.
Living in the Alps certainly helped to develop the pureness of his style while his love for hiking and fly-fishing add a touch of earthiness to his approach. Being out in nature also helps to stay focused during long hours in the kitchen. "I have a lot of energy and I need a good challenge – the more challenging it gets the happier I am," he says. "When I wake up in the morning I am really happy to go to work and I want to see my guys in the same spirit." Working for your pay cheque only "doesn't work" in this job, he says, "we need to function in a team and be able to rely on one another." Perhaps the latter is also the reason why he invariably refers to the collective 'we' when he talks about having recently earned a Michelin star. "You can't run a kitchen like this by yourself," Mr. Schuffenecker says.
Now that we got the charismatic chef to talk, we have just one more burning question on our mind: He seems to be one of the very few high-ranking chefs that carry a fashionable beard. "Well," he smiles. "I had one already a while back in Colorado. It was cold there." And winters in Megève are too. Does this make him more authoritative in the kitchen? "Hm, maybe," he laughs "but I don't think it is about that."