A Summerly Hike With The Master Of Slowness
A hike through Kitzbühel's landscapes with Engelbert Prohaska leads to gorgeous summits and deep relaxation.
About half an hour on the 'slow down lift' – as hiking guide Engelbert Prohaska likes to call the new chairlift to Kitzbühel's Bichlalm – marks the beginning of our hike today. It's a nice start to our day; rushing won't get you far when you're exploring the mountains around Kitzbühel with Engelbert. "You won't get anything out of it if you reach the summit with your tongues hanging to the ground," he says. Enjoying the walking experience is the main focus of his tours: consciously relaxing, taking in the meadows and mountains, smelling the flowers and herbs and listening to the sound of cowbells and your own steps. At the moment we don't know that in the end our hike will actually speed up quite a bit, but more on that later. Let's take things one at a time.
Hiking is on the rise
When we get off the lift, the Bichlalm is half covered in fog. We are at 1600 metres and we can literally smell it. "I hope the clouds open for you today," Engelbert says as we set off on our hike. Summer is showing its melancholy face today. That could change within minutes according to our trusted guide, who takes small and large groups on hiking tours through the mountains around Kitzbühel for the local tourist board Kitzbühel Tourismus. For more than 16 years he has gone on tours in bright sunshine, freshly fallen snow and rainy weather; in freezing or boiling temperatures. He guides day hikes that take around seven hours, or shorter, half-day hikes of three hours. Since last year, the association also offers 'trial hikes' for people who want to find out whether hiking is their thing. His clients range from full-blooded hiking aficionados to curious visitors who want to experience the magic of hiking they've heard so much about. They hail from the world over, from Japan, the United States, China and Europe. Most are a bit older, but in recent years, more and more young people are catching on. "Hiking is undoubtedly on the rise," confirms Prohaska.
"Why is that," we ask. "When you're in conscious contact with the ground beneath your feet, you become deeply grounded and get lots of energy back. And there's also the green effect," he explains. The summery green of the mountain meadows, trees and shrubs are known to have a calming effect. And let's not forget the breathtaking panoramic view from the Wilde Kaiser peak or Hohe Tauern range. "This place was already inhabited 3000 BCE. Copper was mined here at the time. People already knew where to go thousands of years ago. The magical draw is just so strong here," Engelbert elaborates. Originally from Tyrol's Oberland in the West, he was able to establish himself as a hiking guide in the Kitzbühel area. His love for the mountains goes back to his earliest childhood: "As a wee lad sporting lederhosen I'd run away from home and go up the mountains." After a few unfulfilling years working at a bank, he changed his life and signed up at Alpinschule Innsbruck (ASI) where he trained to become mountain guide and got the opportunity to tour mountains abroad: "I've led tours in Ireland, Sweden and Norway; I've hiked on Madeira, Corsica, Sicily and Crete and I've been to Sri Lanka. When I went to Nepal, a lifelong dream came true." One of the advantages he had when he applied for a job as a guide in Kitzbühel as an 'out-of-towner' was his fluent English.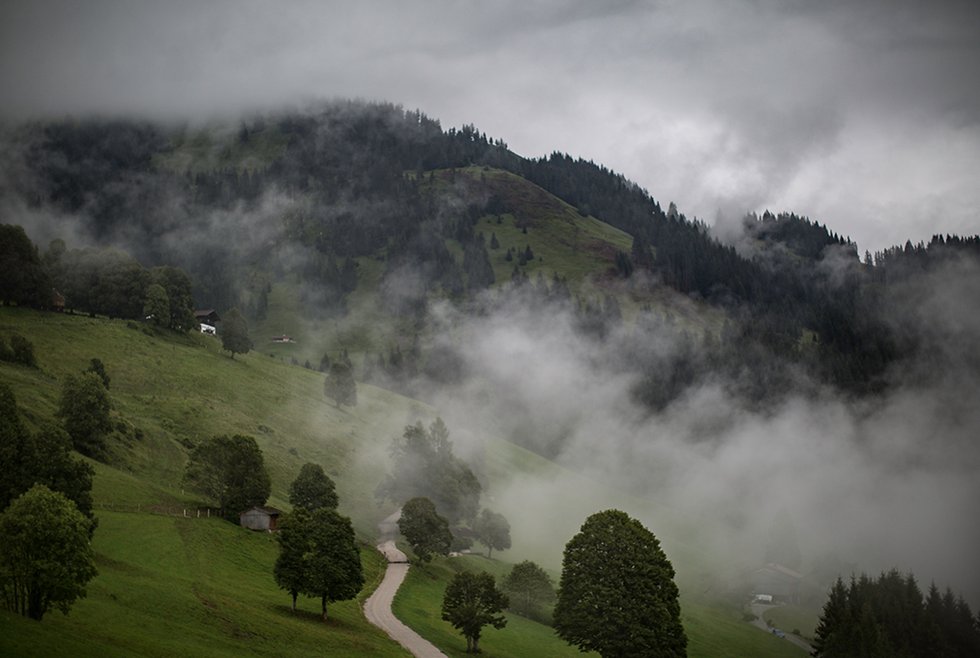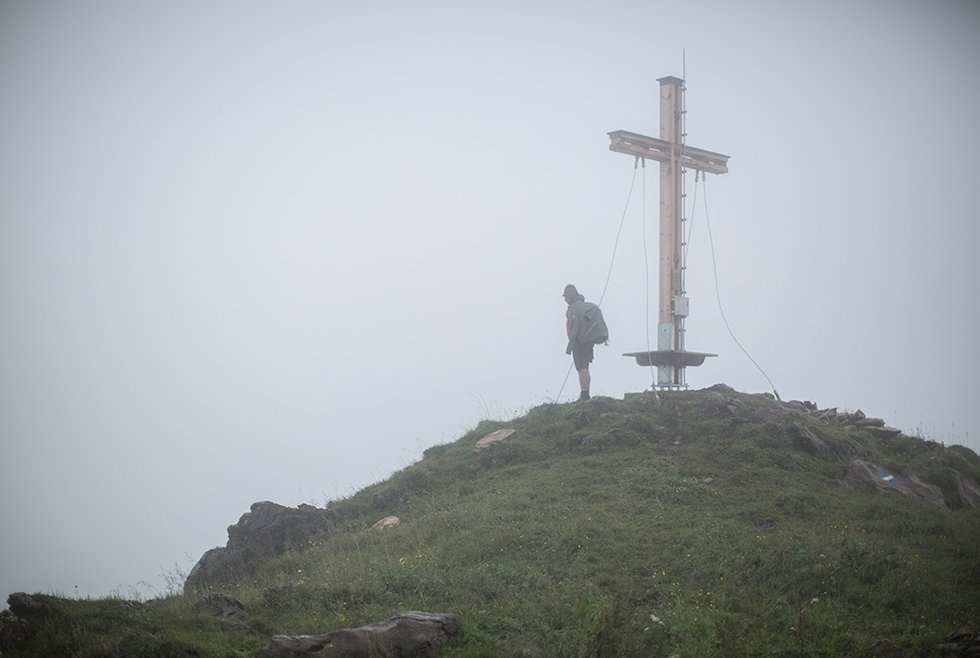 Our aim today is the Stuckkogel at an altitude of 1888 metres. A short hike, since it looks like it's going to rain soon. We walk uphill at an even pace and enjoy the sights around us: a patch of chanterelles, a glossy black salamander, some medicinal arnica plants and a moor. We jump low fences, follow Engelbert on unmarked paths and smell the fragrant, burgundy coloured flowers of the black vanilla orchid, which can only be found at high altitudes. Our guide's gentle, yet loud "Yo,Yo…" coaxes a few cows, happily chewing clover as they block our way, to move to the side. They stare at us intently and moo as they clear the path that leads us up to the summit.
Hiking brings people together
Today we are only a group of three, but during high season in summer, groups can be as large as 25 people. Eighty percent of his clients are regulars, but there are also mixed groups with "old hands" who already know all there is to know about the local flora, fauna and history and "rookies" who soak up every word Engelbert says and ask a million questions. The challenge in these groups is to quench the thirst for knowledge in the latter, while making sure the more experienced crowd does not feel bored. "I tell my regulars to go on ahead since they've heard it all before," he explains. It takes more than knowing the terrain to be a good mountain guide. Empathy and tact play a major role in making his clients feel comfortable and happy enough to return for another tour. "It's crucial to stay authentic. And the greatest reward is to see how people's eyes light up when we reach the top," Engelbert shares.
When we reach the summit our eyes probably light up, too. Only you can't see them because in the meantime the hoods of our rain jackets are covering our faces. Engelbert's hope for us didn't come true – instead of breaking open, the clouds grew thicker and it started to rain. Our stay at the mountaintop is quite brief. Down the path we go again and get back to Bichlalm within 15 minutes. We dry our trousers at the warm fireplace, which luckily is in use all year round. The rest is taken care of by cuddly red blankets we wrap around ourselves – and by a nice little hazelnut schnaps.