"Mountains Are My Supermodels"
Mario Colonel is passionate about mountains – and one of the world's best mountain photographers.
Mario Colonel studied history, then wanted to become a mountain guide before finally working as a journalist for outdoor magazines. As luck would have it, this brought him to photography. Today Colonel is counted among the world's best mountain photographers. He has won several awards, including the Best Book prize in the Mountain Image category at the Banff Mountain Book Festival, the biggest of its kind. Yes, that's two superlatives in one sentence - no wonder his gallery in Chamonix is no longer an insider tip among fans of photography. In our interview he talks about his passion for the mountains, the minor role humans play in his pictures, and his favourite spots in the Alps.
Monsieur Colonel, you run a very successful gallery in Chamonix and are on of the world's best mountain photographers. What is your formula for success?
Mario Colonel: Well, besides the usual skills of the craft you need to have an eye for mountain photography - and you will only have that if you are passionate about mountains. Here in Chamonix you meet a lot of people who come here from all over the world because they share this passion. And when these people buy one of my pictures, they not only take a big, framed photo with them. They also get a slice of that passion.
When did you discover your passion?
Mario Colonel: While growing up in Grenoble, mountains did not play a big part in my life. My father was a sportsman, but he was more into football. When I was 16 I met this other young guy in school who wanted to become a mountain guide. We became best friends, went climbing and hiking and spent every waking hour in the mountains. It was as if he had opened this gate for me, a gate to a wonderful garden – the mountains.
What do you find so fascinating about mountains?
Mario Colonel: I can't really put my finger to it, and it's hard to put into words. Perhaps because no mountain is like the next one? I have five favourite places in the Alps alone: Cortina d'Ampezzo and the Dolomites, Zermatt for the Matterhorn, St. Moritz for its special flair and Grindelwald for the Eiger. And, of course, Chamonix. You can't compare the mountains in these five places, but whenever I arrive in one of them I just stand there in amazement. It's overwhelming, time and time again, and you instantly feel: Yes, this is it. This is the place.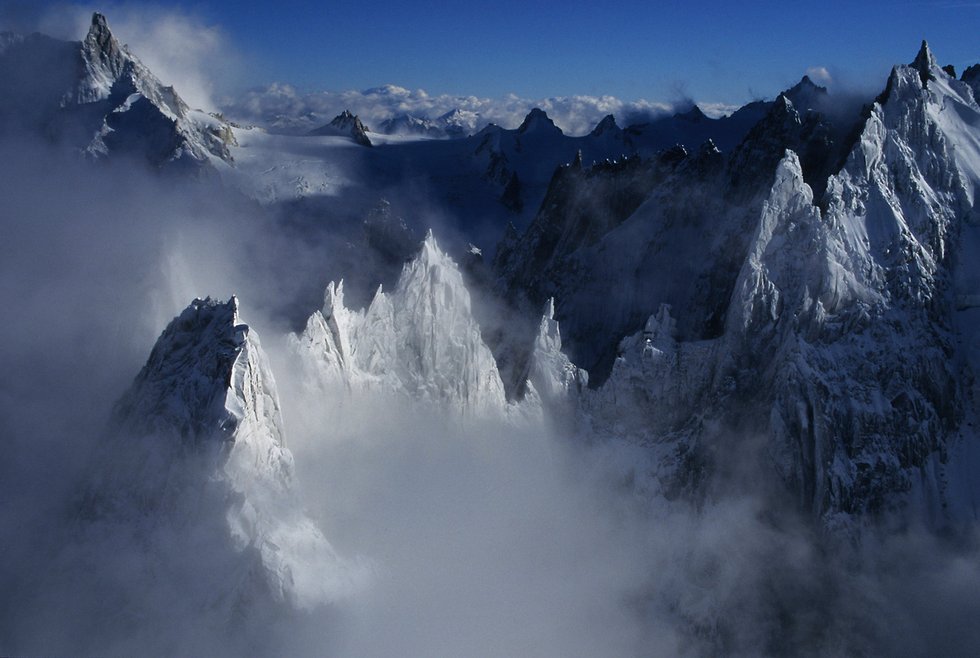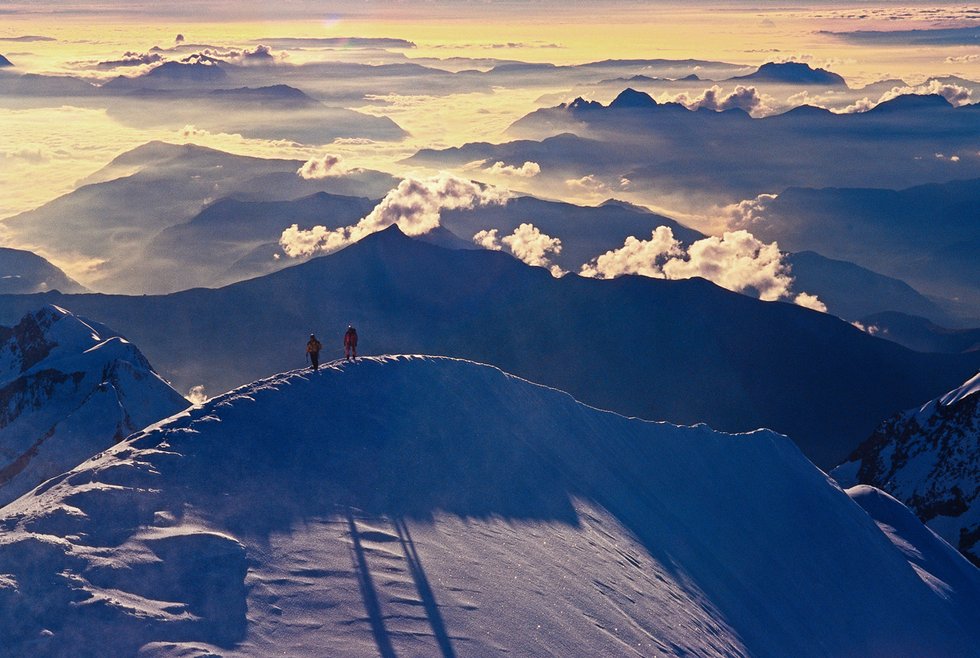 In outdoor sports it is often about "faster, higher, further". Also in photography – so many photographers seem to be on a never-ending hunt for the most spectacular shot. Your photos, however, exude this tranquillity and discretion.
Mario Colonel: I am not interested in these extremes. You won't find skiers on extremely steep slopes in my pictures, for example. I want to show the beauty of the mountains and not spectacular stunts. On the one hand people are impressed by my photos and on the other hand they make them think: That could as well be me in the picture. I could also put it like this: My friend opened the gate to the mountains for me, and now I want to open it for others.
Most of the time, people are very small in your pictures anyway.
Mario Colonel: That's kind of my trademark. The "supermodel" in my picture is always the mountain, not people. I want to show how small we humans are compared to the mountains. It also shows my respect for nature because as I see it, we are only guests in the mountains. That's my philosophy, my approach. And the older I get, the more I see it that way.
How many new pictures or motives do you release each year?
Mario Colonel: Between ten and twenty.
That's a very small, careful selection. How do these photos evolve?
Mario Colonel: In general, it all starts in my head. Sometimes someone points me to something, or I have some inspiration. Then I think about how exactly I will depict it, what kind of light I want, and then I wait for the right conditions. Only then I take the picture.
And then, when you take the shot, do you know immediately whether the picture will make it into your selection?
Mario Colonel: Yes. Although I really can't say why.