Music In The Mountains
Ever listened to live jazz at 2,000m above sea level? The Cosmo Jazz Festival in Chamonix makes for a mindblowing experience.
The Chamonix Mont Blanc mountains are famous for wooing climbers, hikers and skiers with their breathtaking scenery all year around. But recently, jazz musicians from Mali to America are swapping city nightclubs for makeshift stages at high altitude at the Cosmo Jazz Festival. And if we say makeshift stages we mean being close to the glacier or the spectacular Brévent mountain that deliver the perfect natural acoustics for unplugged sessions that give you goosebumps!
Imagine a beautiful summer day in the French Alps, a gentle breeze tickling your skin while the sound of great live jazz is bouncing off the massive mountain walls. You find yourself so present at this moment that you almost forget you have a job or life to go back to somewhere else. 
The event, which runs over eight days from July into the beginning of August, is set on seven stunning open air locations high up in the mountains with one concert a day at a particular venue, and this certainly adds to its appeal: "On one occasion you'll be sitting on rocks, the other you are lounging on soft grass overlooking the valley, far away from the city," says initiator André Manoukin, a composer and passionate jazz musician himself. It's a veritable delight for the senses, each pocket of nature providing an incredible backdrop and acoustic setting for a wondrously beautiful spectacle.
"Feeling small in a very good way"
Trekking up to each one of these incredible concert sites reveal the charm and fascination of Chamonix Mont Blanc from different but equally compelling perspectives: Whether you take the Train du Montenvers to the Mer de Glace or hike to the Glacier d'Argentière in Les Grands Montets. 
It is quite a sight on concert days when you all of a sudden notice a few thousand people flocking in from all directions. Dressed in neon-coloured, weatherproof outfits they appear like strange mountain goats roaming across the green alpine pastures, all keen to immerse themselves in an alpine soundbath. 
Many appreciate the festival for its low-key approach of everyone bringing only minimal equipment, which makes for an even more authentic experience. 
"It is such a wholesome festival because you don't need anything else. You got the mountain, really good music, and everyone is on this natural, happy vibe," says Nina Loxton, a Chamonix native who now lives in Australia with her partner. 
For the musicians playing a set at high altitude is as exciting as it is challenging. "It was definitely our highest mountain gig. We never played in a setting like this before and it was all very low key," the band members of Moriarty describe their experience performing next to the glacier. "The scenery here is humongous, which makes you feel small in a very good way… "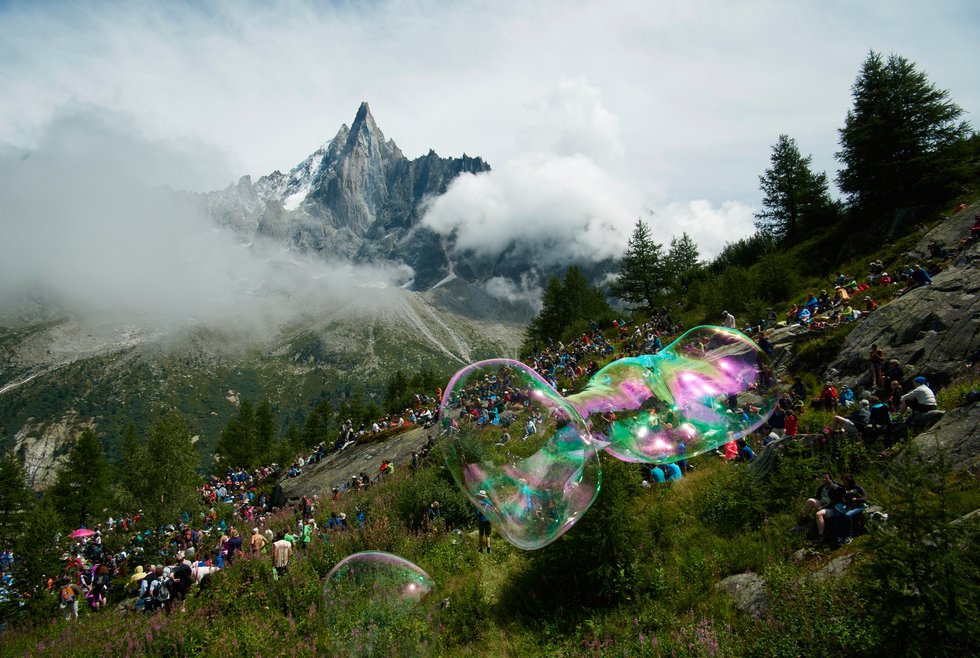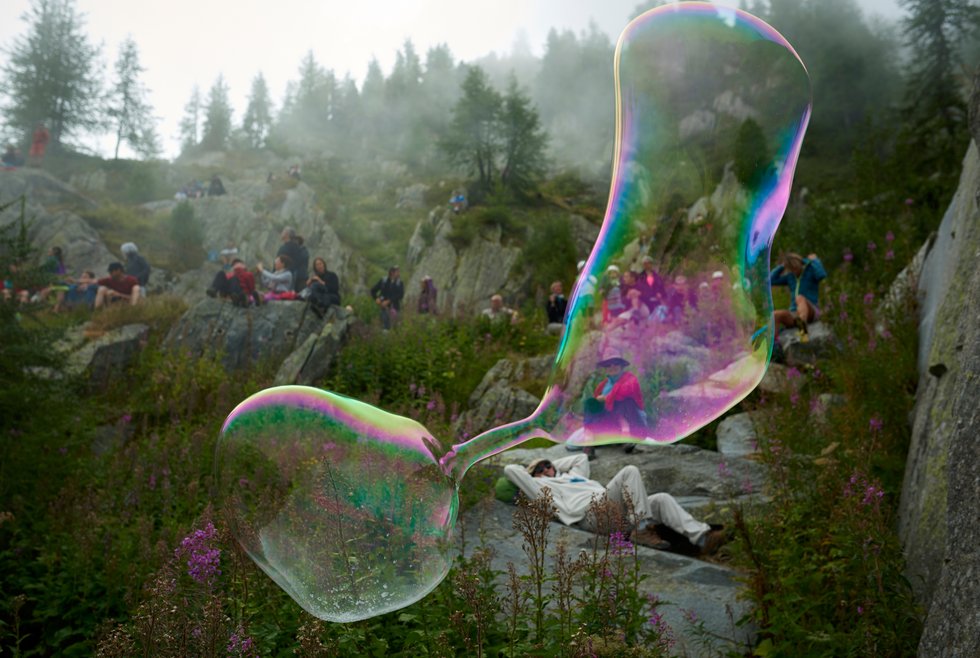 Uplifting Sounds of the Alps
Although the style of music varies and includes African jazz from Mali, Latin jazz or artists on classic piano, clarinette or accordion, it all perfectly fits into the mountain context.
 "The idea is to play uplifting ethnic jazz in the mountains," explains André Manoukian. "It would not work so well if we would go for bebop, a fast improvised type of jazz, which as a totally different energy." Linking music and mountains has always been in his mind. "Whenever I was up here before, I was always asking myself what a saxophone would sound like in this context."
When he started out he had a Nepalese flute player by Lac de Blanc. "We had 500 people walk three hours to Flégère. The Mont Blanc was reflecting in the lake, it was just amazing," Mr. Manoukian says.
What adds to the excitement is that when sitting by the glacier, every now and then a piece of it does come rumbling down. "We were just doing this pause in the middle of our ballad that talks about a brutal death, and then we heard this hollow noise… So we were thinking that perhaps we were being too loud," Zim Moriarty (Stephan Zimmerli) remembers about their gig. "It was a weird kind of coincidence." Mr. Manoukian said jokingly that it was god applauding. But perhaps he is just sending a little reminder to take better care of nature?
"My favorite concert was at the Brévent," says Nina Loxton. "There they had no sound system and relied on the acoustics of the mountains only. It made it so personal." "We were sitting up a hill, 30 meters from the musicians," adds her partner Olivier Drouillon, also a musician, "and these guys' clarinettes and accordeon were just rebounding off this massive wall, going straight out to everyone. It was genius."